Deep Purple Mk 2 emerged from a low-key beginning to become one of the best and most successful rock bands of all time.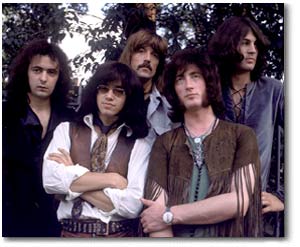 back: Ritchie Blackmore, Jon Lord, Ian Gillan
front: Ian Paice, Roger Glover
Mk 2's breakthrough wasn't as overnight as that of Mk 1, but had a much more lasting impact when it came. Episode Six bandmates Ian Gillan and Roger Glover joined in secrecy. Gillan exemplified the kind of powerful and vocally agile singer that the band sought to develop their harder rock sound. Glover came along at first on a session basis, but quickly impressed with his natural grasp of writing, and was snapped up to complete the new Deep Purple.
Deep Purple Timeline

1969

July 10th: Mk2's first show, Speakeasy, London.

Sept 24th: The premiere of the Concerto, at the Albert Hall, London

1970

June: 'In Rock' released

September: 'Black Night' reaches no.2 in the UK singles chart

1971

February: 'Strange Kind Of Woman' single released, reaching no.7 in the UK singles chart

October: 'Fireball' released, no.1 in the UK albums chart

December: The title track from 'Fireball' reaches no.15 in the UK.
'Machine Head' recorded in Montreux, Switzerland.

1972

May: 'Machine Head' released, no.1 in the UK albums chart

August 15th-17th: The band's first Japanese tour. Recorded for 'Made In Japan'

late August: Ian Gillan hands in his resignation.

December: 'Made In Japan' released.

1973

early June: Roger Glover hands in his resignation.

June 29th: Final mk2 show, Osaka.
The first Mk 2 single, 'Hallelujah', was very much a Mk 1 throwback, and disappeared without trace (as had all Deep Purple's UK singles to that point). The line-up's first live gig was in front of a tiny audience at London's Speakeasy Club on July 10th. Inspired by their live chemistry, and with the quality of the music being written, the band gigged intensely in the UK and mainland Europe over the next 12 months, gaining an almighty live reputation. Their profile was also raised (if not in the way they all hoped for) by a performance of Jon Lord's rock / orchestral crossover 'Concerto For Group & Orchestra' at London's Albert Hall in September 1969, a piece that the rest of the band only came to appreciate in later years when it was no longer seen as a threat to their hard rock direction. A live album of the night was also their first top 30 UK chart entry, and the show was broadcast on BBC TV.
As a unit Mk 2 decided to pursue an uncompromising hard rock approach. Jon's Concerto sequel 'Gemini Suite' was allowed only one single band performance, in September 1970 (the live recording only seeing the light of day twenty years later). Ian Gillan sang on Lloyd-Webber and Rice's 'Jesus Christ Superstar' album but opted to remain gigging and recording with Deep Purple rather than appear in the movie.
The band's hard work paid off when their quintessential rock album 'In Rock' cracked the UK album charts open in June 1970, reaching no.4 and staying in the top 30 for over a year. At the same time a jokey post-pub studio session resulted in 'Black Night', which became a major UK hit single. Newspapers now ran headlines like 'Purple Mania'. From late 1970 the once frequent profile raising TV and radio appearances were squeezed out of the band's itinerary as demand increased for them to tour and record. Their next two studio albums, 'Fireball' and 'Machine Head', were made under pressure-cooker conditions which nonetheless produced fantastic results; 'Fireball' the ultimate progressive rock album, and 'Machine Head' a hugely influential hard rock album packed with classics. Both went straight to no.1 in the UK, helped by two more hit singles, while a relentless succession of tours that pushed the band global. The Japanese and US markets opened up, but the strain on the band's health and nerves increased. Something had to give.
In the middle of it all, three August 1972 Japanese shows (fitted in between two US tours) were recorded. 'Made In Japan' was to set uniquely high standards for a live rock album. However, shortly after it was recorded, Ian Gillan handed in his resignation. 'To this day I don't know why...no-one said stay...no-one said shut up.' Despite the fact that his relationship with Ritchie Blackmore had been in silent stalemate after disagreements over the way forward, Gillan agreed to stay long enough to fulfil the remaining bookings. These included four more US tours, two UK tours and two European jaunts, stetching off over the horizon to a Japanese tour lined-up for late June 1973.
By early 1973 'Made In Japan' was becoming Deep Purple's biggest seller to date in the USA, and the hitherto almost ignored 'Machine Head' album track 'Smoke On The Water' was making an impact in their singles charts. Even though it did not reach the heights of its predecessors, the last Mk 2 studio release 'Who Do We Think We Are' appeared in March '73 and helped Deep Purple become the world's top selling album act of 1973. The line-up was already effectively over by the time recording it was finished, Gillan adding bite to the lyrics by venting his spleen about the frustrations of his position.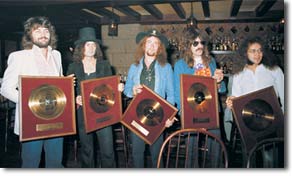 Deep Purple's ever increasing success hid a sense of gloom back at their management's offices. It was a relief to all when Ritchie Blackmore agreed to stay on in the band. In return he was given free rein to put his vision into effect for a new Deep Purple, planning a unique duel vocal approach with Free's Paul Rodgers on lead vocals, and the extraordinary Glenn Hughes from Trapeze on bass and vocals. This meant that Roger Glover had to be squeezed out, a situation he gradually got wind of, leading him to resign along with Gillan rather than wait to be pushed.
Exhausted, Gillan and Glover stepped off the rollercoaster on 29th June 1973 after a show in Osaka. It was over two years before either stepped on stage again. Ian Gillan eventually eased his way back into the business with the Ian Gillan Band in late 1975, Roger Glover agreed to join but pulled out after a TV date. Not until 1979 did he return to touring when Ritchie Blackmore recruited him into Rainbow. Even so, the feeling all around Deep Purple Mk 2 was one of unfinished business. Jon Lord described their break up as "the biggest shame in rock and roll, ever..." .
.... 1969-1973 Deep Purple Mk 2 UK Discography ....
UK singles
Hallelujah / April (part 1): 1969
Black Night/ Speed King: 1970
Strange Kind Of Woman / I'm Alone: 1971
Fireball / Demon's Eye: 1971
Never Before / When A Blind Man Cries: 1972

US singles
Hallelujah / April (part 1): 1969
Strange Kind Of Woman / I'm Alone: 1971
Fireball / I'm Alone: 1971
Never Before / When A Blind Man Cries : 1972
Lazy / When A Blind Man Cries : 1972
Smoke On The Water / Smoke On The Water (live) : 1973
Woman From Tokyo / Super Trouper : 1973
.... Notable Post 1973 Deep Purple Mk 2 UK Releases ...

.

.... Deep Purple Mk 2 On PAL Video / DVD....

....Deep Purple Mk 2, Further Reading....