visit purplerecords.net for more details of this release
Deep Purple - Space Vol 1 & 2

I know Aachen 1970 quite well, but throughout the opening few minutes of 'Wring That Neck' alone, I can pick out so much more of Jon's deft organ work that it might as well be a completely different show.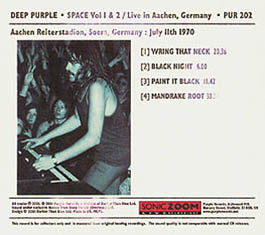 Jon and Ritchie are really battling throughout this. Jon's second solo is a lengthy affair, the usual expected combination of classic / humorous snippets, where the audience can be detected in the background applauding wildly. Blackmore's second solo then follows another burst of the riff, and again you can detect stuff that was clearly inaudible (hey, my first oxymoron!) on the original boots (to my cloth ears). And then, before you know it, it's over. Twenty minutes or so over in the blink of an eye.
'Black Night' next, pumping with energy and enthusiasm, then 'Paint It Black' shambles in, the chaotic, almost anarchic beginning we're used to from this era quickly sharpening up, before Paice starts beating seven shades out of his drum kit.


Closer 'Mandrake Root' is a diabolically rude blast of sheer power, the vocals overloaded (as they are throughout the set), but when the musical performance is this good and the quality this unexpectedly sharp, you just have to sit back and let it all down to your knees. Clocking in at over 33 minutes, it's the expected musical tour de force that anyone with other recordings from the era will be familiar with, Ritchie exercising a restraint over his backing where you feel he is plotting to unleash something spectacular when he gets the chance, and eventually when his tremolo arm does come in for some heavy abuse, coupled with the thundering bass and pounding drums, signalling the beginning of the end. Things really do reach a caustic peak, willing you to visualize it in your mind's eye (and I can). A quick "thank you " and that's your lot.
Breathtaking! As soon as Ian Gillan starts to speak, you know that you're in for a good one. Clear, crisp and completely unmuffled, the sound restoration alone makes the purchase essential. I have six different boots of this show and wasn't expecting anything amazing, but I have to say that I'd arrest anyone on sight who claimed they were a Purple fan and didn't own a copy of this. Amazing, essential, brilliant. "Do you feel alright?". Most certainly!
Review : Martin Ashberry
Purple Records'
official "Sonic Zoom" series makes available live recordings of Deep Purple between 1968 and 1976 to the collector. The CDs are available to everyone, but only via mail-order. The Deep Purple Appreciation Society is the official outlet through
dpas online
and their mail-order catalogue. DPAS members are also eligible for a discount.
Deep Purple live at the Aachen Reiterstadion, July 11th 1970.
In 1970 bootlegging was still a relatively new phenomena in rock music. With the often imperfect PA systems and the limitations of tape machines, many recordings from the era are of poor quality. However, Aachen is in a different league altogether.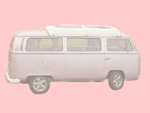 History has it that the tapes were taken direct from a feed on the stage and recorded on a basic stereo machine hidden inside a Volkswagen camper van (which certainly accounts for the overloaded vocals). In some places the sound is actually panned from one channel to another, so they may even have mixed it live.
For this CD we have gone back to the first 1970/71 vinyl releases. These were digitally transferred and speed fluctuations evened out, before the best version of each number was cleaned up in the studio with levels tweaked where possible.