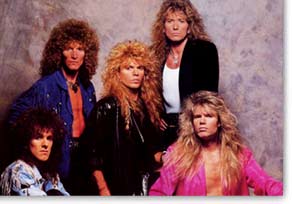 ''Whitesnake' or '1987' as it's better known, quickly went multi-platinum after release, selling over 10 million copies, and lodging in the US top five for over a year. Four singles became US and UK hits, the Zeppelin styled 'Still Of The Night' won over a new generation of fans and became an instant classic. The touring band was assembled from the musicians brought in for the promo videos, and headlined worldwide on a massive scale.
The youngest, brashest (and, frankly, most androgenous) version of Whitesnake to date comprised drummer Tommy Aldridge and bassist Rudy Sarzo (both ex-Ozzy Osbourne), guitarist Viv Campbell (ex-Dio), and Dutch guitarist Adrian Vandenberg, who had been enjoying a successful solo career Stateside. Despite representing Whitesnake's most successful era, the band did not record together. Viv Campbell's only recorded contribution to the band was adding guitar parts to the 'Give Me All Your Love' single, before departing due to 'musical differences', and ending up in Def Leppard.

Largely thanks to the impact of the '1987' promo videos, including the big hair, glitzy outfits and exagerrated posturing, Whitesnake Mk9 - and every subsequent line-up - has largely divided older fans, many of whom miss the more restrained but accomplished work of the earlier incarnations. Those who grew up with the late-eighties work feel different, and continue to provide the group with large audiences and a certain amount of nostalgia seekers as well.
(photo: Vivian Campbell, Tommy Aldridge, Rudy Sarzo, David Coverdale, Adrian Vandenberg)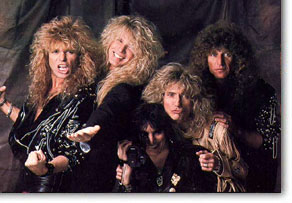 The last 1978-90 era line-up of Whitesnake had the difficult task of following up '1987'. Helped by past experience, recording problems were overcome. When Adrian Vandenberg suffered a hand injury preventing him from playing on the album, work continued with all guitars handled by new member Steve Vai, one of the hottest guitar properties of the time and fresh from his highly acclaimed work with Dave Lee Roth. His presence guaranteed extra attention for Whitesnake (and in turn for Vai's new solo album 'Passion And Warfare'). It seemed a happy arrangement.
Whitesnake's new album 'Slip Of The Tongue' sold 3 million copies, some achievement but less than half what '1987' had managed. In striving to out-do it managed to go over the top. Over-embellished by Vai's guitar pyrotechnics, and with a flash-but-flat re-recording of 'Fool For Your Loving' (which many UK fans disliked), the album saw the band losing their musical roots. Coverdale later described the band as "an overdressed Christmas tree". Don Airey played keyboards on the album, but when the band toured in 1990 Rick Seratte occupied the off-stage keyboard role. Shortly after a headlining appearance at the Donnington 'Monsters Of Rock' festival in August, which did the band's reputation no favours, Coverdale decided to put Whitesnake on an indefinite hiatus. Of the Mk10 line-up, only Steve Vai would not be involved when the band reconvened.