Before a new, more hard-hitting Whitesnake was launched in late 1982, there was a lot of chopping and changing within the group. Bernie Marsden left to set up SOS, and then Alaska - who later supported Deep Purple at the 1985 Knebworth Festival. Ian Paice and Neil Murray jumped ship to join Gary Moore's band for two years of rather ghastly heavy metal.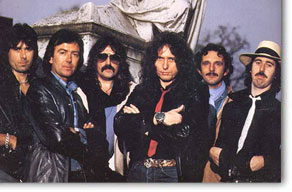 David Coverdale managed to retain Jon Lord's services, and also brought back a supposedly reinvigorated Micky Moody. The new men to add extra punch to the group were ex-Trapeze guitarist Mel Galley, ex-Rainbow and MSG drummer Cozy Powell, and - another jazz rock musician - bassist Colin Hodgkinson, who Coverdale hoped would add a different slant to the music.
The band initially toured to promote 'Saints & Sinners', which had mostly been recorded by the Mk 4 line-up as it was in the process of disintegrating. Unsurprisingly it ranks as one of Whitesnake's weakest efforts. The two strongest tracks (by some distance) were 'Here I Go Again' and 'Crying In The Rain' (both of which would be re-recorded by later incarnations). Nevertheless, Whitesnake's UK popularity remained undiminished, and the new band's tour was rounded off with a pyrotechnic headlining appearance at the Donnington Festival, which adopted a suitably military theme ("Whitesnake Commandos" t-shirts and press packs). New single 'Guilty Of Love' was released to coincide, and the band made the 'Slide It In' album for release in early 1984. Yet again however, by the time it appeared, the line-up which had recorded it was history.