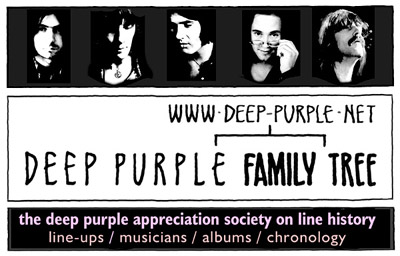 The DPAS Deep Purple Family Tree is designed to provide a growing information resource on the band's history for fans old and new. The work herein is copyright DPAS. Pete Frame's lettering and design is copyright and used with his permission.
Ian Paice ~ The Shindigs / Rod Evans ~ The Horizons / M I Five / The Maze
+ Jon Lord ~ The Artwoods / Santa Barbara Machine Head / The Flowerpot Men












© 2013 DPAS/Darker Than Blue.
Not to be replicated, reproduced, stored and/or distributed in any way without prior written permission.
Pete Frame's handwritten font is copyright and used by kind permission of Pete Frame.
The Complete Pete Frame Family Trees is published by Omnibus Books.