DPAS REVIEW
Whitesnake
The Silver Anniversary Collection
In one word, yes!
After griping about the shoddily packaged, yet TV advertised "Best Of", and the exemplary packaged yet hair metalled US Collection, here's the third compilation to cross my path in as many weeks. And this is the one. 36 tracks across 2 CDs, culled from every area of Sir David's post Purple patch.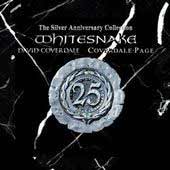 Nearly. There's nowt from his first 2 solo albums, and whilst "Whitesnake" was patchy at best, "Northwinds" remains an all time classic. However, let's concentrate on what's here. If, as the sleeve says, Mr C personally selected these tracks, then it's nice to see I'm not the only one fond of the mellower, jazzier early numbers such as "The Time Is Right For Love" and "Love To Keep You Warm". In fact the run of "Blindman", "Love To..", "Love Is Blind" and "Ain't Gonna Cry No More" on CD2 is the closest thing to to aural sex imaginable. Simply awesome. There's even room for a couple of "Live At Hammersmith" numbers, but sadly it's the studio "Ain't No Love" that's included. However, we do get a couple of live tracks from the 1997 Starkers show to tease us in the shape of "Sailing Ships" and "Soldier Of Fortune". Nice.
Apparently, the material has been digitally remastered, but frankly I couldn't tell the difference. Strangely enough, despite the space available on 2CDs, Lord C manages to exclude the two opening numbers from the current set list. And if this collection is his favourites, why we would he do such a thing? The hair tracks which are here actually sound better in the broader context of 25 years of Whitesnake, and don't jar even when in the vicinity of out and out classics such as "Till The Day I Die", which I am so glad to see here.
The Jimmy Page tracks still sound a bit forced 10 years on, and I'm glad that Mr C saved up the intended 2nd album tracks for "Into The Light" which dammit, you have to own. How many times will I tell people that it's the crowning glory of a long career. Well, there's 4 tracks here to try and persuade you. Minor gripes. No musician credits. Again. Come on Covvy, let bygones be bygones. No rare material. Which is annoying. A couple of tracks from the projected 87 live album wouldn't have gone amiss, and there must be soundboard recordings of the UK band laying around. Hell, I could have provided some.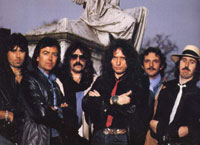 There' s a nine page potted history, nothing new, but at least Mick Wall manages to restrain himself from his normal writing style and presents the facts as is. Even His Majesty finally concedes that the early line up had it's moments. Talking about "Fool For Your Loving" he concedes that "I feel the original has significantly more integrity than the alter version", hence the inclusion of the original here. Maybe it's time to bury the hatchet. This release is a rarity, a collection that actually lives up to its billing. Everyone will find faults. I would have happily junked "Judgement Day", "Is This Love" and "Guilty Of Love", bunged in a track of "Northwinds", possibly another off the under represented "Lovehunter" and then squeezed in the live version of "Ain't No Love..". But this puts a lot of collections to shame. If only I'd hadn't got that infernal "Best Of"!
Review: Stuart Hamilton,
c/o Zeitgeist Magazine