At 28 pages, Issue 34 was quite a biggie, due mainly to the fact that Deep Purple had finally got around to touring the UK! I use the word tour in its broadest sense. Having frozen the UK out in '85, they now did just a couple of the UK sheds - plus the fabulous Playhouse in Edinburgh. It's astonishing and depressing as well to find everyone grumbling about the fact that the set hadn't changed much (only three songs off the new album) and also about the merchandise. As I write this 16 years on the exact same complaints fill the DPAS in-tray after the 2003 tour...

I couldn't face Wembley so as well as a couple of UK gigs we pushed the financial boat out and arranged a train trip to Paris instead to catch the gigs there as we'd so enjoyed it in '85. The gigs were generally excellent, even at the NEC where we were stuck up at the side with cricked necks. The band played a real blinder. I was on the edge of my seat in wonder from the very start. As for the Playhouse, we won't even start on the hair-raising snow-bound drive up to Scotland in the capable hands of DPAS man Peter Judd - more memorable than the gig!

The magazine also took in the US tour in some detail - sadly nowadays the Americans have become less willing to join a fan-club so the feedback isn't as great. Also out Stateside was a new video rounding up all the promo clips to date which came out just as the mag went to print. The magazine had a lengthy looking back feature devoted to Paice Ashton Lord, with the story of the project, rare pics and memorabilia marking the tenth anniversary of the band's album. Historians also helped put together a full line-up guide to the many changing incarnations of Whitesnake - something many of us were starting to get confused by! If that wasn't eye-catching enough, there was a photo of DC with Tawny's legs wrapped around him...

Record wise the issue rounded up the House Of Blue Light spin-off releases and tour bootlegs alongside the usual collection of strange releases and an array of Whitesnake 12" singles. For the magazine cover we had one of our American readers send me a couple of tour passes they'd done with. I borrowed the leather jacket of one of the lads at the printers where I was freelancing, photocopied the passes and stuck them on and mocked the cover up. It was only in later years that I cursed not having put an issue number on the front. The jacket's owner is still trying to remove the glue. It was also the end of an era fan club wise as my mother moved out of the old Herbert Road residence and the historic homestead from where I still collected much of the DPAS correspondence was flogged. Shame she didn't keep it, the one next door just sold for well over £350K! Lastly, and bringing us full circle, I notice a little cutting we slipped in, which refers to a new Whitesnake member called Don't Airey... .

ISSUE 34: DIGEST & INDEX

DEEP PURPLE

LIVE REVIEW : Birmingham NEC

DEEP PURPLE

NEWS : House Of Blue Light, US Tour & European Second Leg

WHITESNAKE

NEWS : The 1987 Line Up & North American Tour

WHITESNAKE

RECORD REVIEW : Whitesnake 1987

PETE YORK / Ian Paice & Jon Lord

RECORD REVIEW : Super Drumming

Birmingham NEC, March 8th 1987 - Live Review
Purple played a devastating set. By the time they'd hit Dead Or Alive things were unbelievably tight, Palcey laying it on the line for all he was worth, the rest cooking around him. The sort of show where you want to hit the rewind button just to make sure you really had seen what you thought you'd seen. Blackmore laughing, dancing, smiling and above all playing brilliantly. From him the others take their cue, and it really was a show to remember.
It would almost be easier to describe the low spots than to try & find the adjectives to cover the rest of It. Difficult To Cure? Totally redundant once the crowd had drowned out Ritchie's preamble. Lazy was a highpoint though, preceeded by some excellent crashing chords as Ritchie tries to catch lan Paice out. By Space Truckin' I'm almost exhausted and Jon's organ work just carries me along. Yet even a show this good has its off moments and Blackmore's closing solo is a real mess. Lordy had spent ten minutes or so building up the momentum with some classic keyboard work, then Ritchie came in and wrecked it all with a dreadful solo, made worse by the useless quad effects from the berk on the mixer. This came as a real let-down to the show; I've never heard it as bad.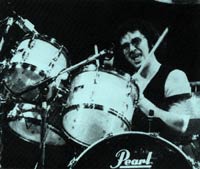 Once that ended, the pain level subsided, and the batteries are recharged for a long encore, with Black Night - which has now become a chance for the crowd to join in, then Smoke On The Water, a number I don't normally enjoy, but which actually managed to achieve a little of the grandeur it's lost since it turned into near parody of itself. Finally a strange medley of bits and pieces including Running Bear and Knees Up Mother Brown! By now Blackmore and Glover are racing at one another across the stage and closed the show on top of the PA at each side. The crowd are ecstatic and lan Glllan spends ages shaking hands from the stage long after the others have gone. The closing music fills the hall and as the people drift out, I realise we've been extremely lucky to have been there and why after seventeen years, despite all the ridiculous politics which surround the band they still remain the best rock band around.
The House Of Blue Light Tour, USA, & European Second Leg - News
"Hope you enjoyed seeing them as much as me here. Sadly I feel this may be the last time. I say this because the band are not playing to sold out houses, many were half full according to Roger. He also said the band were in a trough right now and needed something big to give them a lift and get them out of it. Also, the crowd response to the new material has been terrible. Even through the lengthy songs like Child In Time, Difficult To Cure and Space Truckin' the crowds seemed to get very restless. Roger said he'd wanted to record House Of Blue Light sort of live in front of fifty or so people in Stowe, but the record company wouldn't allow it. When we asked Roger about the next studio album and tour, he sort of shrugged his shoulders and mumbled "I don't know. We'll see". Jason Chepeka.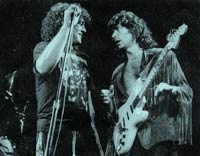 Blackmore managed to bust his finger during an over enthusiastic guitar smash in Phoenix on May 30th and so the remainder of the tour had to be cancelled, some fifteen dates or so. The band were back in action after what was probably a welcome break with shows in Oslo and Helsinki, which were intended to make up for them being missed out earlier in the year. The main reason for the return to Europe was to do a couple of big festivals in Germany at the end of August. From there it was down to Italy where after several earlier cancellations they played in early September. The set had reverted back to include Bad Attitude by the way, with some of the shows being taped. One member reckons every gig was getting recorded towards the end of the tour! Certainly a lot of the US shows were being recorded, though we don't know as yet if they were routinely taping each night or not, A live album will be selected from this material, it's going to be a difficult LP to assemble too track wise, or else the comparisons with Made In Japan will certainly be made.
---
1987 Band Line-Up & Tour- News
The line-up of the "band" caused me some confusion, but it seems to have sorted itself out. Anyway, Tommy Aldridge (drums) and Rudy Sarzo (bass), both from Quiet Riot (and both with Ozzy Osbourne for a time) did the Still Of The Night video shoot. Sarzo only arranged to do Whitesnake's US support tour, but Coverdale managed to get him to stay on for the rest of the world tour. Adrian Vandenburg did some guitar on the album (though the majority of it is John Sykes) and he is now in full time. Don Airey was shipped in to do the keybpoards, and there were other assorted guests and session musicians on It. Finally Coverdale got in Vivian Campbell, Dio's old side-kick on guitar.
Whitesnake hit the road opening for Motley Crue in America in June/July with a 45 minute slot based around the last two albums. Slide It In by the way benefited from the chart action of the new one and actually reappeared in the US charts. It's fairly obvious that the support idea was arranged well before the album zoomed up the charts, by the time they were on tour Whitesnake could have been headlining.
Whitesnake 1987 - Album Review
WHITESNAKE : Whitesnake 1987 EMI EMC 3528 : UK : 1987
"Like Gary Moore's band, or Blizzard Of Oz, Whitesnake are now a replaceable backing band, but this album was written while they were still a proper group. While I think It's probably my favourite by them to date, it still contains too many fillers. "Still Of The Night" is the best track, even If it does rip off Zeppelin's Rock'n Roll. It's a new direction for them and a much more adventurous effort than many. I was it surprised it did so well as a single too as it's so long, and unlike normal fodder. "Bad Boys" is a rabble rouser. "Give Me All Your Love" is a real filler, it could be off any of their albums. "Looking For Love" is great. Slow, with mournful lyrics, it's got a great vocal. On side two we get the redone "Crying In The Rain". I prefer the original on Saints 'n Sinners, this lacks atmosphere. "Is This Love"strikes me as being soppy rather than emotional. The remainder of the album is rarely above average, "Straight From The Heart" sounds recycled, only "Don't Turn Away" comes out of it well.
On the singles, "Here I Go Again : 87" is very like the original, I don't really see why they bothered. "Your Gonna Break My Heart Again" on the 12" is rather better than some of the album tracks in my opinion. In all, some tracks are among the best that he's done, but too many are substandard. I would appreciate some variation in subject matter, most of it being to do with horizontal pursuits as ever. However it has prompted me to get back into the albums again, though the chance of him ever doing that definitive LP seen to disappearing." Michael Kearns
---
IAN PAICE & JON LORD with Pete York
Super Drumming - Album Review
PETE YORK PRESENTS SUPER DRUMMING Global 303 088 : Germany : 1987
This double LP is based on the German TV series 'Super Drumming'.. It contains loads of tracks taped by guest drummers on the programme, recorded in February1987. lan Paice is allocated two numbers, 'lan's Shuffle', and 'Threezenuff', a total of just over six minutes. The studio band lay down a simple riff and let Paicey get on with it. A bit hard for him to come in cold and blaze away, but both are enjoyable. Cozy fans should note that he appears too, doing 'Killer', 'Dance With The Devil', and a duel with Pete York on one other track.
Cozy gets on the front and back covers too, but there are small pics of lan on the front, and inner gatefold too.
also in the magazine...
House Of Blue Light Tour News & Reviews...Video News....IGB Live At The Rainbow video review...
Compact Disc reviews.....Paice Ashton Lord special feature....Whitesnake news....Vintage Deep Purple album reviews.....
Vinyl Reviews, including Deep Purple 1987 Bootleg reviews....Questions & Answers......
---
the magazine can be purchased from the
dpas online store
© 2003 DPAS/Darker Than Blue.
Not to be replicated, reproduced, stored and/or distributed in any way without prior written permission