Issue 33 took a while to get together, with major building work on the old homestead, and quite a lot on my own plate. We kept holding it back from the printers hoping for a listen to the new album HOUSE OF BLUE LIGHT, but kept getting blocked (I rang Polydor one day and could hear it being played in the office, but that was as much as I was allowed!) - although I was asked to contribute to the tour programme which was nice. As we hadn't heard the album, it had to be a retro piece by and large!

The magazine carried the usual detailed time table of events leading up to the release, and I was able to have a hurried listen to the finished record before going to press (on vinyl, although the news of an extended CD edition began to cause us to waver). It's an album which has come in for some stick over the years (with a retrospective look in more recent issues of the magazine sparking lively debate), although looking back I don't think my high and low points have changed too much. A couple of great tracks, but a perceived lack of interest from the guitarist held other tracks back. All this and grumbles about the UK tour dates kept getting shunted back (even though ticket offices had taken cash for them months before) took up the first seven pages of the mag!

The other big section was the record reviews, and we had our work cut out trying to keep up with the new releases, especially the bootlegs (with over two dozen covered in a special catch up list on the back cover). The Deep Purple Rises Over Japan video surfaced again, this time on CBS, but was cancelled a second time. Otherwise, with little activity from the band outside the recording, we were able to drop in some interesting reprinted interviews and features from around the world.

And the world waited with baited breath as Coverdale put the finishing touches to what was to become his biggest selling album ever. Just twenty pages this time then, but the chance to purchase our Perfect Street Rangers t-shirt which went down really well (someone threw one on stage for Gillan when the gigs finally arrived - caused him some amusement when he'd worked it out!). One or two still surface at gigs even today, though sadly mine is long past the stage where I dare wear it (or could fit into it).

ISSUE 33: DIGEST & INDEX

DEEP PURPLE

NEWS : Recording The New Album

DEEP PURPLE

RECORD REVIEW : House Of Blue Light

DEEP PURPLE

VIDEO REVIEW : Rises Over Japan [withdrawn]

WHITESNAKE

NEWS : The New Album

GLENN HUGHES / GARY MOORE

RECORD REVIEW : Run For Cover

GLENN HUGHES / BLACK SABBATH

RECORD REVIEW : Seventh Star

GLENN HUGHES / BLACK SABBATH

LIVE REVIEW : Detroit

GLENN HUGHES / BLACK SABBATH

NEWS : In & Out

Countdown To The New Album - News
Deep Purple finally got down to recording on April 12th in America. They checked out somewhere in Massachussetts but it was so bleak that they all ended up back in Stowe, Vermont. lan spent a month at Roger Glover's house in Greenwich writing prior to the start of the sessions. lan Paice returned to the UK on Friday August 15th, and was collared a day later by one of our members Mark Standing. lan told him that he'd left the others putting finishing touches to the tapes. Come September 26th Roger Glover was mixing the album at the Union Studios in Munich. The whole band were supposed to be there, but people came and went as they were needed, lan adding a few vocal tracks and so on. There were some strange rumours about the album being issued early in some countries, the Americans had been told to expect it at the end of October. The album also seems to have gone through a few title changes before they settled on House Of Blue Light; lan Paice spoke of it as Black And White, after one of the tracks, while less serious ones were The Acid Test, and It's Not That Bad!.
Ritchie Blackmore has said that much of the LP was re-recorded, so this must have accounted for some of the delay. Test pressings only arrived at Polydor on December 18th, and the release date was also put back to January 12th. By this time the full extent of the European tour was becoming clear, with venues following the 1985 ones fairly closely in most places, However Germany was set for considerably more shows, and they were also taking in a few places not covered before. The warm-up gigs in Budapest marked a first, it isn't since 1975 that the band have kicked off behind the "iron curtain".
House Of Blue Light - Album Review
Many numbers just don't have the extra spark to lift them onto my play-list. Let's face it, there are only so many hours in a day, and I don't feel inclined to waste too many listening opportunities putting on stuff which I really wanted to like but can't. To me, as an album it doesn't scale the heights which Purple have scaled before.
BAD ATTITUDE knocks me out, I've been playing it over and over, it's probably the most powerful cut on the LP, with a no nonsense feel and edge to it which is often lacking elsewhere. Gillan does a great vocal, and the backing does him justice. Nowhere else on the LP does the production sound balance out quite as well as here either, with the right amount of everybody present all of the time. THE UNWRITTEN LAW by contrast is weak. and the efforts to introduce "current technology" only serve to water things down even further. MAD DOG contains the most truly godwaful keyboard noise in Jon's solo. Whatever it is, destroy it or wipe it from the computer discs AT ONCE! STRANGEWAYS is a great track and shows what they can still do. I suppose it's the fact that they keep coming up with goodies like this which makes it all the more frustrating with the lesser cuts. The overall balance is back too - somehow this does seem vital in keeping the Purple feel alive. I like DEAD OR ALIVE, not least for the proper organ and guitar solos - and about bleedin' time! There is something special about the vocal though which I can't really put my finger on, it just has a weird haunting quality. All the more curious that lan should write it off in the recent Kerrang feature.
It's a long album, something around 46 minutes or so. Originally they'd been going to ditch a couple of the numbers, (MITZI DUPREE was one they couldn't all agree on including), or save them for the CD. The CD is in fact a few minutes longer than the vinyl. The single b-side will be STRANGEWAYS with the CD length cut on the 12", so this is a help for non-CDers like myself. The sound quality on the LP does suffer as a result of getting so much on (as well as the usual thin vinyl.), and it does need to be cranked up for full effect. I do feel they'd benefit from someone from outside coming in to handle production or something, someone who isn't bothered about any outside pressures and who is also capable of capturing the essence of Purple on disc. That would entail a greater effort from the band too, the disc is very patchy. I personally will be surprised if people take to it unreservedly, the people I've heard from or spoken with so far haven't (some have been down right damning!). After two years I had hoped for rather more.
Rises Over Japan - Video Review
DEEP PURPLE. RISES OVER JAPAN. CBS / Fox 3081-50 ; UK : withdrawn
We have reported the supposed imminent release of this video tape for the past few issues, but as I write it seems no nearer to reaching the stores. However you may recall the full page ads In Kerrang. Review copies have a clock sequence top left corner, running throughout, and at the start is a message saying Special Test Cassette etc.
The filming is fairly basic. One camera around the mixing desk position to provide long shots, another camera in front of the stage providing better coverage, with the occasional good wide-angle view. A third, hand held camera is roving about on-stage, but this view isn't used very often. I'd guess that the film was shot on one night, and that the arrival and disappearance of both Lord's jacket and Paice's t-shirt are down to numbers being out of sequence! Quality is average, the footage does seem dodgy on focus at times, and there are moments when it gets really poor - esp during Smoke... The sound goes in one or two places; the keyboards disappear in Love Child, the vocals go once or twice, etc. The credits are to Tony Klinger, he did the Butterfly Ball film too.
Even if the sound can be improved, the footage will still suffer from the fact that the band were not performing too well for various reasons, and it will remain as little more than an archive record of Mk 4.
---
The Saga Of The New Album Continues - News
Rapidly becoming the most "whatever happened to..." person in the Deep Purple family, the world still waits for firm news of what David Coverdale and his merry men have been or are up to. It does seem as if part of the delay has been due to Coverdale having throat problems, though what they were or how serious hasn't been discussed. David seems to have been holed up in Hollywood recently, putting some finishing touches to the album in LA. Meanwhile John Sykes put his last minute guitar bits down at a studio in Dublin. What with that, and the news that most of the vocals were laid down in Barbados, and it looks like we' re in for a credit list of mammoth proportions! The end result of some 18 months work should be out here early in '87.
David spoke about the new album (finished originally you'll recall back in 1985) to a Spanish mag earlier this year :- "The producer is Mike Stone, known above all for his work with Queen. I met him In London. I told him of my plans for the new LP and he suggested producing it almost immediately. The band is still new in America. We had a lot of success in England and Japan, but to completely dominate the USA will be a lot more difficult because it is a much bigger country". In America it is planned to put the band back out on the road as a support act next time around, as most of the publicity gained there on their last l outing has now fizzled out.
What the LP will sound like is anyone's guess, but according to Denise Southam, who spoke to Neil Murray a while back, Mr, Coverdale regards it as "the Physical Graffiti of the 80's"., whew! Denise says the material does indeed have a Zeppelinesque feel on certain tracks, and that there are fewer of the usual mid-pace 'Snake songs, with a bigger distinction between the faster, heavier stuff, and the slower material.

back to the top
---
Run For Cover - Album Review
GARY MOORE : RUN FOR COVER. Ten Records, DIX 16 : UK : 1986
This is one we should have got round to last time, but space ran out. In the end it comes down to being just another Glenn Hughes session, when for a time it really looked as if it was going to be something rather more lasting. The tracks are all listed with personnel on the inner bag, and the line-up seems to be different for just about every track! Glenn plays bass on the title track, and then also does lead vocals on three other numbers. It's quite good stuff too, though the material isn't that strong - Glenn just doing what he's asked. While with Gary Moore, I see the bastards have now issued 'Rockin Every Night' in the UK officially. Nice trick on the fans, who all coughed up for the import copies which Virgins went to all the trouble to get! You lose the gatefold sleeve, but that's about all. Paicey throughout of course.
GLENN HUGHES with Black Sabbath
Seventh Star - Album Review
"Bought the new Black Sabbath album. I can't stop playing the damn thing. Hughes' vocals are quite simply magnificent. In my opinion it's even better than Born Again. Favourite tracks are Angry Heart and In Memory - soulful Black Sabbath!" Brian McPherson.
"If you are expecting the dull, turgid, doom-laden Sabbath of old then this album will surprise you. lommi has managed to keep the modern sound first hinted at on Born Again. Starting off with the highly charged In For The Kill it is immediately apparent that both lommi and Hughes have found in each other the perfect vehicles for furthering their careers, and of dispelling any doubts that either of them couldn't cut it. The vocals steal the show - how does he get such a range?"
PJ Thomas. (I'd have had more reviews, but once the departure was announced, a lot of what people said or hoped for immediately became redundant.)
Cobo Hall Arena, Detroit, March 22nd 1986 - Live Review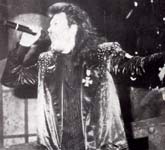 "I managed to get my mk4 pic signed as Glean arrived at the ball, looking in fine shape but sounding a little hoarse. This was only the second show of the tour, and it looked and sounded that way. Mob Rules starts things off with Glenn sounding pretty good, but there was a while to go yet. War Pigs was really bad, and Glenn left out the third verse altogether. He was coughing a lot on stage too, during and between songs. Neon Nights was great and here's where things got started, Glenn sounded much better and seemed to be feeling a bit more at ease. Earlier on it looked like he really wanted a bass in his hands, and he didn't know what to do with himself. Black Sabbath cropped up, with some brilliant screams during it. Heaven & Hell closed the set, then a quick encore of Paranoid. Glenn breathed a little life into this dinosaur with some unique phrasing. As well as the tracks mentioned, they did some of the new album - Danger Zone, Heart Like Wheel, So Stranger To Love, Turn To Stone, and Seventh Star." Jason Chepeka.
Glenn Leaves Black Sabbath - News
No sooner was he in, than he was out. With the new Sabbath's album getting a reasonably favourable review from most sources, Glenn's performance being rated by people even if they didn't go a bundle on the rest of the material, we all thought that as the American tour got under way on March 21st, this really was it. However, Glenn was out by the 28th. Reports say it was lommi's decision. He was unhappy with Glenn's performance, and felt he was unable to cope with the older Sabbath stuff (me too!); more of a problem than it might sound as the sets were surprisingly reliant on tracks from earlier line-ups. Glenn's departure didn't prevent all of you from checking out lommi's band when they finally reached the UK, where they found tour t-shirts with Glenn's face on, and the tour programme off the Born Again show being sold as a "collectors Item"! Glenn was replaced by Ray Gillen for the European leg of the tour, no relation. I've had reports from America that the cancellation of the US leg was something of a blessing as the band were hardly selling any tickets at all, so that while it would have been feasable to have played at least a large percentage of the shows with the new singer, this was not done.
also in the magazine...
House Of Blue Light European Tour News & Dates....Video News....Vinyl Reviews, including Whitesnake, & Gillan bootlegs....Deep Purple Reunion Bootleg reviews & check list....Questions & Answers......
.....Deep Purple, New Zealand singles list.....
---
the magazine can be purchased from the
dpas online store
© 2003 DPAS/Darker Than Blue.
Not to be replicated, reproduced, stored and/or distributed in any way without prior written permission