Deep Purple "History, Hits & Highlights '68-'76"
"The Jekyll and Hyde presentation means that some otherwise brilliant performances are often either badly labelled, badly presented, badly edited or bits of all three. It will still be welcomed with open arms, but I feel that there are far too many 'ifs' and 'buts' in the production values for it to be viewed as an unqualified success.
As with its predecessor 'New Live & Rare 1984-2000' (which should more accurately have been titled 'New Live & Rare 1984-2001') the track listing is very thin on detail, which seems at odds with a release aimed at Deep Purple fans, who I guess would be interested in that sort of thing....."
read the rest of Alexander Kane's review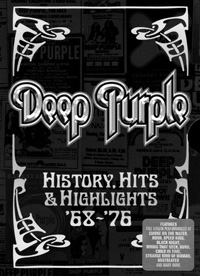 "Nearly a month after it's release, the general concensus on this DVD across many Deep Purple sites seems to be : 'It's not as good as it could be'.

I can't disagree, it's flaws are many. From the pointless duplication of Burn on each disc, to the splitting of the Playboy performances, on through obvious filler like the interviews with the road crew and manager.

There's stuff on here I'll never watch again; the creepy Speed King TV bit and the silly Strange Kind Of Woman video.

The 20 minute History section has been debunked as nothing but a "Table of Contents". The Highway Star / Made in Japan footage should have been a stand alone piece.

What raises this DVD above all its faults is the live archival footage. Across Marks I, II, III and IV's Rises Over Japan cuts, it is quite something to behold. ( I won't include the New Zealand TV bit of Mark IV footage being overdubbed with the Made in Japan version of Smoke on the Water, because that is just WRONG.)"

review: Mike Whiteley

"There have been a lot of Deep Purple DVDs over the years, mainly patchy ones of the various reunion lineups but, finally, here's one that is actually, if only just, worth the price of admission. As the title says, it's a collection of history, hits and highlights from 1968 - 1976, which to a Mark I, III and IV fan like me, promises much.

It doesn't get off to the best of starts with a cut and paste documentary, which seems to largely consist of clips from later on in the DVD. Think of it more as an extended trailer, rather than a real documentary, and you might look upon it more favourably. Sadly, for me, there is a paucity of Mark I material.
Most of the space is taken up with Mark II material. Not surprising, given the historical revisionism that picks them out as the best of the lineups, but at least there is plenty of material here that has rarely been seen. A lot of the Mark II stuff has been out before, so the clips of 'Black Night', 'Child In Time' and 'Lazy' will be familiar to most. I did, however, enjoy the Purp free Top Of The Pops performance!
On to the Mark III and IV stuff, and there are definitely some treats here, although not nearly enough. There's a 1974 colour performance of 'Burn', the much seen 'Mistreated' from the California Jam and 'Love Child' and 'You Keep On Moving', filmed in Tokyo in 1975. There really should have been more of this, but that may just be the Bolin freak in me screaming at a missed opportunity.
Over on DVD 2, you'll get the chance to see the Leeds Poly version of 'Burn' again and a few overseas TV specials with the Bilzen Jazz Festival show from 1969 my favourite, ahead of Pop Deux, a French TV film from 1970 and a rather pointless MkIV New Zealand documentary.
The booklet is definitely a visual treat, chock full of memorabilia, and I spent just as much time poring over that as I did the second disc. Overall, it's worth owning, despite some of the material being barely watchable. But, it is out at a reasonable price, and you can happily while away several hours replaying your favourite clips."
review: Stuart A Hamilton

"Although I'm more than pleased with the bonafide live footage - and haven't stopped watching some of it for days now - I'm really disappointed with the package as a whole.
For me artwork and packaging are hugely important with these archival releases. It's an opportunity to add value to the release and document the historical context of the peformances. The artwork and packaging on this release are dire. The booklet is a waste of time - Geoff Barton warbling on about what, exactly? Nothing is what and although nicely presented - a collection of well known and widely available images with no documentation of the DVD contents at all. The ticket / poster montage is used 5 times for God's sake! The DVD box itself is dull and although the slipbox silver/black colour scheme is more appealing it's still dull. Who needs a cardboard slipcase anyway to protect a plastic DVD case? Oh I remember now. The slipcase was introduced as a means of incorporating additional artwork to enhance the value of the package? The history section is nothing of the sort. It's a collection of snippets from the bonafide clips. The only good bit here is that this is where the Made In Japan footage has been very cleverly synched to Highway Star - nice, although it should really - considering it´s importance - been allowed to stand alone perhaps with some kind of animated lead in using the Made in Japan artwork themes... There's no commentary or text although it appears at least to be in chronological order - something to be thankful for at least. A missed opportunity.
Another disappointment is the way they've chopped up the performances and spread them around. The Playboy footage for example has been spread over both DVD's Where's the point in that? Also, we don't need footage of already available material - Cal Jam, Concerto, Denmark 72, Hofstra. This is all filler. Without these it could easily have been a single DVD package or the space used for a serious attempt at an historically informative section. They don't even bother to use these clips as an advertising opportunity for the official releases!
There are no sound options, no commentary - which would have been a tremendous bonus, having various band members' reactions to these old clips and their recollections would have been wonderful.
What's that dodgy video to Strange Kind Of Woman? I seriously doubt that that is in anyway an officially commisioned video project and therefore deserves no space on this release. (It was actually made by Top Of The Pops, as the band weren't available to appear on the show in person) At least the Never Before video was officially commissioned even if it's dire.
Basically they've seriously ballsed up what could have been a glorious package. They pushed it out on the cheap and it shows big time... I refuse to recognise this as the 3rd Archive release and await the real thing....
But the live footage is a joy to own. I'm thankful for that at least..."
review: Steve West

"Well, well, well, isn't this nice? A double DVD of (mostly) previously unreleased video bits and pieces by Deep Purple from 1968-1976. Looks good to me.
Many of these things have been floating around for collectors to pick now and again on bootleg VHS & DVD for many, many years. The nice thing here is that most all of it is very good quality (not fourth generation PAL to NTSC and back again). Yes, there are a few repeats and overlaps, it's not all in perfect order, and there are a few video clips that could have been on here that are not, but overall, this is easily the best Deep Purple DVD released so far."

review: Jeff Breis

"No No No (Take 1): Quite frankly this is a major highlight, seeing as we get to see a) what the Beat Club "really" looked like while filming, and b) Purple genuinely "mess up" and need to start over again! There are no psychedelic effects in the background (only a bluescreen...and this is years before Star Wars!). Everything sounds fine and dandy until the A pentatonic minor ascending riff after the breakdown. Then, Jon and Ritchie have trouble playing it in unison, and the whole band stops. After some re-tuning and a few warm-up runs (Ritchie nonchalantly takes a sip of some water or a clear fluid which looks like water), everyone leads straight into...
No No No (Take 2): The boys get the song right. Once they added the psychedelic backgrounds, this was aired on German TV as the version found on disc one...."
"My overall view of the set is that had it been merely the DVD of the excellent Sonic Soom "round up" release with the Mk 1 stuff, Made In Japan video, No No No out-take and the 1974 Leeds Poly stuff we probably wouldn't be moaning. Sadly the repetition and superfluous material detract from the package. Ho hum. Whenever the responsibility leaves the DPAS we rarely end up satisfied. Was it ever thus. 
As an aside is it me or does Gillan look pissed in the majority of the clips?"
For more detail on the disc contents see our History, Hits & Highlights DVD preview
Deep Purple Juke Box Jury
Have your say on 'History Hits & Highlights'. Email your review to the deep-purple.net mailbox