"This four hour plus collection isn't easily described without sounding ungrateful or inaccurate, at least not without ploughing through the contents and trying not to over-use the word 'inconsistent'. The Jekyll and Hyde presentation means that some otherwise brilliant performances are often either badly labelled, badly presented, badly edited or bits of all three. It will still be welcomed with open arms, but I feel that there are far too many 'ifs' and 'buts' in the production values for it to be viewed as an unqualified success.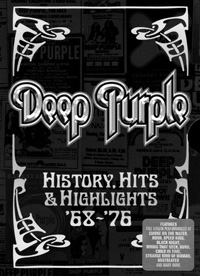 As with its predecessor 'New Live & Rare 1984-2000' (which should more accurately have been titled 'New Live & Rare 1984-2001') the track listing is very thin on detail, which seems at odds with a release aimed at Deep Purple fans, who I guess would be interested in that sort of thing.
The opening 'History' section is either a cleverly put together selection of the shorter clips found during research, or a trailer for a DVD that it actually appears on. Or a bit of both. Such is the nature of the collection. The rest of disc one is taken up with the 'Hits'; mostly a greatest hits collection with a few oddities thrown in which might have been better suited either to the 'Highlights' bonus dvd, or a nearby pedal bin.
Deep Purple Mk1 fans get a really cool early 1968 mime to 'Help' (dated by the haircuts not having gone all busby yet). There's also an interview with Jon Lord from the same show included in the opening 'History' section. The better known Playboy TV material has long been a favourite of mine, with a very goofy 1968 live performance of Hush, if you can tear your eyes away from the 1960s dollybird dancers. And going by the occasional bum notes, the band were also have trouble concentrating. It's still great, but sadly incomplete, missing the closing jam of And The Address. OK, so it had the end of show credits, and a short voice-over recommending Sabena airlines, but still. Other clips on this collection have more obtrusive rolling credits and are still left complete. Consistency is lacking.
Picture and sound quality are also inconsistent (I promise to stop using that word from now on), but this has to be expected, if not to some of the extremes on disc one. 'Wring That Neck' is a very grainy studio performance, with all band members sat down. It sounds sImilar to the Book Of Taliesyn original, but is a completely new version. Maybe it's on the wrong disc, but as part of the collection I must say thank you to the producers. It would also have been nice to know where it's from, but hey.
Deep Purple Mk2 unsurprisingly land most of the space on the discs, probably because the band's TV appearances began to fizzle out not long after they gave up recording BBC radio sessions in 1970. Most of the material will be familiar to collectors and YouTubers.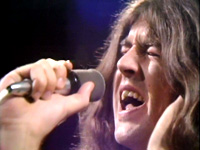 The Mk2 hits include the three Beat Club tracks in all of their glory, and other serious goodies such as Turkish bath-sweaty live versions of 'Demon's Eye' and 'Into The Fire' from Berlin in 1971, actual footage from Tokyo 1972 in 'History', an amazing version of 'Mandrake Root' from the 1970 Southbank Summer show, and other bits which it's nice to have rounded up in one place, such as 'Black Night' from Top Of The Pops (although the opening notes have been shorn off!) and the surreal 'Speed King' mime from the Vicky Leandros show in 1970. On the down-side (sigh...) although 'Child In Time' is included from the Doing Their Thing half-hour - the other tracks are not on the set at all, and 'Strange Kind of Woman' doesn't actually feature the band. A prerequisite on a Deep Purple DVD I would have thought. 'Lazy' and 'Smoke On The Water' are from the 'Live In Concert 1972/73' DVD, although in mitigation they may well be the only 1968-76 Mk2 versions available. Part of me is grateful that reunion versions weren't dropped in instead.
Mk2 also dominate the disc two 'Highlights' selection. 'Wring That Neck (Bilzen Jazz Festival 1969)' is actually the full 25 minute Belgian TV broadcast, from opening to closing credits, by which time Deep Purple have been hammering through a fantastic (and unlisted) performance of 'Mandrake Root' for seven minutes. In sadly faded picture quality. The 1970 Pop Deux half hour is tremendous live footage, although the quality is oversaturated and blurred (as were the pictures beamed over from the Mexican World Cup that year), and I love the Beat Club rehearals of 'No No No'. What a nice find to round off the Mk2 section. Shame they are listed as being from Rockpalast. Right country, wrong TV show.
Deep Purple Mk3 video will, I guess, always be constrained by what exists of the line-up. The early 1974 'JT Nuit' French TV gig report is a rare find. 'Burn' from the Leeds Poly Project is great to see in such good quality compared to bootlegs through the years, and for me captures the 1974 Deep Purple live experience way better than the California Jam. Though I'm not sure why it is repeated on disc two at the expense of other material. 'Mistreated' is unsurprisingly from the recent Cal Jam DVD. Hoping for either the alternate angles or the sharper footage from the first release of the concert was rather optimistic on my part. 'Stormbringer' era footage was also unlikely, but did I not spy with my little eye a 1975 live German TV clip of the title track in the History section? I think I did.
Deep Purple Mk4 is even more limited, thanks to the World At Large documentary having gone walkies, leaving just two sources. The almost released in 1985 'Deep Purple Rises Over Japan' half-hour film from Tokyo 1975 is poor I'll admit, but only including the two Come Taste The Band tracks and ditching the rest still seems a bit... inconsistent. Sorry. The New Zealand TV documentary from November 1975 has interesting bits, I particularly like the band interviews, but it seems naughty beyond words to include 'Smoke On The Water (New Zealand TV)' as a separate track in the booklet. It is in fact just the last section of the documentary, with Mk2 audio dubbed over clips of the Western Springs Stadium concert.
All in all the collection is slightly unsatisfying but still more than worth it at the price, with vast amounts to either pore over or fast forward over. As it says in the Online Store '2DVD set with loads of rare material + a grab-bag of assorted odds and ends'. Amen."
review: Alexander Kane
For more detail on the disc contents see our History, Hits & Highlights DVD preview
Deep Purple Juke Box Jury
Have your say on 'History Hits & Highlights'. Email your review to the deep-purple.net mailbox