"At last, here it is... Deep Purple History, Hits, and Highlights, the two disc set spanning Deep Purple's initial career from 1968 to 1976, when they went through four line-up changes and became basically the second biggest hard rock band in the world (after Led Zeppelin). The packaging is nice, a classy black slipcase over the light purple cover. A beautiful booklet with an essay by Geoff Barton and lots of nice cutouts / photos / newspaper clippings of all four line-ups. OK, OK : Roughly half of this material is already officially available and much of the rest can be found on YouTube or bootlegs, but certain portions are extremely rare indeed and excellent finds. A great way to spend $20 and over four hours watching it. Track by track...
Disc 1
History
A 20 minute mini-documentary which gives a brief overview of Deep Purple's first 8 years (1968-76), made up almost entirely of clips to be found elsewhere on this two disc set. It might be confusing for neophytes but longtime fans will see this as 20 minute love letter. Overall, it's done surprisingly well, although it's difficult to say how much replay value it will have. The only voice-over consists mainly of audio snippets of interviews from band members, taken from 1991's Heavy Metal Pioneers VHS tape. The much-ballyhooed unearthed Made In Japan footage is present, but it isn't really much to write home about. (We see Gillan singing "Highway Star" and the stage looks quite different to the one on the cover of Made In Japan; I always forget that this cover shot actually came from London's Rainbow Theatre earlier that year and not from Japan itself). We also see Mk III playing "Stormbringer" and it's a shame this wasn't included in full later on the disc; it seems to be a color version of the awfully blurry Germany 1975 footage floating around on YouTube. This doc ends rather abruptly with the Deep Purple split in March 1976.
Hits
Help: Black & white footage of Mk. 1 miming to the Beatles cover tune in Denmark (although for some reason it looks like Florida to me!) Ritchie does a good job miming to the volume swell solo at the end.
Hush: Taken from the band's late 1968 appearance on Playboy After Dark , parts of this were featured on Heavy Metal Pioneers but we get it here basically in its entirety. The picture quality on this clip is ironically better than a lot of the stuff from the 70s (something the DVD liner notes don't fail to note). For those not in the know, Playboy After Dark was a show which gave people a chance to watch Hugh Hefner ("Hef") smoke a pipe while watching girls in lingerie dance with guys in tuxedoes while listening to the "hip" music of the day. The band plays a spirited but faithful-to-the-studio-version "Hush." Some jerky "dancing" from Rod Evans and a beautiful Emerald green shirt from Ritchie.
Wring That Neck: Fascinating b&w footage of the band playing this track from The Book of Taliesyn in the studio. For the most part, it looks like they're really playing it! One of the funniest moments on the DVD comes at the end, where we see then-singer Rod Evans lying on the floor half asleep (since it's an instrumental...get it?).
Hallelujah: Black & white footage from the Beat Club, one of Gillan's first appearances with the band. OK but rather blurry and with dated effects.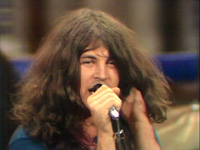 Mandrake Root: Absolutely incredible, one of the best performances here. One of those Mk I songs which didn't really come to life until Mk II came along and turned it into an extended jam featuring every player. Yes, the song itself mostly consists of E7#9 (the "Purple Haze" chord) played over a heavy beat, but who cares? Ian Gillan comes into his own as one of rock's greatest screamers. Lord delivers a great keyboard solo. After playing one of his patented "snake-charmer" guitar solos, Blackmore pulls out all the stops, putting Hendrix and Townshend to shame with his theatrics--throwing the guitar around, tossing it in the air and catching it, playing it behind his back, rubbing it on the floor or against the amps, stepping on it, turning it upside down and pawing the neck like a cat--you name it. At the end he knocks over Paice's drums, and Glover runs over to his own amps to keep them from falling over. A superhuman performance. Even when he just standing there playing backup during Lord's solo, Ritchie looks totally menacing and badass!
Speed King: One of the weirdest offerings here! The band plays in front of a bunch of actors dressed in strange 19th century costumes, as if they're posed for a painting from the Crimean War or something! All superimposed over a black and white shot of people standing around looking pissed off. The director must have been going for something "artsy," but it's just weird and distracting.
Black Night: Top of the Pops. A mimed performance in front of a bunch of cute dancing girls. We get our first look at Ritchie's legendary pilgrim hat (wearing it automatically makes him superior to 99% of the human race). Gillan wears a "wife-beater" t-shirt with an American flag on it. Ends rather abruptly.
Child In Time: Easily available on Doing Their Thing. There have been more incendiary versions of this tune available on various live albums, but this is a decent version. The audience seems largely made up of kids younger than 15 or so! At the outset, Jon plays around with the main melody more than usual--his attitude seems to be, "Hey, it's in A minor so as long as I play something on the white keys, I'm safe." Ritchie's solo finds him largely going through the motions; it seems much shorter than what he usually plays on "Child In Time." This is the last time on Disc One we see him with his cherry red Gibson ES-335; from here on out it's Strats only.
Lazy: Easily available on the Scandinavian Nights: Denmark 1972 VHS or the 1972-1973 DVD released in late 2005 by Eagle Rock. Black & white footage. Pretty good version of "Lazy" which doesn't really fully take off until the end, when Blackmore plays one of the most stunning passages he's ever played on a live version of this track--bluesy and funky and with a ton of energy and attitude. And the camera is focused on him (for those familiar with this concert, for the first half of the show the cameraman can't seem to figure out who to focus on during solo passages. It certainly ruined the guitar solo on "Strange Kind of Woman." Well, this is thankfully from the second half of the show!) Minor quibble: This performance is way out of order chronologically and should have been fitted in towards the rest of the Machine Head songs on this DVD.
Strange Kind of Woman: Weird "video" for the song consisting mainly of a helmeted woman riding a motorcycle. She takes her helmet off towards the end, gets off the bike...and is a terrible dancer. The audio source tape sounds sped up half a step or so; everything sounds faster and higher pitched than the studio version. The band appears only in photos from time to time.
Fireball Writing Session: Previously featured in part on the Classic Albums: Machine Head DVD, this is grainy black & white footage with brief narration followed by an audio track of one of the movements from the 1969 Concerto. Honestly, there's not much on here we didn't see on the Machine Head DVD.
Fireball: Another Top of the Pops-type performance. Lots of dancers. Although it's 1971, Paice is wearing a late 60s type getup which probably looked slightly dated by then.
Demon's Eye: This was a real find; it's been on YouTube for a while but obviously the quality here is better. Underrated Mk II song and rarely performed live. In the middle we're interrupted with interviews with people (in German) talking about how much they like Purple (or not)! Towards the end (over the original "credits"), Blackmore and Gillan get into some excellent guitar/vocal jousting of the sort they would soon be doing on "Strange Kind of Woman," but a bit more subdued. Did they drop this and use "Woman" for the dual because Gillan could scream more easily in B (a higher key!) than in G? Regardless, Ritchie has the best finger vibrato in the world, n'est-ce pas?
No No No: Footage from the legendary Beat Club, which featured live in the studio performances at Bremen's Musikladen studios by all the great rock acts of the day with psychedelic background. It's also been available on the Ritchie Blackmore Rock Profile Vol. 1 CD since 1991. Spirited run-through of the rarely performed track from Fireball. Ritchie in a pilgrim hat.
Into The Fire: Taken from the same source as "Demon's Eye." Decent but short version of "Into The Fire." Most enjoyable for the audience reaction shots: a few are headbanging, a few are apparently tripping on acid (never!), one dude is yawning, another is eating a pear, and one guy sees the camera and mouths "Hi Mom" in German.
Never Before: Previously available on the Classic Albums: Machine Head DVD. Washed-out color on a live clip with studio version overdubbed. Continuity alert: One band member's shirt changes midway through a la John Paul Jones in The Song Remains The Same. Blackmore strikes some Prince-like poses during the guitar solo.
Highway Star: Available on DVD on The Best of Musikladen (and VHS on VH-1 My Generation: The Metal Years), so many viewers will hit the "next" button, but here it's at least complete with introduction by a foxy German chick in an extremely short miniskirt (sitting down in it would stop traffic). Filmed on the same day as "No No No," it's notable for lyrics quite different from the Machine Head version, as well as Ritchie's solo--he hadn't worked out the Mozart arpeggios yet, so here he's just throttling the whammy bar as hard as he can.
Smoke On The Water: Taped for Dick Clark's In Concert TV show at Hofstra in spring 1973, shortly before Ian Gillan and Roger Glover left the band. Readily available on Eagle Rock's 2005 1972-1973 DVD. Strong enough version of Deep Purple's biggest hit and apparently the only time it was caught on film during the original Mk II's inception. Gillan now has a beard (come to think of it, David Coverdale also grew a beard during the final months of Mk IV, so it must have been an unofficial Purple tradition in the '70s--if the lead singer grows a beard, he must be getting ready to jump ship!) Ritchie gets a nice heavy tone out of his Strat, and plays the main riff with his thumb at one point (ouch). Gillan is in strong voice. Here (as elsewhere on DVD) the performance is sadly abbreviated towards the end of the song.
Burn: Taken from the 1974 Leeds Polytechnic Student Project, which one can find from the eBay bootleg crowd. A raw take on "Burn" with Blackmore as the main star (Coverdale sounds rough and Hughes sings a bit too sharp on the harmonies). At this point the band started using tons of dry ice onstage which looks cool. Some of the guys in the audience are extremely drunk and are apparently being propped up by their buddies!
Mistreated: Taken from the 1974 California Jam, easily available on DVD from Eagle Rock. And unfortunately, it's from the same blurry videotape source, meaning the colors are oversaturated and there's some bleeding during fast movement onscreen, especially on the browns and reds. Purists will also be miffed that some of the camera angles they "grew up on" have been changed. My favorite singer of all time, Coverdale gives his all and has rarely performed a more passionate version, although in my opinion Ritchie Blackmore played more musically adventurous guitar solos for "Mistreated" on the following year's Stormbringer tour. From night to night he could make the tune more bluesy, jazzy, classical, or exotic, but here he's actually sticking relatively close to the studio version. I'm surprised that the producers didn't omit the Cal Jam "Mistreated" in favor of the latter part of "Space Truckin'," where Ritchie blew up the amps, etc., etc. And again it's too bad we couldn't get "Stormbringer" from Germany 1975 to have that criminally underrated album represented.
Love Child : From the Rises Over Japan VHS tape, of which I had a third or fourth generation copy, so it's good to have a nicer version here. The infamous December 15, 1975 show, where Tommy Bolin was suffering from the effects of heroin. On this song he doesn't play a proper guitar solo but still looks like a god; Jon Lord plays what David Coverdale once told me is one of his least favorite keyboard solos (because it sounds like cheesy '70s porn music played on an ARP). Towards the end, Hughes and Bolin stand together and rock back and forth in unison with their guitars like KISS. Paice works overtime on drums to keep the band together.
You Keep On Moving: Also from Rises Over Japan. Here we learn that it is actually Coverdale (not Hughes) who does the "female orgasm" voice at the beginning (which always surprised me). I actually like the lighting and camera work on this moody tune; it seems to give it more of a "timeless" feel. At one point we get an awesome 360 ̊ shot of the whole stage from player to player, and it's actually an impressive piece of camera work from the director. Bolin's guitar solo is quite sloppy but seems to have a lot of passion. Yet another abrupt ending. It's a shame that more material wasn't available from this concert (or other Mk. IV concerts!) I'd love to watch a full-blown "Gettin' Tighter" or "Lady Luck" on a good night.
Disc 2
Highlights
And The Address: Over the moody keyboard intro, Hef introduces the band (and he almost forgets the name of his latest bimbo!), then they play a version of "And The Address" pretty faithful to the studio recording. Afterwards Ritchie gives Hef a very brief guitar lesson (he strums a chord and adds whammy bar), and then Hef asks Jon Lord about the haunted house where the band stayed when they first got together. Ends rather abruptly.
Wring That Neck / Paint It Black / Mandrake Root: black & white. Annoyingly long intro leads into decent version of "Wring That Neck," although the audio is spotty in places. Ritchie's solo is amazingly fast and fluid. Although the lighting is somewhat dim, his disciples, me included, will still use this to practice their licks. Great unaccompanied solo towards the end redolent of Scandinavian Nights but not nearly as long. Lord's unaccompanied solo is highly classical. Paice gets a drum solo where he starts out concentrating on high hat and toms. I've seen this on YouTube.
Wring That Neck: Now we get it in (blurry) color. Ritchie's tone is smoother and not as brittle, as though he using the bridge pickup. Pretty decent "organic" camerawork between soloing band members. Abrupt cut to Ritchie's unaccompanied solo. After going wild, he mellows out and plays a medley of Christmas carols to the audience's delight, including "White Christmas." Then he gets wild again. Other than the editing, I think this is the stronger version from a strictly guitar standpoint. After band introductions by Gillan, leads straight into...
Mandrake Root: Sounds kind of sloppy compared to the version on Disc One, and Gillan sings more than screams here (but gets a few good 'uns in). Ritchie is now using the Strat. Good organ solo. Then Jon and Ritchie play a weird little back and forth thing. Finally we get the Blackmore guitar rape expected during "Mandrake Root." Gillan is holding the conga and playing it (rather than it being on a stand). The audience is momentarily stunned into silence at the end.
Black Night: Previously available on the Classic Albums: Machine Head DVD. Washed-out colors, but pretty good miming.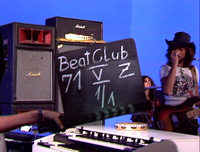 No No No (Take 1): Quite frankly this is a major highlight, seeing as we get to see a) what the Beat Club "really" looked like while filming, and b) Purple genuinely "mess up" and need to start over again!There are no psychedelic effects in the background (only a bluescreen...and this is years before Star Wars!). Everything sounds fine and dandy until the A pentatonic minor ascending riff after the breakdown. Then, Jon and Ritchie have trouble playing it in unison, and the whole band stops. After some re-tuning and a few warm-up runs (Ritchie nonchalantly takes a sip of some water or a clear fluid which looks like water), everyone leads straight into...
No No No (Take 2): The boys get the song right. Once they added the psychedelic backgrounds, this was aired on German TV as the version found on disc one.
Jt Nuit: Short (under 4 minutes) news clip from French TV about Purple's early 1974 show in Paris. Shows the stage being setup, shots of the band backstage, and some of "Burn" onstage. Coverdale looks and sounds absolutely aggressive here, especially with the "I said smoooke! Smoke! Ahhh!" part at the end, and it's a shame we don't see more. Wouldn't it be awesome if the whole show had been filmed?
Leeds Polytechnic Student Project (featuring "Burn" and "Space Truckin'"): Long available on bootlegs, but nice to finally have here. Includes "Burn" from Disc One until leading into about 20 minutes of vintage backstage interviews with all the Mk III members (Blackmore in one location and the other four in another). Jon Lord gets the most face time, but everyone else has something interesting to say as well. Hughes tries to pull Coverdale's hand away from his mouth, and David looks slightly annoyed at him. Lord slaps Hughes' ass at one point. Listen closely to the background during the interview with Ritchie--is that Elf with Ronnie James Dio (the opening band that night) playing onstage? Closes with the jamming portion of "Space Truckin'" featuring some great keyboard and guitar solos. Blackmore plays the main theme to the 1969 Concerto as well as "Greensleeves."
New Zealand TV Documentary: One of the highlights of this whole set. Apparently never available before except on serious bootlegs. About 20 minutes of Mk IV's trip to New Zealand in November 1975, starting with their private plane arriving at the airport, a press conference at the hotel, roadies setting up the stage (plus a brief interview with the infamous roadie known as Magnet!), and another interview with Lord right before he takes the stage. Topically the interviews mine territory similar to that found on the Leeds project, but still fascinating. We get to hear from Tommy Bolin, whose hair looks solid black (as opposed to its usual red/green dye). The only drawback is the concert footage at the end; we can hear David speak to the audience, but the audio for the version of "Smoke On The Water" that follows comes from Made In Japan. Dammit!
Tony Edwards Interview: Deep Purple's manager speaks to a French interviewer (in excellent French!) about Deep Purple's appearance at the 1974 California Jam. This could have been left off.
For more detail on the disc contents see our History, Hits & Highlights DVD preview
Deep Purple Juke Box Jury
Have your say on 'History Hits & Highlights'. Email your review to the deep-purple.net mailbox