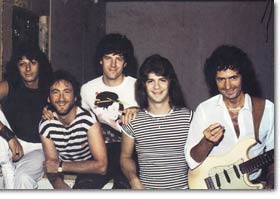 Chuck Burgi had actually been working on Glover's solo album, and after Rondinelli was asked to leave, he seemed an ideal choice. The final Rainbow album for now was "Bent Out Of Shape" (UK #11), recorded earlier in the year (in Denmark) and issued in August 1983 in time for a tour (including some UK shows - some of which were recorded).
Though a long way removed from "Rainbow Rising", the album did have more guitar and a brasher edge to it. It also contained one of their most commercial compositions, "Street Of Dreams", which surprisingly didn't sell as well as earlier singles, failing to reach the top 50 in either the US or the UK. Glover produced the LP again but didn't help with the writing.
The off-on Deep Purple reunion was finally agreed and Rainbow played their final shows in Japan in March 1984, including a special one with orchestral arrangements for "Difficult To Cure", Blackmore's Beethoven party-piece (the show was filmed and issued in part in Japan but nowhere else). It is generally felt that originally Blackmore was to do an album and a tour and then return to Rainbow, certainly this is what Joe Lynn Turner was told. Instead it wasn't until 1993 that Rainbow reconvened, after Blackmore quit Deep Purple for the second time.
When Rainbow was reformed in 1994/95 the only previous member onboard was Chuck Burgi. David Rosenthal initially toured with Little Steven after Rainbow split, and is currently touring (along with Chuck Burgi) in Billy Joel's band. Joe Lynn Turner was drafted into Deep Purple in late 1989, at a time when Blackmore was pushing the band towards the AOR style of latterday Rainbow. Some riffs from "Bent Out Of Shape" were re-used on Deep Purple's 'The Battle Rages On' album.