The Deep Purple Appreciation Society
Joe Lynn Turner
e-mail interview with the dpas, january 2003
Q/ During your Rainbow career did rumours of a Deep Purple reunion surface regularly, and when were you aware that it was a certainty to take place?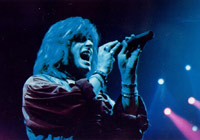 A/ Yes, I knew about this when I was on the plane coming back from the shows Rainbow did in Japan at the end of the Bent Out of Shape Tour. Bruce Payne, Deep Purple's manager, had a chat with Ritchie and came down and sat next to me on the plane and told me that they had planned to reform Deep Purple.
I already had a solo album deal in the works (the album, "Rescue You," was eventually released on Elektra in the mid- 80s). They knew that I had been working on this project and that might have contributed to their wanting to get Deep Purple back together so soon. But they did promise me that this was more of a one-off thing and that Rainbow would eventually end up back together afterward. I later found out that Ritchie did want to keep Rainbow together but when he found out I was burning to do this solo thing he agreed to reform Deep Purple. In a way we were played against each other.
Q/ When you joined Deep Purple did you find that you had as much creative input as you had in Rainbow, and was Ritchie's control over the music as absolute as you expected?
A/ During the Slaves and Masters sessions I had as much creative input as I had had back in my Rainbow days with Ritchie and Roger. However, in Deep Purple there was always Jon and Ian to contend with. We always urged them to contribute their two cents and write but they did not take the initiative to contribute and let us do the majority of the writing.
For the follow up to Slaves and Master, we called Jim Peterik in and I think, to them it looked as if they were being cut out of the writing picture. I always had a lot of leverage with Roger and Ritchie because of our past with Rainbow but Lord and Paice had the Deep Purple history so there was a bit of a hierarchy in place, even though they never jumped in and took much initiative in the writing process. During the writing sessions for the second album ("Battle Rages On") was when the shit hit the fan.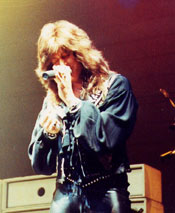 Q/ How near to completion was the follow up to 'Slaves & Masters' at the time you were asked to leave, and were you happy with the results? I'd also be interested to know how different in feel it was to the eventual 'Gillanised' album.
A/ It was nearly complete. There was a lot of great music and lyrics put together durng those initial sessions. It would have turned out to be a great, deep record but in hindsight there was a lot of jealousy and animosity. Ritchie apparently was holding out and wanted to continue to work with me, but the next thing I know I am on my bike and Peterik was also out of the picture.
Then, they let Gillan back in. As far as how the final product turned out, I do not think it is their best. It actually sounds more like something that the Gillan band would have done. However, I want to emphasize that there is no animosity between myself and the members of Deep Purple. I recently saw them in Las Vegas with Dio and The Scorpions and we hung out, hugged and had a few drinks together, Ian and I included.
Q/ Are you planning to incorporate less famous (but equally great) Rainbow and Deep Purple material into the next HTP live set? (In particular I'd love to hear 'Wicked Ways', which at the time you pointed as being a step forward for Deep Purple).
A/ There's always so many songs to choose from between the work that Glenn and I have both done over the years that it is hard to decide which ones to do on tour. On our most recent European tour, we had many fans tell us they wanted to hear "Jealous Lover," so we did that at a couple of the shows.
Before the tour of Japan last year, our record label Pony Canyon took an online poll to decide what we should include in the set list and eventually on the HTP Live in Tokyo disc. We enjoyed checking out the fans' responses to the poll so to answer your question, maybe before the next tour, we will do another poll and if enough people vote to hear a couple of the deeper, lesser known tracks, we may consider doing them. It's always good to go with what's most popular, though, because you want as many people at the show to walk away feeling like they got to hear all the hits too.
Q/ The Hughes Turner Project has brought a lot of critical acclaim, as much for your own performances as the heights you seem to have inspired Glenn to. Have you plans to put together a steady band line-up, and record a follow up studio album?
A/ We definitely plan to record a follow-up to the first two HTP albums and are on track to get it recorded at some point before Fall 2003. Although I can confidently say that we enjoyed working with everyone on the first HTP album, and would welcome the chance to work with all of them again, it depends on their schedules and who is available and when. They are all top-of-the-line musicians with their own commitments outside of HTP. We'll have to wait and see what comes together when we get ready to head into the studio.
Our thanks to Joe Lynn Turner,
and to Lisa Walker at www.tothemax1.com