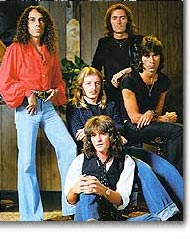 The band now scheduled over 40 dates across Europe, starting in September. Polydor issued a live EP and the tour ended up promoting "On-Stage". The British leg, put back from early September 1977, now took over most of November.
The tour was not without problems, and in Austria, Blackmore was held in jail over-night after an altercation with one of the bouncers. The show in Munich was filmed for German TV, the only complete concert featuring the Blackmore / Dio / Powell axis (issued on DVD in 2006). The 1977 tour was much heavier than 1976 and cemented the band in the affections of European fans.
Rainbow returned to the studio in December to finish the new album, and then toured Japan in January 1978, before setting out to America on the back of the new LP "Long Live Rock'n Roll" - which, in some ways (especially the production) was an even better album than "Rising". However after a serious difference of opinion, Ronnie Dio left at the end of 1978 before the next album was finished. Daisley and Stone also received notice, and a new line-up emerged.
Bob Daisley later played with future Deep Purple keyboard player Don Airey in Ozzy Osbourne and Gary Moore's bands. In 2003 both men played with Deep Purple spin-off Living Loud along with Steve Morse. Ronnie Dio replaced Ozzy Osbourne in Black Sabbath, where he was in turn replaced by Ian Gillan in 1983.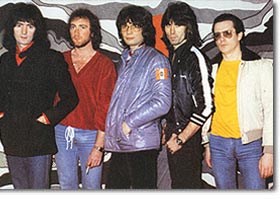 Roger Glover's arrival was a surprise the fans, but Blackmore had seen Glover's knack of helping bands achieve some chart success. Originally there to write and produce, he played bass on the album and then joined.
Bonnet had been remembered for a hit with a sixties band called The Marbles, and was tracked down (though a number of other singers were auditioned or linked to the band at this time). Most of the album was already taped, and Bonnet added the vocals. The band began shifting towards a more AOR direction over the next year and a half and this line-up became commercially very successful, with hits like "All Night Long" (UK #5) and "Since You Been Gone" (UK #6) and the album "Down To Earth" (UK #6).
Rainbow headlined the first Monsters Of Rock festival with the new line-up in August 1980 (a live compilation album from the show was issued). However Cozy Powell didn't like the poppy direction of tracks such as 'Since You Been Gone' and the festival was his last show. They brought in a new American drummer Bobby Rondinelli and started work on the next album, but the sessions were low on ideas and Bonnet went back to America. There was a suggestion to bring in another singer and do half the album each, but it wasn't going to work. Blackmore now asked Joe Lynn Turner over to work on "I Surrender" and, pleased with the results, offered him the job.
On the back of Rainbow Mk5's success Graham Bonnet had a UK #6 hit single with 'Night Games'. Jon Lord played on his 1981 solo album 'Line-Up''. Cozy Powell also had a 1981 solo success (in Japan), with his album 'Tilt', then joined the Michael Schenker Group, leaving in 1982 just as Graham Bonnet was drafted in. He next turned up in Whitesnake.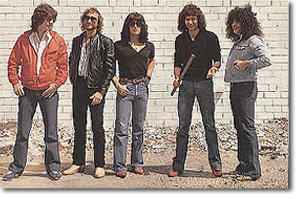 Joe Lynn Turner came from a US AOR band Fandango, who had recorded several albums in America, and had come to Blackmore's notice.
Having finished work in November, they released the new album "Difficult To Cure" in early 1981 (UK #3), which produced their biggest UK hit "I Surrender" ( #3), as well as gaining a lot of American radio play. Turner, Blackmore and Glover stayed with the band until they split (and later played together in Deep Purple Mk 5 from 1989-92), although there were further changes in the drum and keyboard roles. Don Airey quit the group in August 1981 after another world tour, and went on to work with Ozzy Osbourne and Whitesnake, in 2001 he replaced Jon Lord in Deep Purple. In Rainbow he was replaced by the classically trained David Rosenthal.
UK singles
Long Live Rock'n'Roll / Sensitive To Light: 1978
LA Connection / Lady Of The Lake, 1978
Since You Been Gone /Bad Girl (non-album b-side), 1979


All Night Long / Weiss Heim, (non-album b-side), 1980
I Surender /Vielleicht Das Nachster Zeit, 1981
Can't Happen Here / Jealous Lover, (non-album b-side), 1981
.... Notable Post 1981 Rainbow Mk4-6 CD Releases ....
Completing The Collection: The remastered CD versions of the studio albums have no bonus tracks. The three non-album b-sides are rounded up on 'Finyl Vinyl', now available as a double CD. 'Finyl Vinyl' also includes (amongst other 1978-1984 live tracks) 'Since You Been Gone' from the Monsters Of Rock festival. Of the two tracks which appeared on the 1980 vinyl album of the event, 'All Night Long' has found its way onto a compilation CD called "All Night Long - An Introduction To Rainbow". 'Will You Still Love Me Tomorrow' from the 1980 Monsters Of Rock festival was included on the 2009 "Anthology" collection.

A 2 x CD 'deluxe' edition of 'Down to Earth' is being prepared for release in 2010. There has been speculation that the second disc will include the 1980 Monsters of Rock set, but it seems that studio out-takes are being lined up.
.... Rainbow Mk4-6 on DVD and Video ....
.... Rainbow Mk4-6, Further Reading ....