Jon Lord and the classics... Windows and Sarabande
After the performance of Gemini Suite in Germany in January of 1972, Jon Lord returned to his duties with Deep Purple, which kept him busy for the rest of that year and well into the next, as Deep Purple finally broke into the lucrative American market. But this success also brought problems, and finally, in June 1973, Ian Gillan and Roger Glover quit the band. The remaining nucleus of the group new spent some time searching for replacements, with several weeks off the road. It was during this spell that Jon got in touch with Eberhard Schoener once more, the conductor of the January 1972 Gemini Suite concert.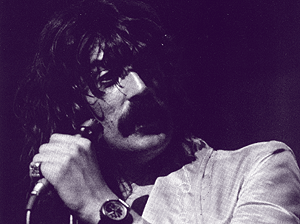 They worked out plans for yet another performance of this piece, again in Germany, in October 1973. In fact they arranged three concerts for October 3rd, 4th and 5th, but because of the shortage of time, and probably the difficulties of "touring" with such a show, only the first concert went ahead, in Munich. "I'm proud of it - and insofar as I'm able to keep this kind of thing separate, I'll do it, though if it starts to interfere, I'll revert totally to Purple" Jon told one reporter at the time.
Maybe in an attempt to keep it away from Deep Purple, very little was ever printed about the October concert in the UK. We do know that Yvonne Elliman took part, and Pete York too. The show probably followed the pattern set by the January 1972 concert, sticking closely to the album version of the work. Whatever they did, the evening seems to have been a great success, being voted the best live 'concert of the last five years in Germany. After the concert, and in much the same way as the BBC had approached Jon after the Concerto in 1969, German TV asked Jon and Eberhard to write a new piece for them, to be performed live during the following year, and they both agreed.
Deep Purple were back on the road at the end of 1973, and apart from a break in January 1974 when Jon had appendicitis, they were touring right through until May, after which Jon went straight over to Germany. The new work, called Windows, was performed on June 1st in Munich. It was also broadcast live on the Eurovision network (though neither of the British companies took it up), and reached 320 million people. The concert was in fact the final gala night of the "Prix Jeunesse" festival, which was a four day competition for young composers, so the idea of a "pop group" wasn't quite so strange as it may have seemed.
There were really two new items. Windows was a three piece composition. The middle section was simply lifted from Jon's own Gemini Suite, and fitted in between the two new parts. Either side of it Schoener did one section, and Jon the other. The other item performed was a Continuo On Bach, in which Jon adapted an unfinished fugue to the electric group instruments and the orchestra (the Munich Chamber orchestra). The piece had been written for a the October 1973 shows, but this was its first public airing. As well as Jon, David Coverdale and Glenn Hughes also went along ("there was Glenn going 'when the fuck can I get funky?").Tony Ashton was there too, Pete York on drums again, and Ray Fenwick on guitar.
However, as far as I was concerned, the work was the worst thing which Jon had been involved in, in this field. Neither of the two pieces seemed to get anywhere at all, and there aren't even many entertaining moments along the way. Glenn and David don't really appear much at all, David just singing a little during the opening of Windows. Glenn does a little more, mainly in the Gemini Suits section, which turns out to be the vocal bit - and Gillan's amazing original is massacred again. Actually to be fair Glenn Isn't too bad until he starts screaming, and Tony Ashton joins in. The best bits are in the instrumental passages, mainly due to the individual solos (some good bits of organ and piano from Jon and Tony respectively). The concert was recorded naturally, originally for release only in Germany as a kind of souvenir, but EMI wanted it out everywhere and, moving with uncharacteristic speed, had it in the shops on June 26th 1974.
Jon for one wasn't very pleased about it coming out over here, in fact he didn't seem too happy about the work at all. "It was out of my hands. I'm not at all positive that it makes a particularly necessary album. I've had less to do with it than any other thing I've ever done" he told NME. Jon was asked to put on a performance in England too, someone suggested the Albert Hall while Harlech TV wanted to stage it at the Caernarvon Castle! Jon was cautious about doing it though, saying that he would like time to rewrite bits, and alter it before doing it here, but in reality he didn't seem keen at all. "I don't feel like putting myself up against it again, I'm fed up with defending it".
Jon returned to Deep Purple, and the last word on Windows goes to the reviewer in Creem "who's to say what music will be remembered longer, this, or Machine Head? I'll place my bets on the latter". The original vinyl edition of Windows was deleted during 1977.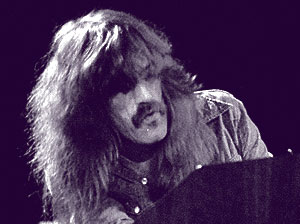 Deep Purple carried on from strength to strength, mainly in America where they were really raking it in. But again this financial success caused problems and by the start of 1975 it was Ritchie Blackmore who was looking in other directions. In April 1975 he finally left, although the press were told that the band was simply having a three month break to enable the members to do their own projects.
Certainly Jon was busy with a new idea. Back in 1971 he had said that "if I do anything in the future, it will be for a bunch of guys that play electric instruments with the orchestra as a back-up". In a sense you could say that Windows had been more.or less that but it had been cobbled together so much that it hadn't made a great deal of sense. This time around Jon was writing music specifically to be performed by a group, with the orchestra as a backing unit only. He worked on the new piece off and on from January to August 1975, and was ready to go into the studios near Dusseldorf in Germany that September to record it. For once there was nobody else from Deep Purple present, in fact the players were all fairly obscure at that time. The only person to be retained from previous projects was Pete York on drums. On bass was Paul Karass, once of Rare Bird, percussionist Mark Nauseef (then having just quit Elf as Ritchie Blackmore had taken them over). and on guitar Andy Sommers, then doing session work (so impressed was I with him that when the first Police single came out with him on, I grabbed it purely on the off chance that their Andy Summers was the same guy - a misprint: it was, he'd just changed the spelling of his name in-between times). The album was laid down from the 3rd to the 6th of September 1975, but Sarabande (as it was called) wasn't to be issued for almost a year, in October 1976, and by then another Deep Purple line-up had come and gone.
Despite that delay, Sarabande remained Jon's finest solo work to date, and is still one of the best albums by any Deep Purple member. The tracks are all instrumentals, each one being based on an old dance form, and titled after it ( hence: Gigue, Bouree, Sarabande etc). Jon was trying to capture the feel of these old styles, but with modern instruments. In a way it harks back to his incorporation of classical themes in his own organ playing , to find a personal style. The actual material was the best he'd written since the Concerto in terms of tunes etc, so that the excellence of the individual performances merely adds to the work rather than carrying it as had been the case some times in the past. Jon himself plays all the keyboards, drifting effortlessly from romantic piano work to heavy organ solos.
The rest of the musicians all do well, particularly Summers; on Pavane for example where he plays some lovely acoustic guitar accompanying the piano. Maybe Nauseef goes over the top in places, his instrument list takes up half the inner sleeve! Bouree is another outstanding number which builds and builds over an amazingly simple tune, with the orchestra backing it all up well (no bum notes this time, from the Hungarica Philharmonia). This track was also edited down for a single too, but never got anywhere. Eberhard Schoener was conducting the orchestra again, but apart from that he wasn't involved with the writing at all.
Well, as you might have guessed, the album didn't do much at all chart wise, and was deleted only a year after it had been issued. Maybe people steered clear because it was "another group and orchestra thing" or just because it was on the Purple label. They missed out.
That's not quite the end of the story, because it had a live performance of sorts, on January 25th 1977. The story is that David Bedford had booked the Albert Hall to preview his new work, The Odyssey. He assembled a star line up of helpers including Mike Oldfield, and no less than nine keyboard players! Jon was one of them. Somehow for the first part of the show, Jon was allowed to preview (? three months old) music from Sarabande. Maybe his managers thought it would get across to the Albert Hall crowd. Anyway it was dismal. Far too many players, all obviously under rehearsed, and barely able to keep up with one another blundered along for half an hour or so, and when it did come together it was more by luck than good judgment. Most of the players seemed more keen on checking out the all girl choir of 15 year olds. It was recorded by Capital Radio, but not surprisingly never broadcast. In 1989 Jon performed selections from Gemini Suite, Windows and Sarabande on Pete York's live Super Drumming series on German TV, which were subsequently released on DVD.
---
Windows and Sarabande in the DPAS online store

• Jon Lord / Windows (Purple Records) 35th anniversary CD remaster. Ltd edition digipak
• Jon Lord / Sarabande. (Purple Records) CD remaster
• Super Drumming Vol.1. DVD (featuring tracks from Sarabande)
• Super Drumming Vol.2. DVD (featuring tracks from Windows)
• Super Drumming 4 DVD box set. (with all of Lord and Paice's appearances)