Pete York's Super Drumming was an unlikely hit for German TV's SWR in the late eighties / early nineties, producing three increasingly ambitious series plus accompanying spin-off albums. It all came about from Pete's idea of assembling musicians to play in a live setting with the express aim of communicating the joys of drumming in its many shades.
The dvd contains 160 minutes of highlights from the first two series, divided into 11 tracks from the first and 14 from the second. It makes for a tidy collection, only really missing Pete's introductions (Including an interview with Jon Lord), and some outside footage of the performers (for example Cozy Powell's drum solo from Whitesnake's 1983 Ludwigschaffen show).

There is a different feel to both series. The first was recorded in a disused church during February 1987, the second on a larger budget in an old steel works during 1988. Ian Paice makes a brief but potent contribution to series one, taking time out during Deep Purple's House Of Blue Light tour to let rip on two specially written jazz-rock instrumentals: "Threezenuff" and "Ian's Shuffle", both very much in the vain of Hardin & York's old drum battle work out "Extension 345". The accompanying house band are dexterous without being thrilling (old r&b stalwart Brian Auger is sadly without his Hammond), but it's enjoyable stuff.
Other drummers brought in to do their thing include Cozy Powell, who turns in a blistering 'Dance With The Devil', (here you can really appreciate the acoustics of the setting!), Simon Phillips, and of course Pete York himself. The overall jazziness of the series is best reflected by Duke Ellington's old drummer Louis Bellson, who's a real pleasure to watch. Though I've alluded that the sound is good, and it is, the picture quality for the first series is disappointingly grainy, though it does improve for the series two section.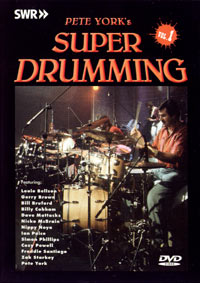 Ian Paice is absent from Super Drumming 2 (he returned for no.3) , but Jon Lord is a regular contributor. Perhaps the most valuable addition to this DVD as far as Purple fans are concerned, is the live performances of two tracks from Jon's 'Sarabande' album. We get strong versions of both the title track and 'Gigue', with Jon on electric piano. He also joins the house band on several other pieces, getting in Hammond solos on the Indian influenced 'Curried Reels', the HM / jazz workout 'RUN' along with Iron Maiden's Nicko McBrain, and on the well OTT 'Amazonias Suite' percussionfest alongside the likes of Billy Cobham and Bill Bruford. All good fun, if rather cheesy in places. And from those descriptions you can tell that for series two the musical spectrum was opened up somewhat. I haven't even mentioned the bagpipes or the girl vocalist symbolising Manaus opera house... On a less ephemeral level I really enjoyed Hardin & York with Miller Anderson and Colin Hodgkinson bashing out the old Spencer Davis Group classics 'Gimme Some Lovin' and 'I'm A Man'. Nothing like a bit of variety!
The only DVD extras are Pete York chatting about the making of the series, disconcertingly (but very impressively it must be said) each done in a continuous take. In both English and 'German'.
As for the packaging, 'sparse' is the word for that. No songwriting credits, no venue given for series two, and most seriously no mention if the disc is NTSC or PAL. (It's NTSC only, for some reason). Somewhat important information you'd think. Still, if you have the means of playing the DVD, I'd recommend it. Beyond Paice and Lord's contributions there is simply so much to choose from.
review: David Browne