Jon Lord and the classics... Gemini Suite
With the Concerto now over, and the problems it had caused in the band settled for the moment, Jon wanted to sit back and concentrate on helping the band forge a positive direction - progressive rock. The BBC however had watched The Concerto with interest, and when cinemas failed to take up the movie (titled Best Of Both Worlds), they screened it on BBC2's Omnibus programme. They also approached Jon with an offer to do a second work especially for the BBC - and Jon accepted what was, after all, quite a prestigious commission. Unfortunately he committed the band to doing it before consulting them. Given the trouble the Concerto had caused, this was naturally another potential source of unrest. However when they all finally sat down to sort things out once and for all, they agreed to go ahead with this new work, on the understanding that it would be done quietly, with no accompanying media overkill, and that secondly it would be the last such venture Jon would involve them all in as a band.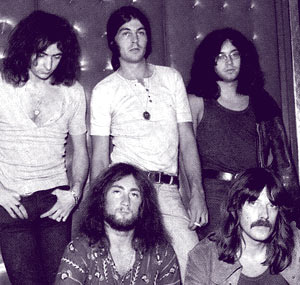 Jon was thus free to go ahead and complete it. Jon had already worked out a theme for the new piece. He wanted to write six movements, one for each member of the group, and a finale featuring everyone. The solo movements would be given the name of the members' birth-signs, and in them Jon would try to reflect their personality and style of playing. It was probably not an easy work to write. On one hand he enjoyed doing this sort of thing, but on the other hand, he now knew that the band were not all so happy to participate. Added to this, there was even less spare time in which to work, as the band were into 1970, their busiest year so far, and so Jon had to write most of it while they were on tour. One girl told us that she saw the almost finished score in a seedy hotel in America.
Jon tackled it differently to the Concerto. Instead of ploughing through it all at once, and revising it afterwards, he wrote this one in small sections, revising each bit at a time. It was finally broadcast on Sept 17th 1970, almost a year after the Concerto. The performance took place at the Royal Festival Hall, with the Light Music Society Orchestra, conducted by Malcolm Arnold. Like the Concerto, it was preceded by another work - Gershwin's Rhapsody In Blue (though I don't know if any of the band took part it that), The broadcast was live - only the Gemini Suite (as it was titled) being put out - from 9.10 pm to 10 pm on BBC Radio 2. There was also a live link up with Danish radio, who also broadcast it. The Gemini Suite performance lasted about 35 minutes.
While I can understand the group's wish for keeping it quiet, I think it was a great shame, as it contained some fine work. Blackmore's movement was first .It is quite simply stunning. Jon wrote a section which allowed Ritchie to incorporate the quiet solo style which appeared briefly at the end of Child In Time before the 1969 Concerto show. The orchestra part is well written and fits in superbly with Ritchie's playing. He was using the Gibson again, and the whole movement is full of atmosphere and emotion - quiet runs, lovely out of tune type jangling runs and bending notes. As you may have guessed earlier, Ritchie was one of the people who had been against the idea of doing these projects, but I guess he didn't let that prejudice him on the night. He later said he did it out of loyalty to Jon. The other member of the band who voiced his discontent with the idea was Ian Gillan - yet he too turns out a brilliant performance during his movement. Rather like his work on the Concerto, with that lovely unstrained vocal tone, he builds up near the end with a soaring screaming passage over some dramatic orchestral work - leaving you praying for more. Those two performances are the high points of the work, and rate high in my best of Deep Purple list. Paicey puts in a good solo, naturally, and by all accounts had good fun battling it out with the percussion section of the orchestra - earning applause from them, the conductor, the band and the audience. Jon's own solo is something of a let down, starting off well, but being rather over indulgent. Roger too tends to throw his part away, with some classical tunes tossed in for no reason in particular. They both made up for it in the group sections though, and in the finale.
As a whole, the work is very different from the Concerto, more modern sounding and more promising. Yet musically it isn't as strong, there are few memorable musical themes, and it sounds disjointed in places. When it does succeed, it is mainly because of the individual talents concerned, rather than the actual writing, though to be fair the accompaniment to both Gillan's and Blackmore's parts is first rate. Obviously Jon was fighting against a lot: lack of writing time, disinterest in the band, and the knowledge that he had to try and improve on the Concerto.
It isn't surprising that no album was issued of the performance, though it is a pity, because it would have been worth having just for Ritchie and Ian's spots.
Questioned at the time about the possibility of issuing a record of The Gemini Suite, Jon said that he would like to do it "sometime", but would rather concentrate on the group for the time being. Another year passed, and in the October of 1971 came the first batch of albums on the new Purple Records label. Amongst them was Gemini Suite. Jon had gone into the studio and made a recording of the work, without using Deep Purple. During the year between the live broadcast and this studio version, Jon's passion for amalgamating a group with an orchestra had lessened somewhat, and the studio version demonstrates this, for the Orchestra (this time the London Symphony Orchestra) are even more in the background than on the broadcast.
---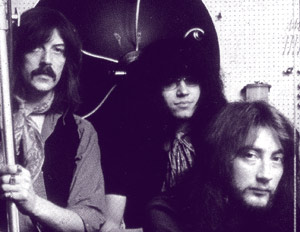 Jon was not able to get all of Deep Purple to co-operate with the studio recording, with Blackmore and Gillan's parts having to be taken by substitutes. So we get Albert Lee (from Deep Purple support act Head Hands & Feet and also the Green Bullfrog sessions) following Ritchie's part almost note for note. For Ian Gillan's part, Jon got in Tony Ashton and Yvonne Elliman. Yvonne Elliman comes nearer to capturing the feel of Ian's performance. Roger Glover, Ian Paice and Jon himself seem to tackle their parts half-heartedly, and it only shines occasionally.
As for the orchestra, Jon commented: "there was the world famous London Symphony Orchestra sitting in a studio playing a piece of my music, and obviously, to start with, pissed off to be doing so" going on to say they improved a bit with time, but making yet another plea for people not to get preconceived ideas about a piece of music just because of who is on it. "I revised it completely, which is great to be able to do. I'm very pleased with it, but it doesn't prove anything. I'm less interested in mixing electric group music with orchestra", he said a little later.
The album didn't sell in vast quantities, and was eventually deleted in 1978 during a drastic pruning of the Purple catalogue. One interesting aside, is that Jon tried to get Keith Emerson along to do the recording, which might have been interesting.
That wasn't the end of the work though, for in 1972, on January 4th, it got another live outing at the Munich Concert Hall in Germany. Jon had a short break following the completion of Machine Head in December 1971, and had decided to utilize it thus. However this time it was the musicians from the studio version who took part (with the exception of Yvonne Elliman, who was too busy with Jesus Christ Superstar at the time). The orchestra was the Kammerorchestra, conducted by Eberhard Schoener, someone who will reappear later on. Jon was very impressed with the working conditions over there, the open mindedness of the orchestra, the audiences and the media. Even this was not quite the end of the Gemini Suite, though as a piece of music on its own it wasn't performed again. A section from it was lifted however, and reused in Jon's next solo work, Windows.
back to page one • on to page three

---
Gemini Suite in the DPAS online store

• Gemini Suite Live. CD and ltd edition vinyl
• Gemini Suite (studio). Choice of three alternative ltd edition digipak sleeves or new jewel case edition on CD, and ltd edition vinyl