Recorded live in Germany, June 1st 1974
Guests included David
COVERDALE and Glenn HUGHES, Tony Ashton, Ray Fenwick, Pete York, etc.


1/ Continuo On B.A.C.H. 2/ Window : 1st Movement - Renga, 2nd Movement - Gemini, 3rd Movement - Alla Marcia / Allegro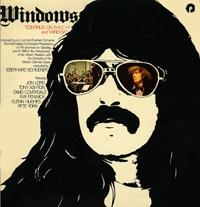 VINYL EDITIONS
GREAT BRITAIN : Purple TPSA 7513 : September 1974 DS
Gatefold sleeve with photo of Lord. Colour pic inside taken during recording. All other vinyl editions substantially the same.
COLLECTABLE VINYL
GERMANY V3 : Line Records LILP 400117 : 1986
A reissue pressed in white vinyl.


GREAT BRITAIN : Purple PUR 357 : 2009
35th anniversary edition, newly remastered by Nick Watson from the original quarter inch production masters for improved sound quality. There is also a limited edition in a special digipak with original cover, contemporary cuttings and memorabilia in a 12 page booklet.