JON LORD
2005 EUROPEAN TOUR NOTICEBOARD
Tilburg.....Hamburg

send your reviews, pics and memorabilia to the dpas mailbox!
February 10th 2005. Popcentrum 013, Tilburg, Holland updated, February 27th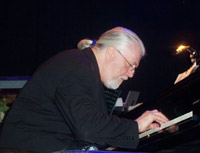 "Jon told about his inspirations for some songs, such as A Smile When I Shook His Hand, which is about his first meeting with George Harrison ("Do you look like me, or do I look like you"), referring to their long hair. Tony Ashton was also honoured with a superb version of I'll Send You A Postcard. The title comes from the last words between Jon and Tony, when Jon was with Deep Purple in America. Miller Anderson said that he hopes that Jon won't write a song about him, because everybody has gone! ......" Peter Rossen's full review + photos
Click the photo on the right to see a full gallery of photos from the show...
February 12th 2005. Musikhalle, Hamburg updated, February 27th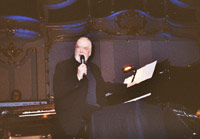 "Jon had a Steinway and a Hammond C3, and mostly played the Steinway. His Hammond looked like the original one. Furthermore, it sounded like it - I got goosepimples all over when he played it!! There were a lot of Deep Purple fans in the hall, but not a single Deep Purple t-shirt. A few wore suits! And best of all: no drunken idiots...."
© 2005 DPAS/Darker Than Blue.
Not to be replicated, reproduced, stored and/or distributed in any way without prior written permission