DPAS LIVE REVIEW



Musikhalle, Hamburg, Germany
February 12th 2005
I just saw a brilliant concert here! It was excellent: the music, the audience, and the sound. They got three standing ovations! Also, the baroque looking Musikhalle fitted perfectly, there was a great atmosphere in the hall!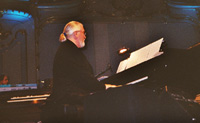 Jon had a Steinway and a Hammond C3, and mostly played the Steinway. His Hammond looked like the original one. Furthermore, it sounded like it - I got goosepimples all over when he played it!! There were a lot of Deep Purple fans in the hall, but not a single Deep Purple t-shirt. A few wore suits! And best of all: there were no drunken idiots. Only true admirers of Deep Purple, and the work of Jon Lord .
Sarabande, Telemann Experiment and Bouree were only a few of the highlights. Jon and all musicians enjoyed the whole thing as much as we did. Jon dedicated songs to his friends Tony Ashton and George Harrison. He told us he and George met first (and shook hands..) "during a recording session with Tony Ashton 1974 at Apple". I wanted to shout "First of the Big Bands", but fortunately didn't!. Jon didn't tell the audience which record he meant. One piece of music later he mentioned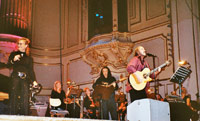 Hamburg's Top Ten Club and asked "Is Jan Fedder here?". Fedder replied, "Here", and got a round of applause! Jon wished him a "Late happy birthday". Jan Fedder is a well known actor in Germany (especially the north, he's from Hamburg St. Pauli).
A couple of tracks later the ensemble even played a nice version of the Beatles' "Here Comes The Sun". A very nice tribute! There was a great encore with all the musicians involved. We even managed to get Jon out for a second encore, a short solo piece on the Steinway. Absolutely outstanding. What a great night.
review & photos : Peter Wiesner