DPAS LIVE REVIEW



013 Popcentrum,Tilburg, Holland
February 10th 2005
We had to wait for a long time for this show, as it was postponed from October 17th.
But it was absolutely worth the wait.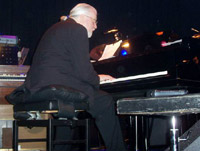 Hours before the show started fans were outside in the rain, waiting to be allowed into the all seater Tilburg 013 venue, in , the south of the Netherlands. Every type of attire ranging from t-shirts bearing hard-rock logos, though to business suits certainly made for a colourful audience, and they proved to be a good one (enthousiastic when possible and silent when silence was needed).
Warm applause greeeted the orchestra's entrance on stage, and much louder applause when Jon arrived. They opened the gig with Pictured Within, normaly with Sam Brown, tonight her place was filled by Sabine van Baaren, who did not start particularly strongly, but eventually came through to show us a warm and pure voice, very well suited to the music.
Jon was very relaxed, and he took the time to make jokes, explain why he left Deep Purple ("a comfortable band"), and express hopes that his friends-for-life keep on playing until they canīt walk anymore! He also told about his inspirations for some songs, such as A Smile When I Shook His Hand, which is about his first meeting with George Harrison ("Do you look like me, or do I look like you"), referring to their long hair. Tony Ashton was also honoured with a superb version of I'll Send You A Postcard. The title comes from the last words between Jon and Tony, when Jon was with Deep Purple in America. Miller Anderson said that he hopes that Jon won't write a song about him, because everybody has gone!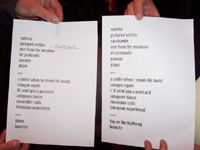 The sound was really good, you could hear all the instruments at all times. When Jon played his Hammond the crowd reacted enthusiastically, especially when he played a small part of the Lazy intro (I think the 't-shirts' recognized it and the 'suits' didn't!). Except for the Concerto tour this was the first time that I've seen Jon Lord playing this kind of music. I have always been a great admirer of Sarabande and I really enjoyed hearing the numbers taken from that album, what a rhythm and what a joy! Highlights to me were Sarabande, Unsquare Dance (dedicated to Dave Brubeck) and Bourree.
Setlist: Pictured Within / Sarabande / One From The Meadow / De Profundes / Pavane / Gigue / pause / A Smile When I Shook His Hand / Here Comes The Sun / Unsquare Dance / November Calls / The Telemann Experiment. Encores: Blues / Bourree.
review & photos: Peter Rossen