February 11th 2005. JB's, Dudley

"This was my first sighting of a Glenn Hughes gig so I was not too sure of what to expect but I came away well satisfied. The least said about the support the better, The Lizards were simply awful, at times they were practically drowned out by the sound of the audience talking amongst themselves !

Glenn and his band came on stage at 10:30 and gave a solid set of numbers new and old opening with the title track of the new album "Soul Mover". Glenn is a superb showman,his voice and energy levels are quite phenomenal. The inter song chat was laden with several references to his drug filled past, he really does seem to have seen the light and acknowledged the error of his ways and this in turn has provided the inspiration behind several songs,"Land Of The Living" being a prime example. For me the highlight of the night was saved until last with a rip roaring rendition of "Burn". Cheers Glenn, hope the rest of the tour goes well. " Dave Hopwood
February 12th 2005. Rio's, Bradford updated, February 21st
"Glenn's show in Bradford showed him developing his set in a positive way; out have gone a lot of the old Purple covers, and in came a good dose of his latest album. Being early days in the tour, I had the feeling that the band were still limbering up - and it wasn't quite as intense as the last time we saw them at Rios (when they were coming to the end of a tour) - but the decision to look forward instead of back is, I feel, well worth the risk. Few if any in the audience seemed to mind, and the splash of Purple which we did get in the shape of Mistreated and the set closer Burn, was sufficient to remind us of where he's coming from (though for my money Standing On The Rock would have rounded the night off equally as well!) My main gripe was the lack of a really intense hard funk work-out, and the omission of that excellent Latin American cut off the new album (oh, and trying to squeeze in two guest acts - wasn't 25 minutes sound-checking a drum kit just a little OTT for a 45 minute support set?!). That aside though, it's a long three month tour - catch them if you can, by the end they should really be cooking! "
Simon Robinson (click the pic to see Simon's Bradford photo gallery)

"Older stuff was kept to a minimum. Medusa was brilliant, and JJ Marsh excelled here. I always come away from a Hughes show thinking JJ is brilliant, but then have doubts when I'm about to see him again. This show confirmed that Glenns 'secret weapon' really is a wonderful player. Hughes himself was simply stunning during Mistreated, particularly with his extended vocal ending, showing his full vocal range...." Michael Richards
February 13th 2005. Liquid Rooms, Edinburgh
"A superb gig from a man at the top of his game. Half the set was made up of songs from his best post Purple album Soul Mover and went down really well with a very enthusiastic crowd. Shouts for certain songs (This Time Around and You Keep On Moving) brought the response that if he was to play everything people wanted to hear he would be here till next Tuesday. Well, all I can say to that is fine by me." Charlie King

"Saw Glenn on Sunday night at the Liquid Rooms in Edinburgh. Awesome show and lots of between song reflections. Same set list as Dudley (see www.glennhughes.com) except no "Burn" at the end (groan!!). Glenn had problems with his ear monitors during Seventh Star and made it clear to the other guys in the band that he would be doing no more. I heard some people in the crowd complaining about the lack of Purple material (only a stonking version of Mistreated) but this tour is to promote Soul Mover so it was great to hear so many new songs from that CD. Glenn made the point himself that it was time to move on and he was really excited about playing the new material. All in all a great gig and thoroughly recommended, despite the lack of Purple numbers." Les McIntosh

"The gig was ok, would have been better if they're had not been a curfew, this resulted in Burn being dropped. The new material form Soul Mover came across really well, and Mistreated was really great.

Glenn was very talkative with the audience and seemed very relaxed. The band played fine, but I got the impression they were just getting used to the set and need a few weeks to play it in properly."

review & photos: Kev Dixon
February 15th 2005. Mean Fiddler, London

"I took the wife with me. She last saw Glenn in around 1996 on the 'Feel' tour at the same venue. First of all, my wife was very sympathetic with Bobby Rondinelli. Knowing that he's played in big bands such as Rainbow, BOC etc, she felt very sorry for him playing as a support act in this tiny venue, and (in her words) just wanted to give him a big hug!! (bless!!)

For Glenn and the band I have the following comments: firstly, his voice is as incredible as ever. His bass playing (in conjunction with the vocals) is also outstanding. I never classify a vocalist as being a musical instrument in a band, however is voice is so good that I have no hesitation in seeing Glenn as an one-off exception. Thomas Broman on percussion was, as ever, amazing. This guy is top notch and I can't imagine Chad from the Peppers as being any more inspired or technically superior. JJ Marsh - this is more difficult. For some reason on this tour, Glenn seems to pander more to JJ, and for me this does not work live. JJ's guitar synth thingy was truly dreadful. It just seemed to me as though he had never seen this before and he was just pushing or turning whatever was in front of him, with no regard for the the resulting sound. Also, his backing vocals were too upfront.

The set was also a problem. Too much reliance on the new material. The oldies he did play were brilliant, but I'm sure he could squeeze in Muscle & Blood and This Time Around (or Gettin Tighter!) while still including a sizeable chunk of new material. Overall a great gig. Even with the above comments, it was still immensely enjoyable. I just hope that after the Sabs tour, Glenn with then sing lead vocals in a reformed Purple Mk3 with Ritchie (we can all hope, can't we)."
review: Mark Connolly
February 17th 2005. Leadmill, Sheffield updated, February 22nd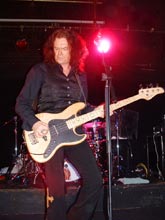 "Sheffield is always one of those venues where you think 'why'? Cold February night, dark windy roads and a pain in the arse to get to. But when you see Glenn Hughes you suddenly remember, ďthatís why!Ē The venue was empty when the Lizards took to the stage. I didnít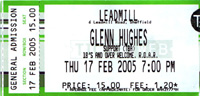 think I could watch this band for the third time, but to be honest they have grown on me. Thankfully by the time Glenn took the stage it was 75% full and this is how it stayed. The set was the same as the previous nights on the tour and the sound was great too. I personally thought the sound at Dudley was terrible but I have put that down to the venue, and Bradford and Sheffield proved to be an excellent PA mix.
I honestly cannot describe how good Glenn is. His vocal performance was absolutely faultless. His bass playing tight and powerful. The new songs work brilliantly live, although they donít feel like new songs to me now having constantly had Soul Mover on since its release date! According to JJ the band could have played the whole album live because it sounded that good in rehearsals!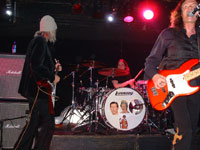 I must compliment the band. They are really tight, on the money, and whatís more they really enjoy themselves. A real plus for me is more vocals from JJ Marsh. I have watched this guy grow with Glenn over the last decade and he is a great guitarist, a lovely bloke too, and I cant wait to hear his solo album. Highlights of the evening for me were definitely High Road, Mistreated, Soul Mover.... (thinking about it there were no highlights, it was one and a half hours of sheer magic)/ Anyone in two minds about Northampton, please please donít be! This, I hope, is gonna be Glennís year, go and be a part of it."
review: Ian Dunbar, Liverpool, photos: David Pickles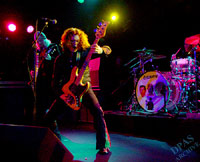 "A lot more relaxed evening thanks to there being no third support, and we were all off home at ten as they had a curfew!" Simon Robinson
Click the link below to see a set of photographs taken at Sheffield Leadmill by Simon Robinson & David Pickles.
DPAS Photo Gallery: Glenn Hughes / Sheffield Leadmill
February 19th 2005. Roadmender, Northampton new, February 21st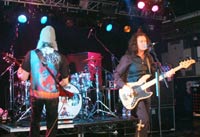 "Okay, so the main event. A quick change around of gear, and on come Glenn and his band. I obviously knew the setlist, from earleir gigs - and Glenn did not divert at all (save dropping Burn at an earlier show due to tech problems I believe). For me - ALL the SOULMOVER songs worked very well. The album was not an instant catch to me - but since the gigs it has become a firm favourite..."
review: Steve Dunbar, photo: Martin Ashberry