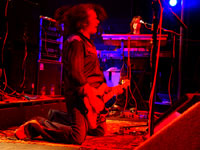 SET LIST :
In My Blood / You Kill Me / Higher Places / First Step Of Love /
Written All Over Your Face / Seafull / Beyond The Numb /
Can't Stop The Flood / Blue Jade / Mistreated / Wherever You Go / Getting Tighter / Seventh Star / You Keep On Moving / Burn.
A packed crowd for Glenn's first UK show of this short four date visit, and a return to the form of previous tours for me. I was very disappointed by the last one-off in London, which was full of cover versions and ignored many of his own albums, but this time he's been listening to what the fans want - as the set list shows.
For me the highlights were Beyond The Numb, and a great version of Seventh Star - but when they kicked into Mistreated it felt like was in a huge arena such was the small but hugely intense crowd's reaction.
Overall it was a proper grouop performance, and as such harked back to the power of some of his earlier solo tours, and once again we can recommend this as a great night out. A few first night glitches in places, but they should really be cooking by London. The shows are all being recorded for a live album by the way, expect this sometime next year.
Downside? All the t-shirts were size SMALL!!! More next Darker Than Blue, but a quick hello to all the DPAS members who turned up - if I'd known we'd have organised a party booking at the curry house! review & photogarph: Simon Robinson
See this photo and more in our Glenn Hughes: Bradford 2003 photo gallery

This was the third time in recent years I had seen Glenn at Rios and this was certainly his most energetic performance. Vocals are as fantastic as ever, the highlight of the show being Mistreated. It was performed in what I can best describe as a 'hard blues' style and was magnificent. Similarly I feel more could be achieved by playing more songs in a style like this.
It would get rid of the distortion which was only too evident for most of this concert. Burn for example at the end of the night was just a wall of noise, it is a classic song and deserves to be heard clearly. Alternatively am I getting too old! On a more personal note, is Glenn's health okay? I saw him straight after the show for autograph signing and he appeared rather frail, this was in massive contrast to the Glenn I had just seen on stage. I hope I was mistaken.
review: Anthony Mason