DPAS REVIEW
The Great Single-Book of
DEEP PURPLE
There have only been a few Deep Purple discographies printed over the years (and two of those were from the DPAS). This new one is a very welcome addition. To sum it up in one sentence: if you've ever been interested in Deep Purple picture sleeves, buy it.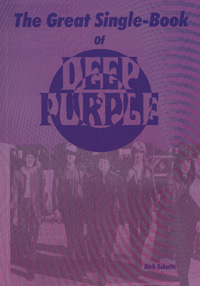 The period covered is 1968 to present day, and the coverage is strictly 7" singles. No 12" releases or CD singles. A few might question this but it's already over 160 pages long as it is.
Dirk has worked with other collectors to try and ensure that his book is as complete as possible. As I could only find one obscure USA promo cover which is missing from this book it looks like he's done a great job.
As someone who does collect pic sleeves, I found myself eagerly leafing through the book looking at ones I don't have and I'm certain I'll use this book a lot (I've even bought a spare to be on the safe side!). Were I new to collecting I might feel a little overwhelmed by the sheer scale of the task but even if you just want to collect the singles from your own country, this will be an invaluable guide. Even if you don't, it's a great book to flick through. There must be close on 600 singles here, all in full colour, of which the majority are in picture sleeves.
It lacks an index, and the colour is a little oversaturated, but these are very minor quibbles. I've long fancied doing the ultimate singles collection book, but never had the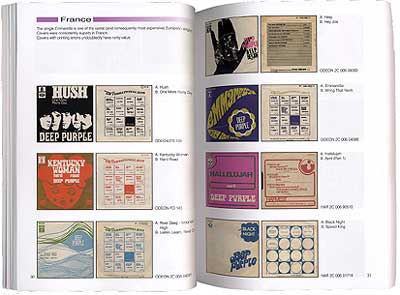 time. Now thanks to Dirk, I don't have to bother. This will sit on my reference shelf alongside the original Charlesworth book, Mike Richards' cassette guides, the DPAS discographies and Nigel Young's upcoming Deep Purple diary. A small but select collection! The DPAS is bringing copies into the UK in early January so you will be able to order from us direct. Please be warned with a small print run, a lot of pages and full colour, it isn't a cheap book! This book will be reviewed in detail in Darker Than Blue Magazine, Issue 55.
review by Simon Robinson.