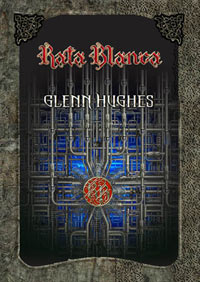 This is an essential DVD purchase for any Glenn Hughes fan. He is a guest of Rata Blanca, during a gig in Buenos Aries, Argentina. The DVD was released in 2005. Rata Blanca are a late '80s /'early '90s rock style band with a lead singer who appears to model himself on Bruce Dickinson. Their playing is very accomplished and worth checking out, although not really to my taste. Having said that, the ballad "Cuando la Luz Oscurece" is pretty impressive. The DVD comes with English subtitles as well so you can keep track of the decent lyrics. The real star of the band is the lead guitarist. I was very impressed with his performance throughout. He can adapt styles from hard rock / metal to subtle blues based playing and he is technically very competent. He's clearly a fan of Blackmore too judging from his playing.
So what of Glenn? His performance is nothing short of stunning. We are treated to four tracks from MK 3 Deep Purple, namely "Burn", "Stormbringer", "Mistreated", and "You Keep On Moving". The band are super tight as Glenn launches into "Stormbringer". I was impressed with the crowd reaction and he dominates the stage. With Rata Blanca supporting him, he powers through "Mistreated". Glenn's vocals soar throughout and the song has plenty of extended solid jamming throughout. Their guitarist is awesome. This song alone is well worth the cost of the DVD. "You Keep On Moving" keeps up the standard . "Burn" concludes Glenn's set and what a way to finish. It's the best version (non Purple) on DVD I've heard and this makes the Whitesnake version pale into insignificance. The crowd explode at the end - not literally - and Glenn hugs each band member. Then he's gone.
I'm not sure why he didn't play any of his solo material especially from the excellent "Songs in the Key of Rock". However, this DVD is worth every penny.
review: Meurig Thomas
The DVD is region free / NTSC format so will play on most modern machines. In stock at the dpas online store.