January 17th 2006. The Astoria, London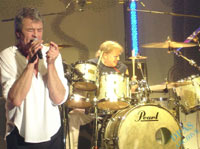 "Wow - Seven (count 'em) SEVEN new songs plus one never-before-played-oldie!! A packed venue (we're talking sardines here - I think I may have some sort of moral obligation to marry the woman who was dancing next to me) gave a good reception to the songs from 'Rapture' (the title track, 'Back To Back', the excellent 'Before Time Began', 'Wrong Man', 'Kiss Tomorrow Goodbye', 'Junkyard Blues' and the surprise inclusion of the Japan-only cut 'Things I Never Said'). Gillan was a little under rehearsed in places (t'was ever thus) - the lyric book is back! He was in good voice though. Good to actually hear Steve Morse on the new material. Not a bad sound in the venue where I was standing - although the volume was turned up a notch at around 'Perfect Strangers' which distorted it a bit. The surprise inclusion of 'Living Wreck' was a welcome surprise." review Tim Summers, photo: Michael Richards
January 19th 2006. Halle Tony Garnier, Lyons

"The same venue in where I saw them during the 1991 "Slaves & Masters" tour. A sold out evening with six thousand people. Deep Purple played for two hours. It was a good concert, with everyone in fine form.

Set list : Pictures of Home – Things I Never Said – Wrong Man – Ted the Mechanic – Living Wreck – Rapture of the Deep – Back to Back – Before Time Began – Contact Lost - Well Dressed Guitar – Lazy - Airey solo & Perfect Strangers – Junkyard Blues – Sometime I Feel Like Screaming – Space Truckin' - Highway Star - Smoke on the Water. Encore : Kiss Tomorrow Goodbye – Black Night.

I really liked "Things I Never Said" (very exciting rock which should have been on every edition of the new album!), "Rapture of the Deep", "Before Time Began", and "Kiss Tomorrow Goodbye" ; all of which were well played, with stunning instrumental passages. "Living Wreck" was a nice surprise but Ian Gillan has forgotten half of the lyrics (particularly during the chorus : shame on him!), so it was a moderate version of this excellent "In Rock" track (Steve Morse's solo was perfect, in the Blackmore's style). Don Airey played several notes of "La Marseillaise" our national hymn, before the first encore. The whole band seemed really happy on stage and they received a huge good reaction of the crowd. Ian Gillan stayed a long time on stage at the end of the concert to thank us. The stage was really nice : two screens because the concert was filmed, and a spectacular light show. A summary of the evening : a very good concert (as always with Purple since 1994 ?) with fresh songs and an enthusiastic crowd." review: Lionel Bouvet
January 21st 2006. La Cubierta bullring, Leganés, Madrid.

"I really enjoyed the fact that they have a new light show and video screens. I was fairly close to the stage but it made it much more enjoyable being able to watch Morse, Paice and Airey in action so up close. This was especially true for Don, his hands always hidden from the audience by the keyboards, now we all could see him burn on that Hammond! The way the show started was perfect. They had our attention on the video screens, where we'd seen the band appearing backstage one by one making their way to the stage, when all of a sudden the screens went black leaving us in complete darkness, and in a split second the spotlights were revolving all around Paice who furiously blasted the frantic drum intro to "Pictures Of Home". It was exciting as hell and made us all in the crowd roar in approval..." full review by Javier De Las Heras
January 22nd 2006. Vall d'Hebron, Barcelona

"Purple have played the Pavelló de la Vall d'Hebrón on their last 3 visits to Barcelona and for me this was the most disappointing show to date. The venue was almost full, so they still have a good following here. Purple are tight and talented, but something was lacking. Ian made constant jibes at the promoter who'd made some sort of cock-up so there was no support act, so I guess that didn¹t help to start with. But it was all so safe, a feeling for me of them going through the motions, everyone smiling at each other, even the odd backslapping. Strange to see Ian constantly flicking through a file of notes during the songs, for a cue to the words I presume? (good job there was no dry ice this time!).

The new album has three cracking songs on it (more than can be said for the dire artwork) which I've played over and over; Rapture, Before Time Began and Clearly Quite Absurd. It's in these type of songs where the present day Ian Gillan really comes over so well. Nice then to hear the first 2 of those getting an airing in the show. Purple are a bunch of good guys, pals, enjoying playing together, who can still play a much better concert than most (the concert got an excellent review in the local press by the way) and can still live off the Deep Purple name. I think that deep down we all crave the swaggering, electric, unpredictable power of Purple 1970-1975, but as time goes on we're less and less likely to get anything near that. Maybe better to pool musical resources and come up with something else?"
review: Neil Cutler, photos: Xavier Rulló (click to enlarge)
January 24th 2006. Le Zénith, Paris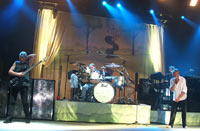 "The place was full (8,000?). Deep Purple came on at 8h55 and played for 2h05. Nice beginning, with screens to the left and right of the stage showing a little movie. The set list was a little different: Picture of Home / Things I Never Said / Ted the Mechanic / Back to Back (not sure of the right place but sure they play it) / Living Wreck / Rapture of the Deep / Wrong Man / Before Time Began / Contact Lost ~ Well Dressed Guitar ~ guitar solo / Lazy / keyboard solo ~ Perfect Strangers / Junkyard Blues / Kiss Tomorrow Goodbye / Space Truckin' / Highway Star / Smoke on the Water. Encore: Speed King (with drum solo) / medley ~ Black Night " review: Dennis Netter. Photo: Martin Ashberry (click the photo to view a full gallery)
January 25th 2006. Forest National, Brussels

"Sold out, of course, with 7,000 people present. And even close to home for me, with only 3 km to drive! A slightly different set than announced on the internet, with six songs from the latest Rapture album, completed with a mix of Morse and pre-Morse era songs. Opener was Pictures of Home; unfortunately the sound technicians still had to find the best mix and Roger's bass drowned out everyone else. But from there on it only got better, with two songs from the new album and Ted the Mechanic. Then back in time to Living Wreck, a song they gave a new energy, especially Steve, with an incredible solo, making the song his own. Then back to the now with the title track and Before Time Began, easily the two best songs from their latest effort, both sounding even better than the studio versions. Then it was Morse time again with a grandiose solo moment, followed by Lazy and a great keyboard solo by Don (with Star Wars back again!). All that lead to Perfect Strangers, Junkyard Blues and Kiss Tomorrow Goodbye (even harder and faster than on the album). Then it was time to close in an apotheosis of classics with Space Truckin', Highway Star and Smoke on the Water. We didn't have to wait long for the encores, as Gillan came back rapidly to announce "We are gathered here tonight... to Rock'n'Roll", and Speed King followed (with a little drum solo in the middle). Last song of the set was the singalong Black Night and after almost 2 hours it was again over. Those who weren't there missed one of the best Purple shows ever as they were all in fine form, with Steve and Don really integrated into the overall sound of THE best rock band ever. Complete set list: Pictures of Home, Things I Never Said, Wrong Man, Ted The Mechanic, Living wreck, Rapture of the Deep, Before Time Began, Contact Lost, The Well-Dressed Guitar, Lazy, Keyboard Solo, Perfect Strangers, Junkyard Blues, Kiss Tomorrow Goodbye, Space Truckin', Highway Star, Smoke on the Water, Speed King, Black Night." review: Hugo Vanhecke
January 26th 2006. Heineken Music Hall, Amsterdam
| | | |
| --- | --- | --- |
| photos: Fedor de Lange (click to enlarge). Click here to view two galleries of Amsterdam shots. | | |
"Just returned from the show. Some first impressions: highlights for me were the new material, (especially Before Time began), Living Wreck and Don's playing. Lowlights: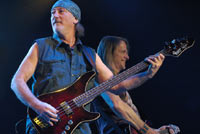 Steve's solos (don't like his 'high' playing, it's also out of place in the old songs in my opnion) and sometimes the sound, it's too heavy, causing Gillan trouble to be heard. Highway Star suffered most from this, it's just tiring. But, the highlights win: it was really great to hear all those fresh new songs, they worked very well on stage! They are back! Amsterdam Setlist: 1/ Pictures of Home 2/ Things I Never Said 3/ Wrong Man 4/ Ted the Mechanic 5/ Living Wreck 6/ Rapture of the Deep 7/ Before Time Began 8/ Mary Long 9/ Contact lost~Steve's solo~ Well Dressed Guitar 10/ Lazy 11/Don's solo~Perfect Strangers 12/ Junkyard Blues 13/ Kiss Tomorrow Goodbye 14/ Space Truckin' 15/ Highway Star 16/ Smoke on the Water 17/ Hush 18/ Black night. " review: Frank van den Broek, (photo www.llukygallery.nl)
"I brought my girlfriend along, fed up with years of me begging her to see a DP show and - guess what? It really knocked her socks off! I'm afraid she now has a crush on Mr. Gillan " wow what a beautiful man, is he really 60? What a charisma and what a voice." He was in great shape. I won't be surprised when recovered he will take a chance on Child in Time this tour. I was very impressed.very impressed." Adri Karsenberg , Diepenheim, The Netherlands.
January 28th 2006. KB-Hallen, Copenhagen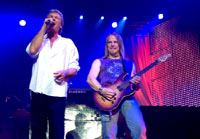 "There were some minor errors, but you just had to look at the crowd to see that they didn't mind at all. When the drum intro for Pictures of Home started, they went bananas, and it's great to see that feeling on stage, with Roger, Ian and Steve jumping around smiling. Great to see most of the new album on the setlist, we saw a band with a great deal of new material, that works well on stage, and great solo work from everybody. If you haven't already got a ticket for the tour, get one! You won't be disappointed."
review & photo: Birger, www.deep-purple.dk
January 29th 2006. Spektrum, Oslo updated feb 28th

"Great concert and great show! Sound was loud and for the most part good, but Oslo Spektrum is well known to be difficult sound wise during concerts. Many highlights really, and the new songs were well received by the audience. Living Wreck was an absolute killer. But it was the last part of the concert that really hit home, with Lazy and the three-in-a-row of Space Truckin', Highway Star (exciting new intro!) and Smoke On the Water, before the encores. Sad to say, but the new album has not gone down very well here in Norway so far – no entry in the charts and some poor reviews in the largest newspapers, so I think many in the audience were quite un-familiar with the new tunes.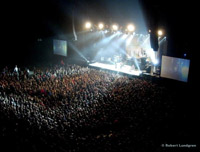 The band was in good form all the way, and Ian Gillan handled (still!) a couple of failed microphones early in the show very well. Both Steve and Don got huge applauses after their solo parts, with Don in particular playing some good old Norwegian tunes like 'Hall of the Mountain King', and Roger and Ian were completely flawless. Ian Gillan easily introduced 'air Hammond ' to the audience - 'we have had years of air guitars' - with immediate response. The stage lights and the use of two large video-screens added to the experience, much better than on the Bananas Tour in 2003. I brought my wife and our two sons on 18 and 14 yrs, and we all had a great time! Today the two largest norwegian daily newspapers gave the concert 4 and 5 respectively out of 6. Now I am wondering how to catch up with them again later this year ." review: Hans Peter Jenssen. photo: Robert Lundgren.
"Hi, just to let you know that tickets for a DP concert in Bergen, Norway 24 June are now on sale at www.billettluka.no. In addition, the newspaper here in Trondheim (www.adressa.no/kultur) said this morning that Deep Purple will also play at Hell Music Festival just outside the city (previously known as the Hell Blues Festival) the day before, 23 June, and tickets will be on sale later today. However, no mention on the Festival's own web-pages. Both concerts are outdoor. Best regards, Hans Peter Jenssen"
January 31st 2006. Icehall, Jyväskylä, Finland

"Jyvaskyla Icehall wasn't full, but I think there were over 5,500 people anyway. The setlist was identical to Amsterdam. Gillan sang the high parts quite well. Songs from the new album were not really recognised by the audience, whose reaction to various songs suffered at times. Maybe it was partly because there was surprisingly large contingent under 18 years of age. A lot of fathers and mothers could be seen with their children. Gillan talked a bit with the front row during hte first songs, saying first that "we've just started" and after the next song "okay, I'm not gonna even look at you..." The crowd was still very happy (shouting play Smoke...) and Morse's solo spot went down well. Airey played parts of Sibelius's "Finlandia" during his, which attracted a lot of applause. I also liked Paice's little drum-solo during "Hush" and Roger Glover's short solo before "Black Night". The sound was very good during the whole concert, no problems hearing individual instruments and not too loud. Glover and Airey were both absolutely marvelous, really." review: Samuli Suontamo.
February 1st 2006. Jäähalli, Helsinki, Finland updated apr 7th

"Speed King was a bit of a surprising encore, because on this tour band have usually played "Hush" at this point, but in my opinion this was a way better choice. The song sounded fresh and very energetic, although sometimes Gillan was in trouble when he tried to reach the highest notes. Following was Ian Paice's brief drum solo. It's always a pleasure to watch his drumming style and technique and this time it was even more interesting because there were two close-up cameras attached onto the drum kit and everyone was able to see via screens what was really going on behind the kit...." see Marko Syrjala's full review at www.metal-rules.com.

SET LIST: 1. Pictures Of Home / 2. Things I Never Said / 3. Wrong Man / 4. Ted The Mechanic / 5. Living Wrec /6. Rapture Of The Deep /7. Before Time Began /8. Mary Long / 9. Contact Lost - Steve Morse -solo- / 10. Well Dressed Guitar /11. Lazy /12. Don Airey -solo- Finlandia - Perfect Strangers / 13. Junkyard Blues / 14. Kiss Tomorrow Goodbye / 15. Space Truckin' / 16. Highway Star / 17. Smoke On The Water / 18. Speed King - Ian Paice-Drum - Solo- /19. Black Night. set list: Marko Hyppanen
February 3rd 2006. Siemens Arena, Vilnius, Lithuania

"Having missed the beginning of the Astoria show, I made sure the same thing didn't happen in Vilnius. In fact, I arrived just after Nazareth had started their set. Having bought my ticket (from a supermarket!) only 2 hours before the show, I was expecting it to be, at best, half full. It wasn't. It may not have been the stated 12,000 capacity for a concert at the Siemens Arena, but the floor space was full and there weren't too many empty seats. I'm not a fan of Nazareth, but enjoyed their set, and it was clear that the audience was there as much for them as for Purple. Anyway, when they continued to play beyond an hour, and came back for an encore, I was worried that Purple would do a shorter set. As the band hit the stage at 9pm, my worries would prove unfounded.

The first difference to note from the Astoria show was that the screens were actually used this time, providing some nice close ups - especially helpful in marvelling at Paicey's work. I never understood why they installed the screens at the Astoria and then proceeded not to use them. The set was the same as that in Jyvaskylä: Pictures Of Home / Things I Never Said / Wrong Man / Ted The Mechanic / Living Wreck / Rapture Of The Deep / Before Time Began / Mary Long / Contact Lost ~ Steve Morse solo ~ Well Dressed Guitar / Lazy / Don Airey solo ~ Perfect Strangers / Junkyard Blues / Kiss Tomorrow Goodbye / Space Truckin' / Highway Star / Smoke On The Water / Hush ~ Ian Paice solo / Black Night.

It was great to hear Mary Long, and I certainly didn't miss Back to Back, which I thought was one of the weaker new songs at the Astoria. I hadn't examined recent set lists, so was surprised when they played Kiss Tomorrow Goodbye in the set where Sometimes I Feel Like Screaming had been, but wasn't then surprised by the appearance of Hush in the encore. I noticed a few other "amendments" along the way, notably the bridge from Pictures of Home to Things I Never Said has changed since London (it's faster), and they've tidied up the endings of one or two of the new songs…well, sort of. Some things haven't changed though: Gillan still having to look at his lyric sheet, e.g. for Before Time Began and Junkyard Blues. He didn't introduce Contact Lost this time, and rushed through a few of the other (obligatory) intros, probably realizing that much of the audience wouldn't understand him anyway. That said, it tends to be the younger Lithuanians who do speak English, and there were plenty of them there. Overall, I thought it was a great show, and one that was much enjoyed by an enthusiastic audience." review: Phil Needham
February 6th 2006. Max-Schmeling-Halle, Berlin

SET LISTS

Alice Cooper: 1. Department of Youth / 2. No More Mr Nice Guy / 3. Dirty Diamonds / 4. Billion Dollar Babies / 5. Be My Lover / 6. Woman of Mass Distraction / 7. I'm Eighteen / 8. Go to Hell / 9. Black Widow Jam / 10. Feed My Frankenstein / 11. Welcome To My Nightmare / 12. Awakening - Steven - Only Women Bleed / 13. Ballad of Dwight Fry / 14. KIller ~ I Love The Dead / 15. School's Out / 16. Poison / 17. I Wish I Was Born in Beverly Hills / 18. Under My Wheels.

Deep Purple: 1. Pictures Of Home / 2. Things I Never Said / 3. Wrong Man / 4. Ted the Mechanic / 5. Living Wreck / 6.Rapture of the Deep / 7. Before Time Began / 8. Mary Long / 9. Contact Lost / 10. Well Dressed Guitar / 11. Lazy / 12. Perfect Strangers / 13. Junkyard Blues / 14. Kiss Tomorrow Goodbye / 15. Space Truckin' / 16. Highway Star / 17. Smoke On The Water / 18. Hush / 19. Black Night (with Uli Jon Roth).

set list: Niklas Nilsson, photos: Elinor Bostock (click to enlarge)