DPAS LIVE REVIEWS

Deep Purple
The Astoria, London. January 17th 2006
First impression: They came, they saw and, as far as the majority of the packed Astoria were concerned last night, Purple opened their "Rapture" World Tour in something approaching classic form. Those, like me, saddened by their slow descent into tribute band status over the past few years, will be overjoyed by the decision to whack in more than half the new album during the set. This, along with the chance to hear a couple of "Purpendicular" goodies, and the awesome inclusion of "Living Wreck", brought smiles to many in the crowd, and more than one "bloody hell!" from those around me.
Opening night glitches were handled with humour by Ian Gillan, and for me, after the disappointing shows on the last two UK tours, it all came as a huge relief. Still rather too much reliance on "Machine Head" - a second sucker punch like "Living Wreck" in the latter half of the show would really have set the world to rights - but considering the show was around two hours long, you could hardly grumble. Dreadful sound (and I was stood near the mixer) and perhaps a little tackless of Ian to explain to the crowd how the stage show would be much better and bigger in other venues, but I wouldn't mind betting that in a couple of months this set will really be worked in and when that happens they'll begin to reach those awesome peaks which we know and love.
Highpoints for me were probably "Living Wreck", "Kiss Tomorrow Goodbye" and some of Steve Morse's interesting new work early in the set (and loved his purple guitar!). Lowpoints would be the strange decision to throw in the Japanese only bonus track so early in the set (a song even many hardened fans won't know yet), and being swept out of the venue - literally - along with the mounds of empties before the final chords had died away and we'd had a chance to speak to anyone. (Simon Robinson)

The set-list (courtesy of Kev Dixon): Pictures of Home, Things I Never Said, Ted the Mechanic, Back to Back, Living Wreck, Rapture of the Deep, Wrong Man, Before Time Began, Lost Contact, Well Dressed Guitar, Lazy, Keyboard Solo, Perfect Strangers, Junkyard Blues, Sometimes I Feel Like Screaming, Space Truckin, Highway Star, Smoke on The Water, Kiss Tomorrow Goodbye, Black Night.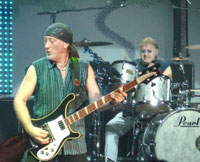 I'm pleased that they've put some trust in the new album by playing plenty of new songs - I thought "Before Time Began" and "Kiss Tomorrow Goodbye" were particulary impressive, but all of the new songs came across well, including "Back To Back" which didn't grab me on the album. The solos seem to be cut down from previous shows; there was no drum solo tonight and both Don and Steve didn't take as much time as usual. I think this is a good thing as I prefer to hear the whole band together rather than one man at a time. The high point for me was a splendid version of "Highway Star", which has a slightly different arrangement with a lengthy intro and an extension to the guitar solo. If you're wondering whether or not to see Deep Purple on this tour, buy a ticket; you won't be disappointed. (review: Richard Mackey)

Thanks to you lot for finding out how to get tickets after the initial advice yielded none left. Because if I hadn't got a ticket, I would have missed out on something very special. At least 7 new numbers! And "Living Wreck"!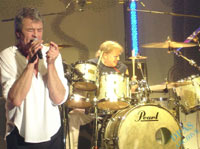 Anybody who had reservations about set lists from previous tours cannot have any qualms about last night. And all just in under two hours. If there was a problem, it was microphone problems at the start during "Pictures of Home" and the second number, the song that doesn't appear on the album. The Astoria is perfect for a group like Deep Purple. The atmosphere in the crowd was electric and sweaty, like a gig should be. It was good to see the group so close up, I'm sure they fed off it because they really seemed to enjoy themselves. I think it's fair to say that the ghosts of Blackmore and Lord can finally be laid to rest now after last night. There was something about last night that said, now that Don has really worked himself in, that things have moved on. Yes they did Mk2 stuff, but I was able to listen to them without thinking 'not as good as the original'. And as for the newer stuff, great to see "Ted The Mechanic" and "Sometimes I Feel Like Screaming" brought back.
Stood behind me were two 17 year old lads. As my first DP gig was Purley in 72 at the same age, I couldn't resist asking them what brought them to the gig. After all, radio and TV is not where you'd here them normally. They just replied that DP are a classic rock band and they've followed them for years. Hope yet! It's a shame that so few got to see last night. A full tour, unlike previous years where other big name groups manage to shorten the evening, is the next step. DP do not need the prop of big names, last night proved that all they need is the usual support of an unknown group (didn't catch their name, but they were good) and as a result, we get almost 2 hours, instead of 90 shoe-horned minutes.
Highlights? Too many really, but "Living Wreck" stands out, if only because I hadn't heard it live before. After that, I thought "Before Time Began", which on the album takes a bit of getting used to, was a number that will really develop. "Junkyard Blues" had a nice instrumental break, and "Rapture of the Deep" was quite special. (review: Clive Robey)
(photos: Michael Richards)