"When this project was first mooted, I got very excited indeed. After all, I love Deep Purple Mk1, back in the days when they were a genuinely innovative and experimental outfit, lurking around the edges of progressive rock, before such a thing was even invented.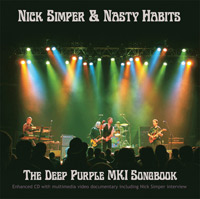 For sure, they were in thrall to Vanilla Fudge to begin with, but with the sheer artistry of the musicians involved, at a time when they were young and foolish enough to try anything, the results were often breathtaking.
But it's an oft neglected part of the Purple history, and with the current version of the band only featuring one original member of the band, it seems unlikely that they'll ever dust down some of these tunes. So it's been left to original bass player Nick Simper and Austrian band Nasty Habits to root through the dusty archives, in an attempt to bring some long forgotten classics back to life.
And, as this live CD, demonstrates, they're pretty darn good at it. Setting the vocals to one side, some of the music is absolutely outstanding as they rattle through tunes like 'And The Address', 'The Painter', 'Mandrake Root', 'Chasing Shadows' and 'Wring That Neck'. It really does the job of reminding me why I loved this music so much. However, the more vocal led tracks like 'Emmaretta', 'Kentucky Woman' and 'Hush' don't fare so well, only making me yearn for Rod Evans.
Simper himself is in fine fettle and keyboard player Helmet Puschacher is an amazing performer. The first edition(!) is an enhanced CD, limited to 1,000 copies, and comes with live footage and a Nick Simper interview, the latter of which forms the main course. Mind you, it took me 20 minutes to get it working, as the usual media apps didn't recognise it. Thanks then to the VLC media player. However, a chipper sounding Simper chats away about the early days, sounding happy and content, going into details on how the songs were written and recorded, and I really enjoyed the segment.
As he says, these songs will never be played live again by Purple, which is a real shame, but fans of Mk1 Purple will find these versions a welcome and surprising bonus.."
review: Stuart A Hamilton
(www.stuarthamilton.co.uk)
Nick SImper & Nasty Habits • The Deep Purple Mk1 Songbook, and Roadhouse Blues single can be ordered from the dpas online store