This is a CD single to tie-in with the live "Deep Purple Mk1 Songbook" album, featuring a recording of Roadhouse Blues which was left off the album, and an alternate version of Hush (plus the album track The Painter).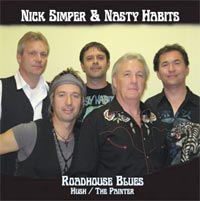 "In case you were wondering, Nasty Habits are an Austrian band with whom original Deep Purple bassist Nick Simper plays the occasional Mark 1 Deep Purple set. They've even gone so far as to record an entire live album of early Purple tunes, and this EP acts as a taster.
Quite why the EP is headlined by a cover of The Doors song I don't know. All you need to know is that the definitive version is that done by The Status Quo. 'Nuff said. So, on with the Purple. First up is their bash at 'Hush'. And it's pretty good. Singer Christian Schmid is no Rod Evans, but who is? However, as a fully paid up Mk1 fan, I will accept any excuse for a trip down memory lane.
Much better is the closing song, 'The Painter' from the third Deep Purple album, the foolishly titled "Deep Purple". I've always loved it, and it's exactly the sort of thing that needs to be dusted down after being hidden away for forty years. Guitarist Christian Heissenberger does a bang up job in creating a guitar squall and Helmet Puschacher hits all the right Hammond keys. This tune alone is worth the price of admission.
It's a long neglected part of Deep Purple history and I, for one, am happy that Nick Simper is bringing it back to life."
review: Stuart A Hamilton
(www.stuarthamilton.co.uk)
Nick SImper & Nasty Habits • Roadhouse Blues single, and Mk1 Deep Purple Songbook album can be ordered from the dpas online store