DPAS LIVE REVIEW
Glenn Hughes
Classics In Rock, Ahoy, Rotterdam, Holland. 23rd March 2007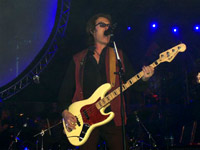 The Ahoy was almost sold out (about 10,000) for the first show of 'Classics in Rock' in the Netherlands. What is Classics in Rock? Well, it resembles Last Night Of The Proms with rock artists.
The leading band was The SAS Band with, among others, Neil Murray. A 32 piece orchestra gave the classical touch. Joost van den Broek, keyboard player with Dutch band After Forever, wrote the arrangements and invited a lot of Dutch rock heroes, such Bert Heerink from Vandenberg (former band of Whitesnake´s Adje van den Berg), Danny Lademacher, Arjen Lucassen and many others.
The international artists were Chris Thompson (Manfred Mann´s Earth Band), John Waite (The Babys), Jon Anderson (Yes), Glenn Hughes, and Graham Bonnet.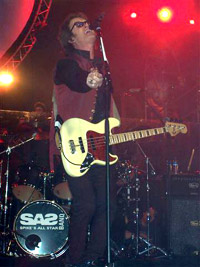 For Thompson and Waite the crowd were not overly enthusiastic, but that changed when Glenn Hughes showed up, singing A Whiter Shade of Pale, Mistreated and Burn. Glenn was awesome in Mistreated, screaming loud and clear. He was the first to get a big ovation from the audience. The first song Graham Bonnet sung was one I have never heard before (shame on me, but maybe someone else must know), the second was Since You Been Gone. I was never been a huge fan of Graham Bonnet in Rainbow, I think he fitted in much better in the Michael Schenker Group. Later he came back with All Night Long.
One of the last parts was "25 Riffs of Rock", in which two guitarists played short extracts of rock intro´s, of course the last one was the intro of Smoke on the Water bringing Glenn Hughes back on stage and again, what a voice!!!
'Classics in Rock' is a good concept, a lot of people bought tickets, hoping to hear and see their all time favourites, and we sure did. But what I miss is the special atmosphere of seeing one band, playing one show, so only when there are Deep Purple members I will go again.
review & photos: Peter Rossen
DPAS Photo Gallery : Glenn Hughes, 'Classics In Rock', Rotterdam, March 23rd 2007