March 31st 2006

. Royal Albert Hall, London, England Tommy Vance Tribute Night

"The setlist was: Second Sight / No Laughing In Heaven / Unchain Your Brain / A Day Late and a Dollar Short / Have Love Will Travel / When A Blind Man Cries / Bluesy Blue Sea / Sugar Plum / Black Night.

I can't write a review as I can no longer be objective about Ian's performance - the fact that he was on a stage while I was in the audience guarantees a magical experience for me. Notwithstanding that, 'When A Blind Man Cries' was absolutely stunning..." Ian WIlliams

Reviews & photos • Ian Gillan & Friends: Royal Albert Hall, March 31st 2006
August 17th 2006

. Phoenix Concert Theatre, Toronto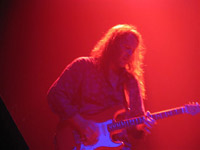 Set list: Second Sight / No Laughing In Heaven / Into The Fire / Hang Me Out To Dry / Have Love Will Travel (Michael Lee Jackson song) / Wasted Sunsets / Not Responsible / No Worries / Unchain Your Brain/ (Band jam) / Bluesy Blue Sea / Moonshine / Texas State Of Mind (Michael Lee Jackson song) / Sugar Plum (with Jeff Healey) / When A Blind Man Cries (with Jeff Healey) / Men Of War / (Drum solo) / Smoke On The Water. Encore: Trouble / Knockin' At Your Back Door..." Tom Jory
Review • Ian Gillan: Toronto, August 17th 2006
Photo Gallery • Ian Gillan: Toronto, August 17th 2006
August 18th 2006

. Le Spectrum, Montreal

"A great rockin'` show from Ian!! He was full of energy and the band played as if they have been together for years!. The show was pretty much the same set list as Toronto ( without Jeff Healey)

Set List: No Laughing In Heaven / Into The Fire / Hang Me Out To Dry / Have Love Will Travel / Wasted Sunsets / Not Responsible / No Worries / Unchain Your Brain/ (Band jam) / Bluesy Blue Sea / Moonshine / Texas State Of Mind / Sugar Plum/ When A Blind Man Cries/ Men Of War / (Drum solo) / Smoke On The Water. Encore: Knockin' At Your Back Door. The show started around 9:15 and ended around 10:35ish..... Nice small venue, sadly not sold out but a good loud crowd from Montreal ." review: Gary Poronovich
August 22nd 2006

. The Birchmere, Washington DC

"Absolutely brilliant show, with the same setlist as Toronto except that "Trouble" was included in the encore. Sadly, Ian & Co. didn't draw very well here in Washington D.C.; probably less than 100 people in a venue that seats several hundred. Despite that, Ian and the band put on a fantastic show, with his solo numbers receiving nearly as good a welcome as the Deep Purple numbers, which surprised me a bit given how rarely he has promoted his solo work in the USA. As per his web site contest, a local fan came up to play guitar on "Smoke on the Water"- he didn't do too badly and got to take a whole round of the solo section. Even more interesting, however, was that another local chap came up to play Theremin(!) on "Smoke..." He fitted very well into the mix, actually. (And no, they didn't break into "Dazed & Confused.") Ian was in fine voice and spirits, and it was truly an experience I'll always remember, to be able to see him perform in such an intimate setting. I do hope he draws better in other cities. I'm beginning to understand why Deep Purple never play DC any more when they come to the States." review: Chris Oberst

"A high octane performance. I last saw Gillan solo 23 years ago in Germany. They did not disappoint in any respect. If you don't have a ticket for the Gillan 2006 tour, you need to buy one now!! I won't rehash what Mr. Oberst stated in his review, because I am in violent agreement with his remarks. I would like to add a little more color about the show. Ian's voice was the best that I have heard in years. Ian blasted through all the songs with his trademark screams. He seemed to pace himself at the beginning, but let it rip after the second song to the end. The band was smoking. The drummer, Randy Cooke, and bassist, Rodney Appleby, put on incredibly exciting solos. Dean Howard and Michael Lee Jackson rocked and kept true to the songs. Joe Mennonna played an eerily, hellish Jon Lord-sounding solo. It appeared to catch even Ian by surprise.

As for the "Smoke This" contest winners, they played like real pros and did the anthem justice. One of the winners played a Theremin. I believe that was the first time ever that 'Smoke On The Water' received that treatment live with a member of Deep Purple performing. There could be other chances though…I was backstage after the show and heard Ian invite the Theremin player to join Deep Purple on the next US tour at an East Coast show. I wish I got the Theremin player's name, so I could be his roadie!! Other tidbits: Ian sings 'Have Love Will Travel' on Michael Lee Jackson's new CD released this week. Jackson and Appleby have been playing together for many, many years. The song 'Sugar Plum' is about Dean Howard and was written around 1993. Randy Cooke needs some stage threads – he dresses like Ted the Mechanic. Joe Mennonna played on a few songs from 'Accidentally On Purpose' – one of my favorite albums. Of the all the f-ing media in DC, the only one covering the show was Egypt Today! Look for an upcoming Ian Gillan interview at your local Cairo newsstand or www.EgyptToday.com." Review: Henry Sobieski
August 23rd 2006

. The Concert Hall of NYC, New York

"An incredible show to say the least! The concert hall of New York was like all the other venues they played so far, very small, maybe only about 800 people but it was just about sold out.. Ian took the stage about 8:30 and played until 10:15. The setlist remained the same as the first show but there was an additional instrumental played before 'Unchain Your Brain'. I think it was called 'Telepathy'? Anyway, Roger Glover showed up and played 2 songs with the band. 'Sugar Plum' and 'When A Blind Man Cries' which were great! I had the chance to meet Roger in the bar in the lobby and asked him when Deep Purple were going to tour America, he replied not until next year so if any American reads this and is wondering when they will be here it won't be until 2007. If there is a Gillan show in your city I highly recommend going. The only negative is that 'Trashed' was not played, I can't believe how many Black Sabbath Born Again tour shirts I saw in the crowd. Great show! Great sound! Go for it!" review: George Martin
August 24th 2006

. World Cafe, Philadelphia

"Just back from the World Cafe in Philly. Great band. Great voice from Mr. Gillan. Same set list as Washington, clocking in at 90 minutes. I'd guess the crowd to be in the vicinity of 275-300. Personal highlights were "Into The Fire", "Not Responsible", which , along with "Wasted Sunsets". Ian introduced as songs "we don't get to do with Purple". At one point he did tell an audience member to "save your voice... we are not doing requests". Not sure what was requested at the time, but there were shouts during the show for "Highway Star" and "Jesus Christ Superstar". I'm not sure about any place else is the world, but THIS was the kind of set list Purple should do in the States. Smaller venues, cover a wide range of material, including the very obscure, and include a drum solo. Thanks Ian for a great night!" review: Eric Eisenstein
August 27th 2006

. House of Blues, Cleveland

"I was lucky enough to catch the Gillan's Inn show at the Cleveland HOB. Even though it was a 4-hour round-trip and I had to buy box seat tickets (my husband's health made HOB's standing room an impossibility) it was well worth it. Same setlist as previous shows with no special 'guest' appearances, but that was not a drawback at all!! I was encouraged by other 'positive' reviews here and elsewhere, so I want anyone in Western Canada or The States to know that if you can catch a show, you should! Ian was looking and sounding great as always, performing fresh material you won't see with Deep Purple, and with a backing group that knows how to rock and have a good time. This show was a rare treat, and it just makes me that much more anxious for the next Deep Purple tour of the US. Too bad that won't be in such 'intimate' settings - the small venues work for me. It made it possible to hear all of the spoken song intros and stage patter that gets lost in huge settings. One such that was priceless to me was before 'When A Blind Mans Cries", Ian excused himself for "Just a sip of water" and could then be heard to say in dismay "They gave me f____ing WATER!" (I believe that situation was quickly remedied!) Thanks to all for a great time." Review: Susan Edgar
August 30th 2006

. Pabst Theatre, Milwaukee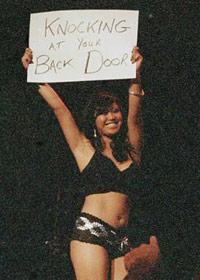 "We had third row seats in a theatre that probably only holds about 500 people. It did not sell out, so they reduced the price of tickets by half (I paid full price, but got great seats). Recording and photography was permitted. I took pictures, but I've got to get them developed (sorry, no digital camera here). Seems like most of the crowd had no clue what most of the songs were, but they got rather enthusiastic when the band played 'Smoke On The Water' (surprise!). They had a pretty girl come strutting out on the stage between songs with cue cards written with the title of the next tune to be played (kinda like at a boxing match between rounds). Well anyway, the show was great, and I am really happy we got to hear some "Gillan" era stuff and lesser known Deep Purple songs. Ian stayed after and autographed stuff for the fans.
The set list: Second Sight / No Laughing In Heaven / Into The Fire / Hang Me Out To Dry / Have Love Will Travel / Wasted Sunsets / Not Responsible / No Worries / When We're All The King Of Court Arthur (instrumental: that's what Ian called it!) / Unchain Your Brain / Bluesy Blue Sea / Moonshine / Texas State Of Mind (vocal by Michael Lee Jackson) / Sugar Plum / When A Blind Man Cries / Men Of War / Smoke On The Water / Trouble / Knocking At Your Back Door.
One more thing. There was a guy hitting on the girl who was selling T-shirts, and she couldn't get rid of him. I told him that she was Ian's wife (she isn't) and he'd probably get his ass kicked. He left her alone after that. Ian Gillan sings on Michael Lee Jackson's new album, 'In A Heartbeat' which was sold at the show. Just one song, 'Have Love Will Travel'."
Review & photo : Jeff Breis, Highbridge, Wisconsin
"What is special about the tour is the open taping policy. Those who wish to audio or video record are encouraged to do so. There is even a link via Ian's website to YouTube where a person may post videos. (See http://www.gillan.com) I think that it would also be a nice gesture of the fans that tape to send complete copies to the band as well! Perhaps Ian's people could post an address for fans to send their videos and audio recordings? Then perhaps a "best of the boots" DVD or CD could become a souvenir item as an internet exclusive??? A suggestion.
Many were recording in Milwaukee. Like the Toronto review also stated, and the band seemed to be having a great time, lots of smiles and laughter. A fun show. Recommended." John Slywka
Tour Photos & Reviews

"I've been reading the reviews of the Gillan's Inn tour and they are great. I work for the label that represents Ian, and which is supporting the Gillan's Inn tour. We have been taking videos at each one of the shows. You can check videos and pics from the tour here: www.gillansinn.com/tour. " Nate Lassiter, Internet Sales & Marketing Specialist, Immergent.com.
September 1st 2006

. Silverado's, Winnipeg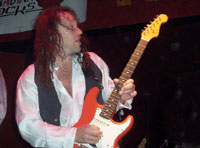 "Needless to say, I was quite impressed with the talented core that Ian has assembled on this tour. The band seemed to really enjoy playing for the crowd at Silverado's in Winnipeg. There were a fair number of true Purple fans in the crowd who I shared Purple news with. Besides 'No Laughing In Heaven', which is a classic for me, I really enjoyed the Michael Lee Jackson song, 'Have Gun Will Travel'. It'll be one of those songs played over and over by me while driving my car. Since I was near the front, stage centre, I was able to see the set list. I believe it's the same as most locations, except that they performed an additional encore 'No One Came' which was not on the set list. A great show, with Ian's voice sounding better than I've heard in recent years. Next stop, Las Vegas. I'll be there for the 'Smoke On The Water' contest winner." review & photo: Andy Szczepanik
Photo Gallery • Ian Gillan: Winnipeg, Canada. September 1st 2006
September 6th 2006

. Cowboys, Edmonton new October 8th

" Ian and his inn-crew played a great show, mixing solo songs with Deep Purple classics. It sounded loud and muffled in this small venue, but gave an incredible opportunity to see the veteran vocalist up close. The bass playing especially stood out, and the keyboard player stepped forward to play some nice saxophone parts. In addition, Ian thoughtfully provided a pretty girl in a bikini to hold up cue cards to identify songs, with a saucy wiggle to delight the fans. (he's all heart..!) The audience included older folk, teenage music lovers, and some lovely ladies. Deep Purple tie-died T-shirts were abundant, and one lad wore a Frank Zappa T-shirt (remembering "Smoke on the Water"). Afterwards, Ian and his band took time to talk to fans. It was a great evening and a special honour to meet the vocal hero." review Jeremy Tyerman (originally from Stockton-on-Tees, England)
September 11th 2006

. Slims, San Francisco

"A good show. Joe Satriani was rumoured to be showing up (the venue even sent out an e-mail saying he was going to be sitting in), but the sign on the door said he wasn't going to play when I actually got there. There was one surprise; Lars Ulrich from Metallica turned up to play drums on 'Smoke On The Water', so that was pretty cool. The lucky guy who'd won the competition to play 'Smoke..' on stage with Gillan must have wet himself !"

review: Jason O'Broin
September 19th 2006

. Gothic Theatre, Denver

"With only three dates left on the tour it has obviously been a success, due to the intensity the band showed last night. However, the fact that there were only two or three hundred people there bothers me. Where were all the people that came to see Robin Trower a few weeks ago? Maybe it's the fact Ian shows no signs of letting up that kept them away. On the other hand, it made for a better show; there were merchandise bargains to be had, and Ian didn't have to sign too many autographs! He'll sign everything (from body parts to dollar bills) until there's no one left.

As for the show, the whole band got on extremely well, but for me the stand-out was the drummer. He seemed to have the finesse of Morgenstern and the power of Powell, along with some Paice influences. The cue card girl had a lot less on than the Milwaukee picture. In fact, she could've made her shorts out of a few feet of electrical tape for all I knew." (Mmm, sounds quite interesting...errr...did you get any photos Dave??)

review: Dave Urstadt