"What a fantastic show. Ian Gillan was in great vocal form. His wails were wailin' and the screams were screamin'. Show start: 9:15 p.m. Show end: 10:40 p.m. Set list: Second Sight / No Laughing In Heaven / Into The Fire / Hang Me Out To Dry / Have Love Will Travel (Michal Lee Jackson song) / Wasted Sunsets / Not Responsible / No Worries / Unchain Your Brain/ (Band jam) / Bluesy Blue Sea / Moonshine / Texas State Of Mind (Michael Lee Jackson song) / Sugar Plum (with Jeff Healey) / When A Blind Man Cries (with Jeff Healey) / Men Of War / (Drum solo) / Smoke On The Water. Encore: Trouble / Knockin' At Your Back Door." review: Glen Miller.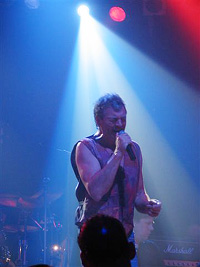 "Earlier this week local radio stations announced that the venue for the Gillan show had been changed from The Danforth Music Hall to the Phoenix. I wondered why they'd moved it to a small night club. The answer, of course, was ticket sales. In fact, I was told by Phoenix security that only 233 tickets had been sold for the show. Add in another 100 or so radio station contest winners, and it was a very intimate gathering indeed.
The setlist was great. Blistering performances of Unchain Your Brain and Bluesy Blue Sea, and enough Deep Purple tunes to keep things hopping. Guitar legend Jeff Healey blazed through Sugar Plum and When a Blind Man Cries in front of his hometown fans.
Ian and co. seemed to be enjoying themselves ,with lots of smiles and laughter between them. Ian took the time to shake hands and sign autographs. Many fans were filming the show." review: Mike Whiteley
click the photo to see a full Toronto, August 17th gallery by Tom Jory