Deep Purple's two Concerto reenactment shows on 25th & 26th September 1999 were emotional performances captured in crystal clear, though sadly fractured fashion for DVD, video and CD release. Plenty is missing from the 'supporting' performances, but the final track-listing is at least quite similar to that used when the band toured the Concerto show around the world in 2000.
The Albert Hall shows were recorded in their entirety in audio, but not on film. The cameras were only there for the second night, and even then were not at work for a section of the show. So, we're missing Ian Gillan's 'Via Miami' & 'That's Why God's Singing The Blues', and more frustratingly Steve Morse's 'Night Meets Light' & 'Take It From The Top'.

The picture and sound quality on the DVD is, as expected, A1, and together with an excellent orchestral performance the show comes across as a brighter, cleaner and sharper DVD experience than the corresponding 1969 disc.
It kicks off with two acutely emotive tracks from Jon Lord's 'Pictured Within' album, the title track sung by Miller Anderson, and 'Wait A While' by Sam Brown, an incredible performance. Ronnie Dio is as ever the consummate pro, shifting the evening up a gear by following a sublime 'Sitting In A Dream' (a Butterfly Ball track last tackled at the Albert Hall by Ian Gillan in 1975) with a rousing 'Love Is All'. Great fun, though I personally thought the latter lost a lot of punch by having the intro chords doubled up. Next, we're straight into Ian Paice's brass led version of 'Wring That Neck'. It's good mostly just to hear that riff being played again, but it still frustrates me that the rest of Deep Purple didn't join in. So near..
The Concerto itself sounds clean and strong. The sheer variety of themes and ideas still surprises me, especially as to my ears classical music often consists of taking one flimsy idea and riding it relentlessly into the ground. Steve Morse's opening solo is way shorter than Blackmore's extended barrage in 1969, and also thinner sounding, lacking the warm Gibson guitar tone which sat so well on top of the orchestra (whether they liked it or not!)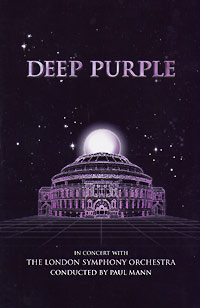 Deep Purple's own set sounds superb, though apart from the marvelous 'Smoke On The Water' free for all is filmed in a rather patchy fashion. A wide screen edition would do wonders to enhance the atmosphere of the recording, but sadly the DVD is strictly 4:3. It is also relatively old for a DVD release, there are no extras as you would now expect from an expensive production (the scope was surely endless), and I won't go on about the shoddy packaging....
As a souvenir of the evening the Concerto '99 DVD still scores highly, though not as much as the corresponding CD.
review: David Browne