July 1st 2003. Big Top Arena, Liverpool. A Library Full Of Elephants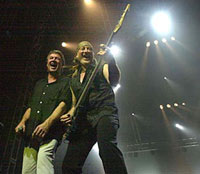 The Liverpool Daily Post (thumbs down)...
"We got a few old classics, but interspersed with this was some dreadful pop-medley dross. The big top was virtually full but I have seen more animation and excitement at the local library..."
or The Liverpool Echo (thumbs up!)
"Hearing Smoke on the Water live was worth the admission fee alone as the crowd shook the arena with a show of stamping that would have done a herd of elephants proud."
Were these people at the same gig??
[thanks to Janne Puska & Ian Holden]
"I must admit I went to Purple's Liverpool "Summer Pops" gig with a feeling of apprehension. Reviews of the summer tour so far have been mixed to say the least, and memories of last year's flu ridden performance did not help. But I should have had faith. The band were superb. So the set (unchanged) was a little predictable_ but these are classics, and why should the band be ashamed to perform them? You should have heard the crowd tonight as Steve Morse played the opening bars of Smoke... and tell me it's time they dropped it. Is Steve Morse tired of these old songs? No way. His smile was wider than the Mersey all night long. This was a band enjoying what they were doing, in the company of people enjoying watching and listening to them do it. If the three new songs are anything to go by, roll on the new album and tour. As Ian said tonight, 'I can't wait for the next time'. Neither can I." review: Tony Jenkins
August 10th 2003. Nandrin Festival, Belgium. A Slightly Improved Facsimile
"I was happy to see that there is finally a backdrop and a decent light show – both missing the previous two times. It really has been a long, long time since Deep Purple surprised me with their stage show and setting…" Ludo Verhaege

"Gillan was wearing a black shirt and that was about all the new stuff for the night!" Marc Brans
August 13th 2003. Arènes d'Avenches, Switzerland. Funky Claude new, august 15th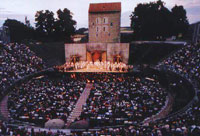 "Avenches is a really beautiful place. A medieval city with a castle, and a Roman Arena (left) where the festival took place. It was a sold out evening with several thousand people there.
The set list was : Highway Star – Knocking At Your Back Door – Pictures Of Home – Lazy – Haunted (new track) – Speed King – Well Dressed Guitar – I Got Your Number (new track) – Airey solo & Perfect Strangers – Smoke On The Water – Space Truckin'; encore : Hush – Black Night.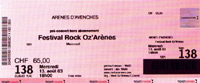 It was a really good concert, with Ian Gillan in fine voice (he seemed really thin compared with the "Abandon tour" in 98!). I Got Your Number is a very good, edgy rock song, while Haunted is a ballad with a nice solo from Steve Morse. During his solo Don Airey played the Star Wars theme (just for a change..). At the end of Smoke On The Water Claude Nobs (from Montreux) came on stage for a few seconds. The merchandising was nice too : several tee shirt designs in purple or grey with a D.P. logo. A very good evening in a marvellous place."
review: Lionel Bouvet – Annecy (France)
(thanks also to the correspondent who provided the scans, can you remind us of your name?)
August 14th 2003. 'Foire Au Vins D'Alsace'. Parc Des Expositions, France

"The good points: the tickets were very low-priced, only 16 Euros, which really makes for a change these days. Also, during his solo, Don Airey played a bit of "D'r Hans Em Schnokeloch", a very popular local Alsacian song... The bad points: ... well, I don't know where to begin...."
August 16th 2003. 'Rock Auf Der Insel'. Freizeitinsel Sportpark, Piberstein, Austria
August 20th 2003. Columbiahalle, Berlin, Germany Bananas Launched
"It was a superb show at the Columbiahalle in Berlin. It kicked off with HIGHWAY STAR, and you could see immediately see just how much fun it was for the band to play to a small audience of only 1,200 fans! Next up was KNOCKING AT YOUR BACK DOOR, followed by SILVER TONGUE. A short keybord solo by Don lead into LAZY. Ian Gillan then spoke about the Space Shuttle Columbia disaster, telling us that Steve recorded the instrumental CONTACT LOST on the same day. For this concert the boys combinated it with HAUNTED.

Next up were BANANAS, Steve's WELL DRESSED GUITAR, and the HOUSE OF PAIN. Don then had his typically bombastic keyboard spot (featuring the Star Wars Theme, German national anthem and some classic tunes), leading into PERFECT STRANGERS. The usual barrage of guitar riffs introduced SMOKE ON THE WATER, then HUSH ended up the regular show. The audience was singing Black Night when the boys came back for the encores: I'VE GOT THE NUMBER and, unsurprisingly, BLACK NIGHT. It was one of the greatest Deep Purple shows I've ever seen. Even better: the whole concert was filmed and I hope it will be out some day on DVD!"
review: Gerd Lange

"This concert was wonderful and was over much too quickly. I haven't experienced Deep Purple in the flesh for a long time, and they surpassed all my expectations. The new songs from BANANAS were an absolute highlight."Haunted" and "Contact Lost" really touched me, the latters keeps the memory of the astronauts alive. Songs like "I've Got Your Number" and "Silvertongue" reminded me of Mark II. Which magician mixes Gillan's elixir of youth? This man is never 58 years old! All I can say is it was a deeply purple evening and I look forward to BANANAS like a little girl looking forward to Christmas! Yours sincerely from Berlin, Bettina Demus."


Yahoo have a few photos of the band in Berlin and live at Avenches. Click the photo above to go see them!
deep purple, 2003 summer tour reviews, page one
© 2003 DPAS/Darker Than Blue.
Not to be replicated, reproduced, stored and/or distributed in any way without prior written permission