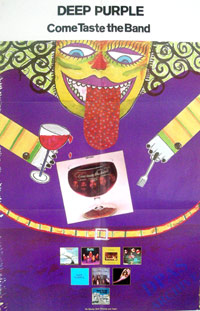 Progress Report, 15th March 2010
Three people have suggested one of those renticular cover designs, with the cover glass going from half full to empty as you tilt the CD case. I must admit we did think it would be fun but hadn't pursued the idea. However, prompted by the requests EMI are looking into it. I have a few of these 3D type CDs so the technology clearly exists, but costs may be an issue. People are also looking into the practicalities of an etched glass as per the album sleeve, in particular shipping such a fragile item.
Our thanks to Wolfy Smith and others for the scans of the American album poster, which is (as some of you will know) very very strange.




Above: Come Taste The Band Japanese advert

Thanks to everyone who has been helping with bits and pieces for this project.

To be going on with here are images of the reel to reel tape edition from the USA, cassette edition from Germany, 8 track cartridge from the USA, and a full page advert for the album from the Japanese music press. More to follow!

Scans courtesy DPAS Archives, Simon Robinson, Christian Mayer zu Natrup, Kurt Senn.

Left: US 8-track cartridge edition
Below left: US reel-to-reel edition
Below right: German cassette edition

Progress Report, 25th June 2010
It looks like a release date of early September is now likely for the 2CD. The vinyl edition has been confirmed at last; this will be a double set with the regular album and the remixes, in a gatefold sleeve with inner bags.
The remaster has been checked and went back for some adjustment (the feeling was that it felt a bit 'bright'), and the bonus remix disc is also now being finished up. A source of rare colour rehearsal images is also being investigated to try and clear some of these for the packaging.