Mk 1. Rec. Aug. 1968 at De Lane Lea, London. Charts: UK ../ US 54
1. Listen, Learn, Read On / Wring That Neck (Hard Road) / Kentucky Woman / a:Exposition, b:We Can Work It Out. 2 Shield / Anthem / River Deep, Mountain High
CD BONUS TRACKS Oh No No No (studio out take) / It's All Over (BBC Top Gear session) / Hey Bop A Re Bop (BBC Top Gear session) / Wring That Neck (BBC Top Gear session) / Playground (remixed instrumental studio out-take)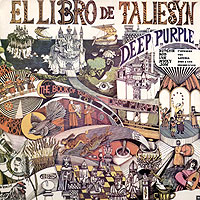 JAPAN V1 : Polydor SMP 1434 : June 1969 DS.
As USA. Inner gatefold has lyrics transcribed in English and Japanese.
All other vinyl editions substantially the same except ARGENTINA (EMI Odeon 58442-81-1040001) with title in Spanish in same style 'EL LIBRO DE TALIESYN'. (see photo)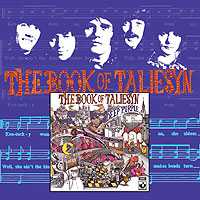 RECOMMENDED COMPACT DISC EDITION
GREAT BRITAIN : EMI 7243 52160822 : Feb 2000 CD This is fully remastered from original quarter inch tapes with large booklet of rare pictures and extra tracks.
It is available from the dpas online store
SPECIAL COMPACT DISC EDITIONS
Issued in mini sleeve format in GREAT BRITAIN (EMI ORIGINAL BOX CDOMB 002 : 1995) and Japan (Teichiku TECW 21718).