To mark our big five zero we upped the count to 44 pages this time, but again it took me a year to get the darn thing finished.

The main reason this time was a house move. It always amazes me when I see some folk changing house every few years. I'll be happy if I never have to do it again! We'd been in our first place 14 years, and probably would have stayed there except it was right on a main road which was getting ever busier, and there was no room to extend the property. We'd seen a place we felt we could do something with, but couldn't afford. Others did have the money but the seller kept dithering. We got close to two other properties but these fell through, then all of a sudden our first choice came up again, but at a reduced price. Everything else went on hold as we did the sums and put in an offer. Quite scary to think that were it on the market today there's no way we could afford it.

I still have visions of our precious vinyl collection which a friend, Mark Maddock, volunteered to ship up in his own car, spread out over one entire room... (and the hapless removal men suddenly deciding they'd underestimated the job and had to call round for an extra van, just as it started to snow). In between unpacking and chasing off Jehovah's Witnesses we also made a tentative step into the murky world of the interweb during 1997, although the anarchic nature of the beast was already evident as everyone and their dog jumped on the bandwagon. Amazing to think that we've had a presence there now for ten years, and to see how the service has developed and grown.

Purple wise there was the continuing Purpendicular tour to cover, which ended up including a couple of new tracks off the forthcoming second Morse album, the as yet untitled Abandon. To plug the gap the band issued the strangely low-key Live At Olympia, an album which even today some fans forget about. I say album, but it never made vinyl. It's a shame because there are some good versions on it, as well as the unusual addition of brass on a couple of numbers. There was a special feature on Mk 1 rarities as a prelude to reissuing the early albums for the group's fortieth anniversary, as well as a detailed look at the Tetragrammaton label - it was fascinating to see the company Deep Purple kept on this eclectic catalogue, sandwiched between Pat Boone and the Steve Baron Quartet. Roger Glover was interviewed to give us his thoughts on the changes in the band and how he came to first hear Steve Morse. In the interest of balance we also found Blackmore making his comments on the split clear, as well as singing the praises of Steve. The man in black was also starting his Blackmore's Night side-project, which quickly became his main musical direction as Rainbow were simply jettisoned. I chickened out of reviewing it as I really couldn't face the flak, so let my brother do the honours - him being a guitarist and all. Very fairly he did too.

David Coverdale was back in the magazine too, with a new album Restless Heart after a long gap, which a lot of people felt was some of his best singing in a long while. Gillan was also on the solo trail, albeit with the rather half finished Dreamcatcher album. For oldies fans, Fireball had barely left the CD player when the remastered Machine Head 2CD set came hammering along, perhaps still the most successful of all the projects simply because of the way the remixes let the music shine as never before (pun intended!). Lots of reviews and comments on this in the magazine needless to say. Mind you the mag is worth having just for the cover shot of Lord in his horse brass clad leather waistcoat!



ISSUE 50: DIGEST & INDEX

DEEP PURPLE
NEWS : Touring & Recording In 1997

DEEP PURPLE

NEWS : House Of Blues

DEEP PURPLE

RECORD REVIEW : Live At The Olympia'96

WHITESNAKE

NEWS : 1997 Farewell Tour

WHITESNAKE

LIVE REVIEW : Manchester Apollo

WHITESNAKE

RECORD REVIEW : Restless Heart

WHITESNAKE

RECORD REVIEW : Starkers In Tokyo

RAINBOW

NEWS : The Last Shows

BLACKMORE'S NIGHT

NEWS : Blackmore's New Project

BLACKMORE'S NIGHT

LIVE REVIEW : Mainz

BLACKMORE'S NIGHT

RECORD REVIEW : Shadow Of The Moon

IAN GILLAN

NEWS : Recording Dreamcatcher

IAN GILLAN

RECORD REVIEW : Dreamcatcher

IAN PAICE

NEWS : UK Drum Clinics

JON LORD

NEWS : Pictured Within
NICK SIMPER

RECORD REVIEW : Quatermass II / Long Road

Touring & Recording In 1997 - News
As we mentioned last issue, Roger was due in the studio on February 8th '97 for some preliminary work on the new album. The rest were due to begin actual recording work in May, but this appears to have been taken up more with jamming and writing. Roger also confirmed at this stage the existence of three finished tracks from the last album, and these were possible candidates for reworking for the new one.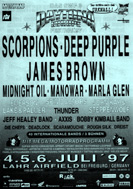 Serious touring plans for the rest of 1997 were out but when the group were offered a fairly prestigious festival date mid-summer it was decided to play a couple more shows to make it worth getting the gear out of storage. The enticement was a three day German event - The Daytona Europe Festival in Lahr on July 4/5/6.- Purple headlining the second day. The set was: Hush / Fireball / Into The Fire (complete!) / Ted The Mechanic / Black Night / Bloodsucker / Cascades / Steve Morse solo / Woman From Tokyo / No One Came / Smoke On The Water / Jon Lord solo (minus the piano part) / When A Blind Man Cries / Speed King / Perfect Strangers / Highway Star. "Highlights? Into The Fire. I was left aghast hearing them tear into it for the first time in 26 years! They hadn't played together in a while and it showed, a couple of missed cues and the like, but it was all the better for it!." Stathis Panagiotopoulos.
The other shows were: July 8th : LEBANON, Beirut - Mont la Salle Arena (Why there? Roger Glover: "I guess a couple of us were big down there years ago, so that's probably why..."). For this gig they swapped things around a little, took "Into The Fire" out and dropped "Pictures Of Home" in after "Ted". "Rosa's Cantina" was also added before "No One Came", otherwise things were as Lahr. July 12th : SWITZERLAND, Frauenfeld Out In The Green Festival followed rather bizarrely by one back in Canada: August 3rd : CANADA, Calgary Alberta Classic Rock Weekend. One of our readers was at the Canadian show and wrote in: "It took the crew seemingly forever to set up the gear, but as they began `Hush' Glover's instrument failed to work! Since Lord was already in the middle of the intro, there was no way back, so he proceeded to jam for three minutes or more, joined by Paice and Gillan on congas. This setback didn't discourage them and later they tore into the song proper like there was no tomorrow, bringing the audience to a frenzy." Kris Borzym, Vancouver, B.C.
After the last show, the group then got down to the serious business of laying down the new album. Needless to say the sessions went on longer than originally planned but they were able to finish up in time for Jon Lord to return and attend Ian Paice's bonfire party in Henley.
House Of Blues Tour - News
A series of American shows were immediately booked for December 1997/ January 1998, playing a chain of rock venues known as The House Of Blues, and it was interesting to see these shows used to experiment with new material. In some ways this harks back to late 1968 when the group were doing similar sorts of club shows.
The set list for these shows was changed about a bit to accommodate two new unreleased tracks, and went as follows: Hush, Fireball, Into The Fire, Ted The Mechanic, Pictures Of Home, Black Night, Bloodsucker, Any Fule Kno That, Sometimes I Feel Like Screaming, Woman From Tokyo, Seventh Heaven, No One Came, Smoke On The Water, When A Blind Man Cries, Speed King, Perfect Strangers and Highway Star. As always it's a little hard to judge new tracks done in this context, especially as they're not yet fully up to speed live. "Any Fool Know That" is a riffy slab of funky Purple rock, which was dropped from the later shows. "Seventh Heaven" opens with some gentle almost classical guitar picking then builds into a recognisably Purpendicular era Purple stomp, albeit a little heavier than before. The band seem to have developed a more contemporary sound, due in part to taking some older tracks at a slightly increased tempo. Steve does seem to have become more integrated, and other members are reacting to him more rather than vice versa.
In a first for the band, one of the shows was available over the internet, being aired in real time on Friday, Dec 19th at six o'clock Pacific Time. This was supplied by a company called LiveConcerts.com. It is hoped that the new studio album will be out probably around April 1998 and that Europe will then be able to see the group live once again.
Live At The Olympia '96 - CD Review
DEEP PURPLE
Live At The Olympia '96. EMI : June 1997: 2xCD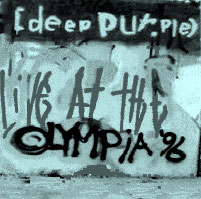 Purple's new double live CD - sorry "official bootleg" (Roger says the oxymoronic sticker was not their idea) but there were real problems over the UK release thanks to a cock-up on the price front. The official retail price was only a few pence short of £25 which seemed very off-putting to us. Apparently soon after the CD was issued, EMI sent all shops a letter telling them the price had been wrong, and it should actually sell for around £16. For anyone looking for a serious Purple collectors' item, the artwork for the CD cover exists on a wall somewhere in New York - and was done by a schoolmate of Roger's stepson. So, a cheap return air flight with hammer and bolster chisel in your hand luggage!
It doesn't seem that long since we were bending our ears to the last (official and current) Deep Purple live offering - namely COME HELL OR HIGH WATER. Yet almost three years mark the gap between that set (issued in November '94) and this latest title. As for the recording itself, well all I can say is I hope they didn't pay a lot for it! The overall effect is a little messy, poorly balanced and lacking in clout. COME HELL grabbed you by the parts as it powered out of the speakers; this one kind of begs you to crawl inside the cabinets and have a peek around to see where the sound has gone to. In the past, Purple live sets have always set out their stall right from the opening couple of bars. Here, instruments seem to be unsure of just where they ought to be. I guess some of this could be down to recreating the unusual on-stage set-up, but if so it doesn't really work. The drum sound is at times weedy, with lots of irritating cymbal noise being little compensation; the guitar is not too easy to hear, and the keyboards (as on the nights we saw them) are buried except during solos. Ian Gillan is simply pitched somewhere in the middle of all this, and sounds like he's been dubbed on afterwards, while the bass is lacks definition. Perhaps the recordings were poor, maybe it was mixed hastily - oh well; as with many bootlegs, ears adjust to the ambient sound pretty quickly and to be fair, it does get better as the set progresses. I suppose were we reviewing an actual bootleg, everyone would be raving about it, shoving one another aside to be first at the dealer's table.
The final section in PICTURES OF HOME is particularly exciting, with Morse fixed in a wall of Purple sound, before they descend into BLACK NIGHT, and parody comes dangerously close. CASCADES is more like it, a strong chugging sound, and then the much vaunted brass section blasting away in the background. I'm sure like many I'd wondered just what this would sound like, but it's far from intrusive, being more of a bright seventies brass effect than any attempt at following the tune. Lordy is playing incredibly quickly here and the whole show has just gone up a notch or two. NO ONE CAME is similarly imbued with a real syncopated spark, and what with the jazzy touches of brass, it's just a brilliant rendition - and in retrospect one of the highlights of the CD for me. The sax players last for a curiously unsatisfying PURPENDICULAR WALTZ and then troop off ("where did they comes from" questions Ian to nobody in particular). If this CD does one thing, it disproves the theory that one Purple gig is going to be just like another Purple gig without the man in black. This show has different peaks from many of those I saw, and a different feel as well. I'm sure overall it's not as good as a couple of gigs we witnessed, but this is the problem if you go for a one-concert recording - and only tape one flipping show.
---
1997 Farewell Tour - News
The CD - "RESTLESS HEART" - came out early in Japan, March 26th to be precise, complete with three extra tracks and another limited edition bonus package for the first few thousand copies, with a family tree, biogs etc. Only Adrian Vandenberg remains from any of the previous line-ups, the rest being session players associated with the Coverdale/Page project.
In May David arrived on these shores for a tour of radio stations. Well it's cheaper than getting a band together we thought (a little unkindly as it turned out!). In Warsaw, David went along with guitarist Adrian Vandenberg for a radio slot on April 18th and ended up doing a "bogus Simon & Garfunkel" spot. Three songs ("Sailing Ships", "Too Many Tears" and "Here I Go Again") with just guitar and vocals. This proved so popular that they repeated the exercise over in Japan, and a couple of months later it was released there as a Japan only CD! Happily EMI Europe managed to secure the rights, and the disc was scheduled for release in December '97.
The final Whitesnake tour - as it was billed in adverts and publicity - began over in September in Japan with a show in Osaka on the 12th. The British leg of the Restless Heart tour began in Newcastle City Hall on October 3rd, ending in Sheffield City Hall on the11th. The set mixed early (i.e. pre-1987) tracks with newer material almost 50 / 50, although people report that reaction to the older tracks was far more muted than for the newer titles at some venues. This I suppose reflects the enormous sales for the "1987" album in particular, and the smaller number of regular gig goers who remember the band from the early half of the decade. Reflecting opinions about the studio album, the overall vibe we got from the tour was of some great singing backed by a competent but non too inventive band (comprising, for those who need to know, Vandenberg on guitar, Denny Carmassi on drums, Steve Farris on guitar, Tony Franklin on bass and Derek Hilland on keyboards).
The initial set-list comprised Walking In The Shadow, Give Me All Your Love, You're So Fine, Love Ain't No Stranger, Too Many Tears, Ready An' Willing, Judgment Day, Lovehunter, Slow An' Easy, Is This Love, Oi (instrumental), Restless Heart, Don't Break My Heart Again, Fool For Your Loving, Here I Go Again, plus encores of Ain't No Love, and Still Of The Night. From time to time David asked for "requests" but this seeming spontaneity was rather spoiled if you caught more than one show, as he did much the same requests each night! These comprised unaccompanied verses from "Mistreated" and similar oldies which one assumes the band hadn't rehearsed. Anyway, let's see what others felt:
Manchester Apollo, October 1997 - live review
"Some thoughts on the recent Whitesnake concert at the Manchester Apollo last week. After the fiasco of the 1987 tour which I saw at Birmingham, I had written Whitesnake off as a bad joke and that Donnington '90 performance was even worse. Initially, I was concerned to see the stage set up with a huge 1987 era logo. On they came, the usual barrage of noise, Coverdale's trademark "Here's a song for ya" and we're into Walking in the Shadow. This was great to experience once more led by a very fit and thin looking Coverdale in good voice to a noisy and good humoured crowd. The show ended with DC standing on his own looking at the crowd, a brief goodbye and a wave which seemed to be sincere. Highpoints overall: Coverdale in great voice and the ditching of all the nonsense attached to the glam era. On the downside the rest of the band were about as faceless as is possible and I really missed Neil Murray's bass work.
I am glad that I went for a last farewell but find it ironic that DC can do a good album and sell out places like the Apollo quickly, and yet Glenn Hughes can do a cracking album and be far more entertaining live and yet struggle to half fill places like Jilly's." Dave Billington
The response to the UK shows had been so positive that the agents were already booking in more shows. Thus after gigging in Eastern Europe and the Baltic states, Whitesnake returned to play Nottingham on the 26th, plus a few more shows including a second night in Manchester, ending down in Plymouth on December 1st. The tour was then headed off to sunny South America.
Restless Heart - Album Review
RESTLESS HEART
EMI TOCP 50090: UK/Europe : June 2nd 1997 CD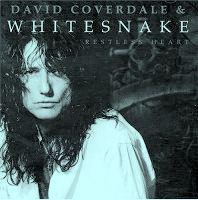 It's getting a hit like the old times again - what with a Gillan (the man - not the band) album out, Lordy's effort due any day, and offerings from the man in black. If it all seems increasingly less vital than it did fifteen years ago, that's probably just me feeling my age, but sadly there's not a vast amount on David's new offering to stop me getting all nostalgic about Whitesnake classics of yore. Things became a little overblown on the last two Whitesnake albums (to say the least) so it's good to find David toning things down in favour of a more basic approach. Out too has gone the sponsorship by L'Oreal, and a more craggy wet look David Coverdale adorns the front of what is billed as the final Whitesnake album. And Ritchie could well take a leaf out of David's book, or at least call him for the name of the photographer. as it's a great moody image. Some things never change though, and the old poorly executed paintings of concrete heraldry still adorn the rest of the package. Still, let's persevere. People had, after all, being calling me up claiming this to be his best vocal performance in years.
It has to be said that by and large they were right. Perhaps the time off has done him good. It's still uniquely Coverdale, but somehow a little richer in tone, a little smoother in delivery - and it suits him very well. That then is the good part. The downside of it is that sadly very little else on display here is up to this vocal return to form. Musically it lacks memorable tunes, melodies, riffs - anything really. It just kind of washes over one in a stream of fairly bland metal. The opener, Don't Fade Away. is very typical -plenty of recognisable AOR Rock signatures but nothing too deep or original. All In The Name Of Love sparkles at the start with a few bars of grungy Hammond, but ditches this in favour of a plodding, pedestrian beat. A good production to be sure, but largely lifeless. Title track time, and some good deep vocal lines growl promisingly, but are dissipated via a really inept band performance. Try the last minute or so though, and see how it might have sounded. Strings sneak in, must be time for a tearjerker. Too Many Tears - more excellent vocals, but a very obvious guitar solo, wet drums and a conservative feel to it all. The best you can say is that the tracks could sound stronger in a live situation.
There is no doubt that this is an important album in that while it may not be the strongest he has ever recorded, it does mark a return to the Coverdale most of us like to hear best, and so holds some promise for the future. The fact that David has discovered his voice again also prompted more reviews of the album from readers than we would normally expect.
"Mercilessly slagged off in the music press (well in 'Kerrap' magazine at least) and old D.C. stating in publicity interviews that this 'final"Snake album summarising 20 years of the band, I feared a 'Stranger in Us All' type hotch-potch / self-rip-off. However, whilst there are certainly plenty of reminders of David's post-Purple works (ranging right from Northwinds era to Coverdale/Page) they fall far short of self-parody. Indeed Coverdale goes less for the 'Slip of the Tongue'-screaming and more for a back to his blues / Paul Rodgers-type phrasing and style, to great effect. Backing is courtesy of the Coverdale/Page touring band with Vandenberg 'replacing' Page, but the material is generally quite laid-back as compared to the C/ P album, and all in all quite in keeping with 'Whitesnake'. I should say that fans of early to late-middle period 'Snake ("true Whitesnake"?!) should not be disappointed by this album. Indeed, had this followed 'Slide It In', Coverdale's credibility-rating might not have taken the nose-dive which it did with many 'older' 'Snake fans. Lyric-wise David manages to rise above the groin for the most part, and the production (credited to D.C.) is somewhat brighter than the old Martin 'Boring' Birch produced efforts." Tim Summers.
I think it fair to say Tim's views are common to just about everyone who ventured their opinion.
Starkers In Tokyo - Album Review
WHITESNAKE
Starkers in Tokyo, TOCP-50314 : Japan : 1997 CD
"I thought that the Restless Heart CD was the best thing Coverdale had done since Ready an' Willing, he actually sang, proving he still can when he wants to. This release is better still. Here we have Coverdale and Adrian Vandenberg on acoustic guitar performing a selection of Coverdale's history in an "unplugged" show. The tracks are - Sailing Ships, Too Many Tears, The Deeper the Love, Love Ain't No Stranger, Can't Go On, Give Me All Your Love Tonight, Don't Fade Away, Is This Love, Here I Go Again, and finally Soldier of Fortune. This is without doubt the best I have ever heard Coverdale sing. His voice is full of emotion and Vandenberg's playing really adds to the performance. Still not so sure about the selection of songs, I would have liked a couple more from the '70s - maybe even one off Northwinds, but the inclusion of Soldier Of Fortune more than makes up." Mike Richards
The above CD was available as an expensive import, but when I called EMI in November they told me it was due to be issued in Germany any time, and will thus be available here at a much more reasonable price - it is only a mini-album after all.
---
Rainbow's End - News
Ritchie and his cohorts were heading out on the North American leg of their Stranger In Us All tour as we were going to press last issue, with shows Feb. through March (supported by some strange metal bands). What's more they had a new drummer in tow, Chuck Burgi having headed out to the home for retired Rainbow personnel to be replaced by John Micelli (who in the past has worked with Meatloaf and Blue Oyster Cult).
Bruce Metcalf caught them at the Warehouse in Ontario on Feb 26th: "He opened with Spotlight Kid and a very quick, clear and impressive solo that got a lot of favourable nods from all around me. Highlights were Man On The Silver Mountain, Mistreated, Temple Of The King and Hall Of The Mountain King. There was a blistering version of Burn for one of the encores. Dougie told us the drummer had only joined about ten days before the gig. Overall very enjoyable. Yes, I did think the Purple show here was better - more variety and spontaneity - but Ritchie was very open and shaking hands with the people at the front of the small crowd (2,000 or so). A lot of positive calls to the local radio station afterwards too." Jeff Breis, in Wisconsin, made the effort as well: "I traveled about 500 miles for the gig at Jack Elammers in Schaumberg, Illinois. I held my place at the foot of the stage diligently through two support bands. This is the first time to see Ritchie since '87 (he's cancelled on me five times since then). I'm very excited, here we are, in a club with only about 300 other people just to hear Blackmore. Finally, we hear Judy and the show is on. The next thing you know - there he is, not six feet away. My mouth is agape. I'm not easily overawed by anyone, but Ritchie has a very commanding presence."
Rainbow were due to play four shows in Spain, then changed to doing just The Barbarian Rock Festival in Granada on May 24th but then pulled out of that. Glenn Hughes was second on the bill too, and he also cancelled. Further European dates were mooted but in the end Rainbow played just one show at the Esbjerg Festival in Denmark - headlining the second night. From all accounts it looks like this is going to be the last Rainbow show for some time. Ritchie was lining up promotional duties and touring plans for his side-project, and thus it was obvious the various mem bers of Rainbow would be headed for some time off. So they were all presented with contracts, but as these forbade them working for anyone else in the interim, thus effectively stopping them earning a wage, they weren't too impressed! Dougie White called it a day at once.
Blackmore's Night - News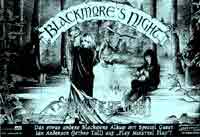 All eyes (and ears) now turned to "Blackmore's Night", as he and Candice had christened their new album. The CD came out in Japan early, around April 22 1997, with a bonus track (just a remix). The first pressing also had deluxe packaging. The CD was then licensed to Edel in Germany, where it came out in early June, followed by the UK a few weeks later. UK copies disappeared almost at once when Edel switched to a new distributor and UK release was put back to October. Meanwhile the recording sessions which had been filmed formed the basis of a Japanese only video release at the same time as the CD. This was due out in Europe later on but to date hasn't surfaced officially. The album produced a wide range of responses, ranging from the hopelessly over the top, to the downright cynical. After the promotional duties a live tour was quickly lined up, taking in Germany and a few other European cities, along with a fairly exhaustive string of shows in Japan - the whole tour starting in Spain on September 9th. With just one week to go before the start, promoters were told the tour was being cancelled. The official reason for this was an infection in one of Blackmore's fingers, which needed time to heal unless he was to risk more serious damage. The infection subsided enough for the November Japanese shows to proceed, and these were followed by rescheduled gigs in Germany in December. Candice let it be known that they felt the wearing of period costumes would add greatly to the ambience of the shows. Early reports from Japan showed the inclusion of Difficult To Cure, C16 Greensleeves, Temple Of The King, Still I'm Sad, Ariel, Man On The Silver Mountain, Smoke On The Water - the last three being done with Ritchie on electric guitar. Most of the new album was also included.
Eltzer Hof, Mainz, 14th December 1997 - live review
In general the reviews we've had have been subdued. Most people seem to applaud Blackmore for having the courage to try a major change of direction, but feel the end result isn't there yet. A lot of people in the crowd seem to be waiting politely for the Strat to appear and then proceed to go honkers. Axel Cordes was one who wrote to us:
"I got some surprises, both positive and negative. Ritchie was not wearing his silly mock-Renaissance clothes (as on the CD cover), just his usual black. Candice was nice, friendly, talking to the audience a lot, but shy or self-conscious throughout the show. Her voice was either too low in the mix, just not strong enough or she wasn't close enough to the mike. In some of the old Rainbow songs like Sixteenth Century Greensleeves an expressive shouter like Dio was sadly missed. In the last encore (Black Night!) she was simply inaudible. All in all, her performance seemed quite unprofessional, especially if compared to Blackmore, who was in a good mood from beginning to end. For two songs from the album, guest musicians appeared on stage and joined Ritchie (on mandolin), playing another mandolin and recorders. This gave the whole thing an unexpected air of spontaneity. At least it contributed to a relaxed atmosphere. Rainbow evergreens just didn't work in that line-up. What Temple of the King, Sixteenth Century Greensleeves and Ariel need is a real drum kit, distorted guitar and another singer. Ariel, above all, made it evident how much the effect of the song depends upon the arrangement rather than the composition itself. The unplugged version was pretty boring. The song that annoyed me so much on the CD proved to be the highlight of the show: Writing On The Wall came along as a stomping piece of rock and roll with a great solos from Ritchie's cream Strat (which he was obviously glad to have back on stage after the regular set). Black Night as the final encore brought the house down, of course. It certainly was Ritchie's way of giving at least some people what they wanted. At the end of the day, it was an interesting rather than a fully satisfying show. But seeing Ritchie play live on stage is (nearly) always worth the money, and it certainly was in Mainz".
The basic show ran as follows: Shadow Of The Moon, Be Mine Tonight, Play Minstrel Play, The Clock Ticks On, Minstrel Hall, Memingen, Temple Of The King, C16 Greensleeves, and No Second Chance. This formed the acoustic part of the show, followed by the second half which ran Still I'm Sad, Difficult To Cure, Writing On The Wall, Man On The Silver Mountain, Smoke On The Water, Black Night and Street Of Dreams.
The CD has sold well, particularly in Japan, and appears to have more than out-stripped the last Rainbow album (can it be I wasn't the only person on the planet not to enjoy it?!). Ritchie has set his sights on doing a follow-up almost immediately rather than another Rainbow album.
Shadow Of The Moon - Album Review
BLACKMORE'S NIGHT
SHADOW OF THE MOON : UK : Edel 0099 022WHE : Oct 1997 CD
"As a guitarist of 30 years pro & amateur experience, I know only too well the difficulties in reconciling your advancing years with a desire for musical progression. Off-hand, I can only think of one "elder statesman" guitarist (Beck) who still retains the fire and inventiveness of those days. Is it fair to expect any guitarist to continually expand his musical horizons whilst retaining the spark of youth in his playing? Unfortunately not; guitarists are only human after all. Will a die-hard fan still hope for that? Inevitably.
Shadow Of The Moon - clearly a RB song -pumped up, it could be a Rainbow song, but restrained and nicely sung. No solo? Shock horror! Excellent production work - everything is clear with acoustic to the forefront as one would hope. The Clock Ticks On - yeuch: synthesised medieval instruments. Rather cliched lyrics, but they fit in with the overall theme of the record. RB has clearly applied his knowledge of medieval syncopation to write what could have been a formal dance number. Again, the singing is a bit laid back for my taste; I'm sure with more studio experience Candice will open her lungs a bit more.
Be Mine Tonight - a pleasing 3/4 tempo, not unlike a Paul Simon song. The chorus on this one is more clearly defined & benefits from being so. The brief arpeggiated guitar section helps with the structure of the song, if rather predictably. Ocean Gypsy - a beautiful opening mood turned into a song I've known & loved for years. A chance to draw comparisons for the first time. I played the original & this back to back a few times without any real conclusions. Yes, I prefer the original (Annie Haslam has a voice you'd struggle to match) but Candice delivers it sympathetically, albeit lacking in any passion. The song is beautiful and delivered with sensitivity. I hoped RB would let himself go a little here & give us one of those "bringing tears to the eyes" solos, but no, restraint seems to be his watchword.
Writing On The Wall - oh dear, I thought, more cod-classical rubbish, but what do we have here? Euro-pop??? Yes indeedy, the Man In Black reveals for perhaps the first time a wry sense of humour in his range of musical genres (previously somewhat limited). Great chorus, clipped & wonderful licks, slide guitar & a superbly cheesy drum-machine. Gawd, more spine-tingling guitar; please don't fade, please, oh sh*t, it's fading. Whether he had to use the classical refrain instead of an original one is debatable, but for me it works. Strange that it has been programmed into the middle of an otherwise coherent set of songs, but I'm just glad it's there. So I say "More songs taking this kind of musical risk please!"
So then what does this leave us with? I applaud him for breaking his self-adopted mould, taking the odd chance (viz. Europop), authentic medieval structures & playing, sympathetic production, clearly articulated acoustic work, fairly catchy melodies (in the main) and creditable singing. I mark it down on a lack of passion throughout, with RB as guilty as Candice, with far less excuses to his name. Candice should be proud of her debut but will hopefully gain in confidence as their personal & musical relationship develops." Nick "don't shoot me I'm only his brother" Robinson

My thanks for all the mail, and especially to Nick for tackling this delicate task with a far more lenient hand than I could have brung to it. We played the CD (myself and Ann) at first with interest, feeling at last he'd tackled something if not radically new, then at least a little different. As the disc wore on however our frustration grew. The very flat vocal approach, almost country and western in feel, set out on one level and simply stayed there. Fine for a couple of songs but deadly dull over a whole CD. I've absolutely no idea where Blackmore intended to go with this record, though as he'd had total control one can but assume he did what he set out to do, but he seems ensured of a reasonable audience if he wants to pursue this avenue further. To me the CD doesn't really satisfy on any level. It neither works emotionally, being almost totally devoid of feeling, nor does it threaten to break any boundaries anywhere, and it certainly won't find any admirers amongst fans of true ancient music. Ann - who has tapes of that sort of music - assures me that technically, Blackmore is absolutely spot on - but at the price of losing any shred of soul in his playing - save from the odd spot of electric work here and there which show he still has what it takes to move mountains.
---
Dreamcatcher - News
Ian was back in the studio in early April '97 doing a few finishing touches on his new solo album. Ian's been using Parr Street Studio in Liverpool, as his writing partner for the project is Steve Morris, who lives in that neck of the woods. He squeezed in some more sessions during gaps between Purple's summer shows, flying back in-between the gigs in Lahr and Zurich. Steve Morris has actually been using a studio near the Royal Northern College Of Music to do the final production and mixing work, as their prices are so reasonable (free plug!) One song - "That's Why God Is Singing The Blues" - was written by a guy called Dave Corbett who Ian met in the Algarve a couple of years ago. A couple of the heavier numbers date from the Repo Depo era, when Ian was trying to get something together with the guys from his last touring band.
Dreamcatcher - Album Review
IAN GILLAN
DREAMCATCHER Ark 21 724382 12462 7 : UK : November 1997
Ian's new CD finally surfaced in Japan in September, in Europe in October, and in the UK a couple of weeks later. Those of you following the progress of this work from the news columns of Darker Than Blue or any of the other fanclub zines, will know that because of Ian's total commitment to Deep Purple since he rejoined, time left over for solo work has been limited. When it is available, the tax situation doesn't al-ways allow him to get over and record, so an awful lot of responsibility for the finished structure of Dreamcatcher seems to have rested with Steve Morris. Morris, who teamed up with Ian on the Moonshiners project some years ago, has put together all the backings and co-produced the CD. Was it worth the wait?
Well I have to be honest and say that faces got ever longer at DPAS towers as the final CD got it's inaugural airing. Ann in particular, who plays an awful lot of Gillan tracks - often at ungodly hours of the morning! - was mightily disappointed and I could see why. From the front cover on, the whole package just feels unfinished. The cheap graphics and typography on the sleeve make it without doubt the poorest looking CD I have seen on any Deep Purple family disc (and that's saying something). Some of the tracks have enough going for them to make you think that if they'd been on Naked Thunder or Toolbox, they would have been very enjoyable. Here they just kind of limp along much of the time. "Prima Donna" is so catchy, but ends up sounding like a Bill Wyman out-take. "A Day Late & A Dollar Short" has a bit of low-end grunt, so it wasn't a surprise to find this had been put together by the Toolbox writing team, as was "Hard On You" and the best song on the CD, "Sugar Plum". All in all though the CD lacks personality -especially in the music, but even in the vocals at times.

---
UK Drum Clinics - News
With all the "solo" albums emerging from the Purple camp lately, word is that Ian Paice has been running a few ideas up the flag-pole with regards to doing something extra curricular himself. His mind is moved to attempt a sort of jazzy big-band album and he has been chatting to his old mate Pete York, but I don't know if anything has been planned yet. More immediately, Ian was persuaded to do another batch of drum clinics in the UK during January. He did this sort of thing over in Italy in 1995, but the last time he did something similar in Britain he was still a member of Whitesnake! The dates were as follows: ManchesterJan 12th; Edinburgh 13th; Birmingham 14th; London 15th; Poole 16th.
As I said after the last lot, the experience of hearing Ian Paice up close, without a huge PA, is one that remains with you for an awful long time. The shows seem to have been promoted by Roadhouse Music and Pearl drums, and there was also a stand for the Musicians Union. The routine was much as before. Ian arrived to loud applause, gave his kit a little shakedown and then did a question and answer session, which included a couple of demos - the intro to Fireball being much requested (the story is that The Who's gear was still in the studio when Purple were recording the album. Ian was unhappy with his work on the track, and so borrowed one of Moon's bass drums to augment his own. It sounded so good they went with it).
After a break Ian sat and signed autographs for twenty minutes or so, did another solo, more questions, and then a final more thorough work out to close (a total of around twenty five mins behind the kit in all). He was pretty self-effacing throughout and answered everything fairly candidly, including his thoughts on the departure of Mr. B. His stories of first seeing John Bonham live (in a London club backing Tim Rose - he was so loud nobody could hear Rose or the others!), working in M 15 as bottom of the bill to a package tour which included The Who and The Cream drawing audiences of forty people a night (Moon enlivened the boredom by getting Paice to help him build the world's highest drum kit with a cymbal some thirty feet off the ground which he then proceeded to try and hit!) and missing a chance to jam with Hendrix (because Carmine Appice got up first and refused to budge from behind the kit) were all entertaining, and he also expressed his pleasure at hearing the remixed Machine Head ("how it should have sounded"). The Satriani situation was explained - apparently everyone wanted him in the band, but he had received a huge advance from Sony for an album, and had already spent it! Ian commented 'He said he'd love to join but could we wait three years?'. Of Steve Morse Ian joked 'He's always broke but owns four aeroplanes!'
---
Pictured Within - News
Jon has been over in Cologne recording his new solo album. "I've had fragments of music rattling around in my head for the past ten years, so the album has come out of all this". Jon has signed a deal with EMI in Germany. Increasingly the UK arm of the company seems to be slow on the uptake these days. In fact it is EMI Classical who have done the deal. The CD is provisionally titled "Jon Lord / Pictures Within", a title taken from a quote from Elgar's Enigma Variations score - "to my friend, pictured within".
Most of the album is instrumental, largely piano with strings and some woodwind. It's not a move towards a lush orchestral affair by any means, rather it has a chamber orchestra feel - probably likened unto the work on the third Deep Purple album. Where there are a few vocals, Jon has again turned to Sam Brown. Release was due in November '97 but it got delayed and will now come out in the spring. It will probably be shipped out in the UK as well.
Jon told one reporter that he was quite keen to try and establish himself as a solo performer again. "I would like to know that I've got something going outside the band in case Purple goes pear-shaped, as it has been prone to in the last twenty years or so!"
---
Quatermass II / Long Road - Album Review
QUATERMASS II
LONG ROAD : Thunderbird GSA 108 : UK : November 1997 CD
Nick has been involved in a few projects recently. QUATERMASS 2 finally came out in Britain in December 1997. There is a "bonus" track on the Japanese edition. In fact the group didn't have any extra tracks, so they used an old demo instead! There are a total of eleven tracks on the European edition, written either by the band, or by people like John Gustafson and Bernie Torme. Gustafson was the original Quatermass bassist. The other original member, Pete Robinson, now lives and works in America and couldn't find enough free time to get involved in the project, though he did give it his blessing.
We might as well kick off this issue with the first new offering to involve Nick Simper in over ten years. I'm still not over keen to review CDs on one's own label, so we sent a copy to a freelancer who as well as writing for Beat Goes On, Mojo and others, is also interested in all things Purple.
"Deep Purple's original bassist Nick Simper and Ian Gillan's erstwhile drummer Mick Underwood have pooled their considerable resources - and the outcome offers more than a whiff of Whitesnake at their best. Titles like Prayer for the Dying, Good Day To Die and Suicide Blonde do not exactly lead to expectations of a pleasant listening experience. But don't be misled; those three are among the highlights of an album which offers much in the way of seriously appealing quality rock. There are delightful melodic touches and memorable hooks that linger in the brain long after the album stops playing. But that's not to say that the material is wishy washy - just that it's not made up of mindless thrashing about.
Simper's bass, so prominent on his work with Purple Mk 1, is again a forceful presence - now set against the driving drums of Underwood, whose own Purple links also extend to his having played with Ritchie Blackmore in the Outlaws and with Ian Gillan and Roger Glover in Episode Six. Singer Bart Foley and lead guitarist Gary Davis are more than credible cohorts, some assured vocals and fiercely-wrenched guitar work gracing the scene as Simper and Underwood readily convince you that they're not lust grizzled old veterans simply going through the motions. The guesting Don Airey's sensitively-applied keyboards are the icing on the cake. One must however single out River, penned by former Gillan guitarist Bernie Torme, as a real stand-out track while the final cut, Circus - credited to Davis/Foley/ Simper/Underwood - is a fine send-off which ensures the standard has been maintained throughout." Russell Newmark
also in the magazine...
Deep Purple 1997/98 Tour News & Reviews.... Mk1 Anniversary feature ..... Deep Purple Bootlegs / Is the CDR the beginning of the end?
Mk4 Rehearsal Tapes Discovered .... Tetragrammaton Records Feature .... Analysis of Ritchie Blackmore's solos .... RPM news .... Machine Head Era bootleg CD Guide ... Roger Glover & Ritchie Blackmore interviews .... Fan Clubs Around The World .... Question & Answers .... Video Round Up .... Whitesnake album & tour reviews .... Rainbow & Blackmore's Night live reviews .... Shadow Of The Moon & Dreamcatcher reviews .... Letters .... Vinyl Discoveries .... CD & Vinyl Reviews .... Machine Head Remaster review .... Live At The Olympia reviews ....
---
darker than blue magazines can be purchased from the
dpas online store
© 2007 DPAS/Darker Than Blue.
Not to be replicated, reproduced, stored and/or distributed in any way without prior written permission