Well, one or two people having had Issue 48 wrote to ask us to make sure another issue of the magazine never darkened their doorsteps again, and we were feeling under siege a little at times.

We were also a bit low, with Ann having had serious health problems for much of the previous year. So Issue 49 took a while to get out, but it did give us time to look at the British tour in great detail, with a lot of positive comments as well as some Blackmore fans giving the new mob a try and deciding it was not for them. I look back on the tour today with fond memories of a band taking a chance and deciding they had got something new to offer. Also of actually wanting to get on and see the band a few times on the tour, something which just isn't happening for me at the moment. There were also some reprinted press reviews and a nice page showing all the back stage pass variations. Fans had their say over three densely packed pages of letters... While it was a wrench to see Blackmore go in some ways, and nobody had been a bigger fan of the man's work than us, the new line-up seemed to offer a lot of hope and promise for the future.

If looking back was your game, there was plenty of excitement surrounding the remastered Fireball CD. And with good reason, as the set packed in lots of out-take fun from the session, plus a totally unissued track (and they don't turn up every day). Roger Glover had done a sterling job. I put a lot of work into the design, and EMI were up for wrapping it in a textured card slipcase to give us a feel of the original album cover (although my ambitious plans for a long case box with a special sized booklet were felt to be uneconomic and never got beyond the mock-ups stage). Wonder if the greedy prats at the private equity companies now trying to take the company over (as I write) would ever understand this side of the business? I doubt it. The CD bootleg scene seemed to be running rampant, and there was a whole page of Morse line-up titles alone to comment on this issue. Things were about to change as technology started to deliver the CD- R, and many fans would soon be sharing their bootleg CDs this way rather than paying large sums of money to the bootleggers.

Rainbow wise, apart from the new album from the Doogie White fronted line-up (which one fanzine - not ours - described as ideal to eat your dinner to!), we turned the pages back to try and come up with a gig list for the band's first year on the road. Stranger In Us All was a lacklustre offering in many ways, Blackmore just didn't seem up for it, and no matter how hard Doogie and his mates worked, the album only sparked in a few places. So, another 36 pages of fun and games wrapped up in a two colour cover. This issue is still available but stock is running down fast as we post this.


ISSUE 49: DIGEST & INDEX

DEEP PURPLE
NEWS : The 1996-1997 Purpendiclar Tour

DEEP PURPLE

RECORD NEWS : Dick Pimple

DEEP PURPLE

LIVE REVIEW : Leicester

JON LORD

NEWS : Resurrecting The Concerto

RAINBOW

NEWS : From Rainbow to Blackmore's Night

IAN GILLAN

NEWS : Solo Recording

GLENN HUGHES

RECORD REVIEW : Addiction

GLENN HUGHES

LIVE REVIEW : Manchester

GLENN HUGHES

NEWS : Funk Or Rock
NICK SIMPER

NEWS : Quatermass II

The Purpendicular Tour - News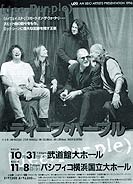 After the Feb / March 1996 British dates the band set off to Germany and Austria. They had planned to get out on the road in America next but the situation over there was still confused. Some April shows were mooted. The album did finally come out Stateside, but the dates didn't materialise so instead they had a little time off. Roger managed to spend that time working on the FIREBALL anniversary project before the band regrouped to play a further series of European shows through June and early July, culminating in a special gig at the Montreaux Jazz Festival on July 9th. August was scheduled for time off, followed by further European shows starting on September 1st and taking in France, Germany, Italy and Russia, finishing in early October, leaving a break before it was off to Japan at the end of the month, with November finally earmarked for American and Canadian shows. A total of 116 gigs according to people who like to keep a check on such things.
The band were then to take a break from touring, regrouping early in the New Year to take in South America before ending the tour. A follow-up album is the on the cards and Roger was due in the studio on February 8th for some preliminary work on this. The band arranged to have the Paris show recorded properly with a view to assembling as much live material as they can. Interestingly Paris saw the band experiment with a small brass section for a few numbers. They planned to repeat this in Montreux but it didn't happen. Should bring back a few memories of PAL for two members of the group at least.
Dick Pimple - CD News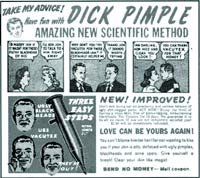 It's available now! Recorded in Florida back in 1995 by the members of Dick Pimple, this exclusive jam was enjoyed by all members of the DPAS who attended the first UK Dick Pimple Convention.
Pressed then as a CD single, and housed in a special Dick Pimple souvenir digipak, this disc was only available to paid up members of the UK Dick Pimple Appreciation Society and affiliated DPAS clubs in other countries. Once everyone had the chance to order their copies, the single was deleted.
De Montfort Hall, Leicester, 25th February 1996 - Live Review
We sat upstairs for a while to see who would soundcheck. Steve Morse came on and warmed his fingers up for a time before Jon ambled across the stage, took one look at his keyboard (as if checking it was.there) and then strolled back off. The hardened professionals guide to soundchecking. By show time the place was pretty well packed - a good cross section age wise (which very much reflects the enquiries we get for the DPAS these days - we had requests from 9 and 12 years olds last month). The first part of the set is a period of readjustment - both to what is for Deep Purple a radical stage alteration, and to the tracks. All the back catalogue you ever wanted to hear and more. While we'd mentioned the swapping around of personnel last issue it was still very strange to see Roger way out on the right in all that space. Lordy and Paice, well to some extent we've seen this sort of set up in Whitesnake (and in PAL too). so it wasn't too hard to accept. Ian Gillan - well is there anywhere else to put him (answers on a postcard -and don't say "under the piano") - and then new chap Steve Morse over on the left. The only gripe about it all was that you could not hear Jon Lord well enough. Every single person we discussed this with said the same thing and it really was a serious problem which should have been addressed immediately. Sadly they didn't, and the whole tour was marred by this.
Anyways, the first chunk of the show found us hearing oldies we'd probably long forgotten. The oldies were interspersed with the first of the new tracks - Ted The Mechanic. Bizarrely enough of the old material, Smoke On The Water turned out to be one of the best performances - it hasn't rattled along so convincingly for many a while. By this time in the set, with a few of the new tracks under their belt, the atmosphere had eased a little anyway. To begin with the crowd had been a little subdued, but came to life with some of the more familiar oldies and the new stuff.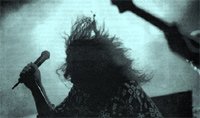 For me naturally it was much easier to appreciate the Purpendicular tracks; they don't come with twenty five years of baggage attached. And if I have a moan, it's that they did stick almost rigidly to the studio versions for much of the time. One or two were asking to be opened up, but it didn't happen. A cracking romp through Somebody Stole My Guitar and some serious soloing for Speed King and they're off - but what had already been a mammoth set was followed by a hefty encore section which opened with a very fine Perfect Strangers, which remarkably seemed to regain some of the majesty it had lost on stage in recent years. Hey Cisco worked well live, then an amazingly powerful version of Highway Star which quite took me by surprise. I was quite a happy chap by the end. They'd not scaled the absolute heights of the '93 tour, but it had been a much fuller and rounded performance than I'd expected. What's more, seeing Steve interacting with the others in a live environment you could begin to hear how they might push things on and it really did offer up the promise of a real future for the band.

---
The Concerto - News
Jon has written material for his next solo album, and even expressed a desire to update and add to The Concerto - if the original score can be found. It seems as if only two full copies of the score were ever made, but nobody can trace them. Malcolm Arnold has said he is sure he didn't keep one, and the Royal Philharmonic have nothing in their archives.
Meanwhile we have been in touch with a German composer and tutor who has almost finished a really detailed thesis on Jon's work in this area of music. Horst Herold has been able to transcribe some of the music by ear, so I suppose that's one solution. I've also had enquiries on the very same subject from Marco de Goeij in Holland - who has also made a go at transcribing some of the score from the album. I'll put these two guys in touch with each other and we'll see what happens. (Purple had been considering doing a venture with an orchestra to tie in with their first Morse line-up US tour too).
---
Rainbow Tours & The Medieval Album - News
Well I don't know, some people have a very low tolerance threshold when it comes to criticism of the great Ritchie Blackmore ! So, because I have the temerity to suggest that perhaps it isn't the greatest album ever made. I'm now persona non grata amongst a certain section of the Blackmore brigade. This despite the fact that we have championed the man's music and his playing for some twenty five years or more both in print and via a number of album and compact disc releases. Anyway, each to their own.
Rainbow embarked on a second tour in July 1996, covering most of Europe and with the band remaining much as before. As always, the man's live work varied between the good and the brilliant, with the rest of the group having very much to tow the line. The later dates often saw Rainbow opening with a lengthy version of Long Live Rock & Roll, with lots of room for Blackmore to get his riffs going before they went into Mistreated, which allowed him to revisit some of those classic performances of the '70s. The basic set for the tour was as follows: Long Live Rock & Roll, Mistreated, Wolf To The Moon / Beethoven's 9th, Still I'm Sad, Man On The Silver Mountain, Temple Of The King, Black Masquerade, Ariel, Since You've Been Gone, Perfect Strangers, Hall Of The Mountain King, Burn - with Smoke On The Water, Maybe Next Time, and Street Of Dreams as the encore tracks. Spotlight Kid and Too Late For Tears opened some of the '95 shows but were dropped for the '96 dates.
The band played Copenhagen on August 11th 1996, the final night of the European tour. Dougie White was summarily sacked from the band and was signing autographs backstage as "I'm Fired - Dougie White". Then someone reminded Ritchie that they had an all important American tour beginning "soon", and Dougie was promptly rehired. After the European dates, Blackmore pressed ahead with recording of his "medieval style" album. Most of the tracks had already been worked out, and the album was due for release around Feb/March 1997. In fact Ritchie will be leaning more heavily on influences from the Renaissance period, with plenty of his own ideas as well. Titles have been buzzing around, and six confirmed are Spirit Of The Sea, No Second Chance, Renaissance Fayre, Shadow Of The Moon, The Clock Ticks On and Magical World. Not that these tell you much about the music! Candice will be doing some of the vocals, there will be a second female singer involved, and a rhythm guitarist. It seems as if the only track which had any real promise (for me) on the Rainbow album, Ariel, was originally destined for this solo al-bum. One title for the project recently bandied about was Medieval Moons And Gypsy Dances. If all goes well, Ritchie plans to do a solo tour promoting the album, playing in various castle in Europe - probably before small invited audiences, or only announcing the show a few days up front! Sounds a little more fun than the normal round of tram sheds.
Bizarrest news in many a long time has to be of Blackmore guesting on a cover version of Smoke On The Water, by aging crooner Pat Boone. The plan was that Blackmore would record the guitar part and then send the tape on to Boone. Satellite TV showed a documentary on the making of the LP in November '96, which included clips of Ritchie at work on his part. The finished CD is called In A Metal Mood.
---
Solo Recording - News
Ian has been sneaking in and out of studios to work on his latest solo offering which by now should be well advanced. He kindly had a tape sent up to RPM Towers not long after the UK tour, with several finished demos, and planned to get production work on it finished towards the end of 1996. I think he was planning to scale down the original vision of a very involved recording, maybe due to the amount of time and money involved and has gone for a simpler approach.
It's not too easy to review from early demos as so much is bound to change but it might give you an inkling on what he's up to in advance of the finished release. CHANDRA'S CORIANDER is full of rhythmic bongos and pan pipes, coupled with a mantra type vocal chant of the song title. This suitably Eastern/ Indian feel is obviously what Ian wants for the finished track. Most of the backings on this demo have been put together by Steve Morris who Gillan fans will remember from the Moonshiners and other ventures. PRIMA DONNA has a touch of the Lennons about the chorus, but otherwise I've not been able to get much of a handle on it as yet. As it nears the end they build up a repetative pattern of vocals over a layered backing which works well. THAT'S WHY GOD'S SINGING THE BLUES initially sounds very old fashioned. and if we'd found it amongst the old Cher Kazoo tapes I'd not have been surprised. Despite an initially trite feel, the song begins to come together in a gentle unpushy sort of way. GUNGA DIN is very early Horslips to me, not a bad thing to be as they were a terrific band during the '70s.
SUGAR PLUM is the last cut on our tape, the strongest of them all perhaps by dint of it being rather heavier with some noisy guitar. Just a minute, don't I know those lyrics? Slowed down true, and sung with more clout, but Land Of Flood & Hunger it most certainly is - albeit with a new chorus and a radically revised backing. I've really enjoyed listening to this and hope it makes it to the final CD. During a break in October '96 Ian shot up to Liverpool to do some more mixing with Steve Morris. Latest release date is Summer 1997. so keep a look out.
---
Addiction - Album Review
GLENN HUGHES
ADDICTION
Zero Records XRCN 1280 : Japan : July 10. 1996 CD
SPV Records SPV 085 44412 : Europe : 1996 CD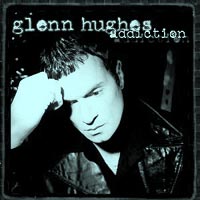 Glenn's latest ten track solo CD. issued ahead of the pack in Japan yet again for obvious reasons (they paid for it!). A lot of people had spoken to me about the CD expressing mixed feelings and I have to say I can see why having played it a few times.
As with Feel before it, Addiction still has a kind of made to measure atmosphere about it. Great vocals as always, and especially poignant here given the subject matter. but I'm still left with the impression that Glenn is or has held back a little. Certainly it's a lot rockier in a kind of modern Sabbath school of riffs way but musically the band isn't able to put across much of a personality so it comes across as a working by numbers affair for the most part. The sad part is that played live some of these cuts were real blinders. The title track for example, which here is good (with some nice guitar work which pointedly refuses to ape American style whizziness) but succeeds by knocking you into submission - whereas it grabbed one by the throat instantly on stage.
Likewise Talk About It came over more strongly live, being a much needed break from the assault on one's senses. Death Of Me ,opens the CD to good effect. Predictable structure it's true but it kinda works it's way under your skin. Strangely enough it's a song called Justified Man towards the end of the disc that I find myself drawn to. Taking a slightly different direction, more of a bluesy Free style rock. it suggests that this might be a fruitful area for the future and Glenn's vocals here really suit the style. It's so much more adult than the very American look at the blues which he had to work with a couple of CDs ago. Glenn puts his heart and soul into the lengthy CD closer I Don't Want To Live That Way, but musically it's a curiously shapeless work out which rather means the effort is disipated. So all in all a mixed bag and interestingly one on which very few have commited their thoughts on paper - which is why you've had to put up with me rambling on again.
Rock Or Funk - News
The mixing on Glenn's latest album Addiction was finished in late April 96 and it came out in Japan in July on the Zero label (they were Xero!), surfacing soon after as a very pricey import. The label asked Glenn to go for a harder edge on this one. The European edition on SPV was rejigged somewhat. though thankfully I don't think there are any Japanese only tracks which were left off. Tour wise, Glenn restricted initially himself to a short Scandinavian jaunt ( and played the bass himself again) in June & July '96. using local musicians Joakim Marsh on guitar (who played on the new CD), Lasse Pollack keyboards, and Morgan Agren drums.
Artistically Glenn is still being pulled in various directions at the moment. I'm afraid that unless he can find something to settle on, then the promise shown at the start of this comeback will begin to evaporate. Glenn himself appears fairly sanguine about his current position according to Mike Eriksson who interviewed him at length earlier this year. "I have two sets of music. The Deep Purple sounding rock, which is easy to play for me. And I have the things which I am growing with all the time like rock and jazz and funk and soul, which to me is Glenn Hughes. I wanna compete with Elton John and George Michael. I want to compete with these people that sell millions of records. The last couple of years I have been making a very good living with the Japanese record company and they have been making it very hard for me to make a move. When I say to a record company "why can't / just do funky rocky jazzy soulful songs" they go "no, we want you to sound like you were in Deep Purple."
Mike asked Glenn if he'd consider opening for a bigger act to do larger shows. "When Bruce Payne was managing me I asked him if I could open for Deep Purple and he said "No." A lot of bands won't have me opening for them, it used to happen in Trapeze a lot."
Jilly's, Manchester, 4th December 1996 - Live Review
We were fortunate enough to catch Glenn and co. over at Jilly's rock club. We'd not been here since the Garth Rockett show some years back. Promotion was little more than a couple of small local press ads and three posters - inside the venue! What with that, Man U. fans staying at home to watch Sky. and the Queen in town, he didn't expect too big a crowd here either. I'd guess the main problem is that without a UK based label, there isn't really the dosh to put into promoting live shows.
Anyway, that was the down-side. The upside for the two hundred or so people who did brave the wintry weather was a storming show. There was the usual varied track list, with the title cut of the new album Addiction sounding especially impressive. Despite a cold (he even had his own hot drinks roadie at the side of the stage, busy plying him with hot honey and lemon all night!) Glenn was singing exceptionally well. There were a couple of Trapeze faves, at least one of the Hughes Thrall numbers, and a blast of the old Purples to boot. These were all very well executed, and some of the best versions I've heard done by any of the members outside the band itself. You Fool No One stormed along with the drummer giving it plenty of wellie. Indeed they had a time shutting him up at the end. I was most touched when Glenn dedicated a blistering ver-sion of Gettin' Tighter to yours truly too. Glenn also made a moving tribute to Tommy during the show, which coincided exactly with the anniversary of Tommy's death.
It was very pleasing to have Glenn playing bass for the bulk of the set (a five string model interestingly, possibly one of this new range he's been promoting in Europe, a range of Glenn Hughes guitars - a couple of bass models and two three leads, which all bear his name. Quite a strange marketing move - why not a drum kit too!?), and for a couple of songs where he wanted to concentrate even harder on the singing he had someone else dep. for him (towards the end they were both playing bass together). The sound was very good for a venue like this, clear and powerful. In all the guy did us proud and we were more than pleased we'd made the effort. A good portion of the audience appear to be doing the whole tour, and Glenn let a couple of them on stage to take pictures of their mates at one point which was a nice gesture. .
---
Quatermass II - News
Last issue we reported this reunion, and we can now bring the story up to date. I hinted that we weren't 100% happy with the vocal sound on the first demos, well it turned out that neither Nick nor Mick were convinced either. So Pete Taylor went, to be replaced by singer Bart Foley. Again not a name that will ring bells with too many of us, but he has worked mainly as a writer (and notched up hit songs both here and in America). Hearing the newer tapes, his voice certainly fits the band more.
It's very good quality rock, perhaps a little AOR for my particular listening tastes these days, but it'll be interesting to hear the final mixes, which will also have keyboards on courtesy of Don Airey. The band have decided that without major label input it would be very difficult to tour in any way, so for now Quatermass 2 will remain a recording project. Foley is signed to EMI for a solo album which makes it hard for them to gig. The CD is provisionally titled Long Road and release should be sometime in the spring / early summer.

---
also in the magazine...
Deep Purple 1996 Tour News & Reviews.... California Jamming / Mk3 The Final Concerts / Foxbat feature...
---
| | | | | |
| --- | --- | --- | --- | --- |
| | | | | |
| | | | Issue 50 | |
darker than blue magazines can be purchased from the
dpas online store
© 2007 DPAS/Darker Than Blue.
Not to be replicated, reproduced, stored and/or distributed in any way without prior written permission