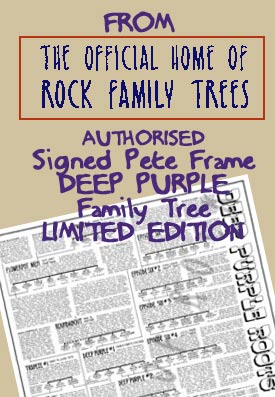 There can be few Deep Purple fans unaware of the work of Pete Frame  and his famous rock family trees over the years. I've been an admirer  since the early days of Zigzag magazine, where many of the trees first  appeared and the DPAS also has an authorised online version of the  Deep Purple tree on our site.
Pete Frame has now set up his own  website to develop the format in the digital arena, and one of the  projects will be to make archival reproductions of his work. Amongst the first to be done is the Deep Purple tree, the complete  version as featured in his original book (NOT the slimmed down one  used by Polydor).
The print run is limited to just 100 copies, printed at 60x80cm on the finest heavy weight archival paper. Each print is personally signed by  Pete Frame. They're not cheap, but they will be very collectable and  look terrific hanging on the wall (I was going to say framed up...).
The home page of the site is: www.familyofrock.com
Or you can go direct to the Deep Purple page at: http://familyofrock.netdirector.co.uk/product/Deep_Purple_RFT-DP2
Tell them who sent you!
"The Deep Purple Rock Family Tree: Deep Purple Roots And Branches  provides a fascinating  journey from 60s R&B, soul and beat groups  right into the heart of 1970s heavy rock - and beyond... with an ever  changing line-up that provides a superbly challenging and rewarding  test of Frame's expertise."