It was quite a shock for Deep Purple fans when Glenn Hughes suddenly appeared back on the scene via UK rock magazine Kerrang in early 1982, announcing his new group Hughes Thrall. While many fans were intrugued, not everyone was glad to see him back. A letter in the next issue of Kerrang ran along the lines of "oh no, not him again..." before rattling off a list of Deep Purple live and studio albums which he had apparently destroyed!
Extracts from Glenn Hughes interview, Kerrang magazine, March 1982
"There have been some strange rumours concerning the welfare of Glenn Hughes since his departure from Deep Purple five years ago. Tales about him being 'strung-out' on drugs in Los Angeles, where he now lives, have been rife. The chances of the music world hearing from the former Deep Purple bassist / vocalist were becoming increasingly remote. Indeed, while the likes of Blackmore, Gillen and Coverdale have enjoyed a good deal of success, all has remained quiet on the Hughes front. Until now, that is.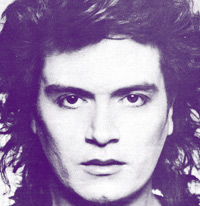 At last, the man is back, ready to attack with a mighty powerful new outfit. Together with former Pat Travers Band guitarist Pat Thrall and 'unknown' drummer Frankie Banali, Glenn has assembled Hughes-Thrall, who are currently in the studios working on material for their debut album. At this stage, recording deals are being negotiated and already the group's publishing has been snapped up by Warner Brothers Music.
Glenn and I recently rendezvoused in the plush Beverly Hills offices of his new management company, where his protracted vow of silence was finally broken. "It's weird," he mused, "because I haven't done any interviews for over five years. I'm ready for this!"
And so, with the tape machine rolling, our conversation began. Naturally, the first topic of discussion was the evolvement of the Hughes-Thrall band. Glenn explained' "I'd been lying low for quite a while and then about three years ago I was supposed to put a band together with Ray Gomez and Narada Michael Walden for Atlantic Records. We went to New York to sign but the project was shelved when Gomez decided to sign with Columbia. And then a year ago I was asked to form another group with Gomez and we got a drummer together but things didn't work out. Eventually I was asked who I really wanted to play with and I said Pat Thrall, because I knew he'd finished with Travers. So he came down last April, we auditioned some drummers and we've been rehearsing ever since."
"Pat and I are good for each other. We both like the same sort of music and both have this incredible feeling for what we play. Forming this group was no last ditch effort as far as I was concerned either. I'd rather have never worked again than work for the sake of it. I can't go on stage or make a record of stuff that I don't want to play. After Deep Purple I decided that the next thing I'd do would be what I really wanted to. I wasn't prepared to join another band where I didn't have that much of a say."
To these ears, Glenn Hughes has one of the finest voices in the business, and combined with the acclaimed guitar playing of Pat Thrall the end product should be extremely interesting. While over ini LA, Glenn played me some of the songs they recorded. The music has strong leanings towards funk but at the same time retains the overall 'heavy' feel. In fact one track in particular, titled 'Pay The Price', is mind-blowing. Check out the masterful vocal and axework when this one surfaces on vinyl. When I asked Glenn to describe the band's music, his answer was short and to the point "We play eighties funk/rock 'n' roll."
Hughes is adamant that he's never had a better working relationship than the one he with PT. "I couldn't have picked a better person to play with than Pat," he enthuses. "He's always been in the background. He was a sideman with Travers and got treated real badly. I've brought him out of that and when we're in the studio I push him all the time, because I know how good he is."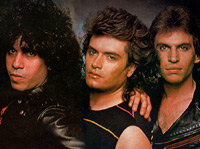 Hughes-Thrall are recording their album at studio in Malibu with the aid of producer Rob Fraboni, whose previous credits include Eric Clapton, Joe Cocker and Bonnie Raitt. Aside from his work with Purple and Trapeze, Glenn's only other vinyl output was his 'Play Me Out solo LP. However, that too takes us back to the seventies and I wondered how he feels his voice is holding out these days. "I don't want to sound big-headed but I think I'm singing better. You see I don't smoke and I don't touch liquor any more, and I hardly ever get a sore throat, I'm so lucky — I think God must have said 'Let this boy sing'."
It looks as though Glenn Hughes should be back on the road before the end of 1982 and he'll probably kick off in Japan, where he always had a strong following. America will a prime target for Hughes-Thrall but there's every chance that the band could come to Britain immediately after their Far Eastern tour. For the time being, they continue to work in the Californian sunshine. So there you have it . . . Glenn Hughes is alive and kicking in LA. In fact, as we wandered down the elegant driveway towards his car, the sun blazing down, I could see why he's quite happy to reside in the States. And somehow, I think the kids are going to like Hughes-Thrall."
Oddly, the one track mentioned by name - "Pay The Price" - was not included on the final album, although it was easily strong enough to have been included. It was also not one of the two bonus tracks included on the 2007 CD remaster.

Hughes Thrall album reviews, DPAS magazine no.27, July 1983

Hughes/Thrall : Boulevard ARZ 38116: USA: 1982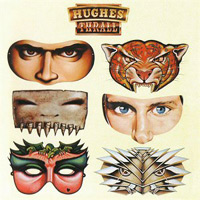 Top of the import charts for weeks, we had a load of reviews in before the UK version was issued, and I would even hazard a guess that it was the quantity of imports which made them rush it out here too.
"Single sleeve cover, with lyrics on just one side of the record bag. The music? Well being a Hughes fan on first hearing I was disappointed as I'd expected it to be like Play Me Out. This is more rock which might get the anti-Hughes brigade to give it a listen. It opens with I Got Your Number; a powerful rocker, Glenn's voice sounding good and he sticks to what you describe as his 'normal vocal range', even letting out one or two Gillan type screams!
The Look In Your Eye is easily the most commercial song on the album, a single in America I believe, and I'm quite positive that released here with airplay it could be a big hit. You could descibe it as an up tempo type Hall and Oates number. Beg, Borrow or Steal is more soul, with a synth dominated sound and little guitar. Next is a slow number, Where Did The Time Go again with little guitar but Thrall makes up for this on the closer Muscle And Blood. It also shows that Glenn can still play heavy rock, it's as powerful as anything Rainbow or Whitesnake can churn out.

The second side opens with another barrage of guitar but settles down to a more moderate pace. Thrall gets more room on this side, I don't think his playing is as good as Pat Travers but the influence is there. Really it's Glenn who makes the album with superb vocals and more than adequate bass playing. Coast To Coast doesn't improve on the Trapeze original, and it's the last track - The First Step Of Love - which is the real mind blower, epic. So overall I look upon it as an album to convert his detractors and which prove he really can sing." Jerry Bloom

"Having waited so long and after being disappointed by his last offering I was pleasantly surprised. The album is excellently produced and contains some very good material. Glenn's distinctive vocal style of course sticks out but on the whole he uses it to good effect, more intelligently than in the past, especially on my own favourite The First Step Of Love. Probably the biggest surprise was Muscle And Blood, a very heavy number. My only dislike is Coast To Coast which is wishy washy and lacks something to bring it up to standard. I'd also like to see more of his funky influences, especially in the bass!" Derek Rust
Just two of the many positive reviews. I've only heard snippets myself, and the immediate reactions were that it reminded me of Rainbow - in the production style, which is generally very professional, and The Police!



Glenn Hughes / Pat Thrall interview, Kerrang magazine, Jan-Feb 1983
Towards the end of last year, the debut album from Hughes-Thrall was released in America and subsequently topped the Kerrang import album chart for several weeks. Mind you, this was hardly surprising when one considered the overall strength of the material and the abundance of musical talent contained therein. Former Deep Purple bassist Glenn Hughes has an amazing voice and his partner in crime, ex-Pat Travers Band guitarist, Pat Thrall has an excellent reputation in the axe world.
The two musicians initially started working together several months after Pat had quit the Travers set-up, although they'd first met in New York a few years earlier. According to Glenn: "I'd always considered Pat Thrall to be an amazing guitarist and when I found out that he wasn't doing anything I asked him to come down to Los Angeles, where I've been living for a number of years, to see if we could put something together. Things started to happen very quickly and before long we began recording demos of some of the songs we'd written together."
After a brief spell in the demo studios, Hughes-Thrall decided to master their product and aim for an immediate deal. There was plenty of record company interest but it took a while before any contract was signed. In the end, it was Boulevard Records (a CBS affiliate) who picked up on the outfit.
"Quite a few companies were keen to sign us," states Thrall, "but we were quite happy to go with a smaller label like Boulevard, rather than one of the majors, where you can get kinda buried in the system. We felt that we needed that intimacy between the band and a label. Going through the red tape and the bureaucracy of a large record company, you can totally lose out in this day and age."
While their management were negotiating a deal, Pat and Glenn kept themselves busy in the studio, using producer Rob Fraboni. However, dissatisfied with the way things were going, they opted to work with Andy Johns, whose past credits include Free, Zeppelin and the Stones.
"It just wasn't really happening with Rob Fraboni," Glenn explains. "We felt that we were outgrowing the nature of his intentions of what he wanted as opposed to what we wanted. We really weren't happy with the sounds that were coming out of the studio. We wanted the more British rock edge and that's why we got hold of Andy. Free were always one of my favourite bands and so Andy's work with them was a good enough qualification on its own – and he was f**king great. He was very easy to work with in the studio and I think he added a lot of intensity to some of the tracks on our album."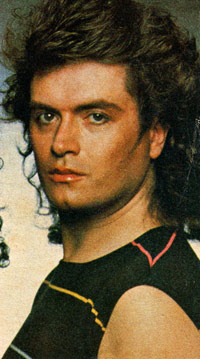 As well as varying the producers, Hughes-Thrall also employed three different drummers: initially they used Frankie Banali (now (re)working with ex-Ozzy bassist Rudy Sarzo in Quiet Riot) before enlisting the services of Gary Ferguson and Gary Mallaber. The latter played on and wrote the majority of the tunes on Steve Miller's 'Abracadabra' album.
The Hughes-Thrall LP was completed in July '82 and surfaced in Stateside record stores a month or so later. Curiously enough though, it's only just come out in Britain and one suspects UK sales will be affected by the large influx of import copies. Ideally, it should have been released simultaneously on both sides of the Atlantic. Nevertheless, it's still a must and finally allows both Glenn and Pat to step into the limelight. In the past they've tended to be retained in the shadows to a degree – Hughes with Purple, and Thrall with Travers. The new combo allows both of them to establish their own identity.
Glenn: "The way we look at it, this album is like two solo LP's in one. After leaving the Purple set-up I actually did a solo record ('Play Me Out' on Safari) but I didn't want to do another because I thought it was too gruelling and basically too much of an ordeal. I wanted another very creative person to bounce ideas off and Pat was ideal. Solo albums are scarey!"
Pat: "I'm inclined to agree with Glenn. I never really had much interest in a solo album, this is what I wanted to do. And I've used this record for getting certain things out of my system –to concentrate on songwriting and not just pursue straightforward rock 'n' roll. And I now feel that I'm letting people know I can do more than just play the occasional lead break.
"I think that there's a fair amount of diversity in the material and it gave us the chance to show-off more of our abilities other than the ones we're known for. Like I used synthesisers quite a bit and probably held back a little on my lead guitar because I wanted the record to be more song-orientated."
Glenn and Pat appear to work extremely well together but one wonders whether tempers ever got heated during their recording sessions. Almost collapsing with laughter, Pat answers: "Oh yeah, we almost killed each other a couple of times!"
"Making records is not easy," assesses Glenn, "especially when you have to let go a producer midway through an album."
Pat: "I think the main cause of any arguments we ever encountered was down to the fact that I'm very slow and tedious in the studio. It takes me a long time to get what I want, whereas Glenn goes in and does everything in one or two takes. After that he gets bored and leaves."
Do Hughes-Thrall consider that their absence from the hard rock scene will benefit or hinder them?
"I think it's gonna work in our favour," declares the Californian guitarist. "I've been away for two years and Glenn's not done anything for five, but you can't really tell from the record that we've been off the scene. And the fact that we've not been in the public eye recently probably put a lot of intensity into the record. You can hear the urgency and tell that we're hungry."
Glenn: "This is the first major thing I've done since Purple and I feel very lucky and proud to have it out. It shows what we can do together as a team and, without wishing to sound big-headed or anything, I think it's a bloody good debut LP. I'm the last one of the Deep Purpleites to do anything and I believe that in terms of overall acceptance this is a stronger international record than any of the others have come up with. I don't want to start any slagging matches – God bless Whitesnake and Rainbow, 'cause I wish them well."
"Both Pat and I view Hughes-Thrall as a long term venture. We know that things won't necessarily happen overnight but we're confident enough in ourselves to look ahead to the future. In fact we've already started writing for the second album and there were loads of songs left over that never made the first one. We're taking things very seriously – believe me, this is not a hobby! "
At the time of our conversation, Glenn and Pat were preparing to go out on the road and it was clear they were extremely eager to do so. "At first I didn't really want to go back to touring," Glenn reveals, "but now I'm animal for it – we have to get out there. We couldn't bear the thought of just sitting at home."
Their first live dates were in Texas with Santana a couple of months ago, after which Hughes-Thrall headlined a few dates of their own. Drumming with them was Tommy Aldridge (he and Pat played together in the Pat Travers Band) but whether he will become the permanent skinbeater remains to be seen.
Glenn recently told me: "Tommy had his commitments with Ozzy for his UK tour but Pat and I are hoping that he'll be coming back to us because things were working out very well indeed. In Texas we were playing in front of 10-15,000 people a night and did some great legwork for the future."

Hughes Thrall news, DPAS magazine no.27, July 1983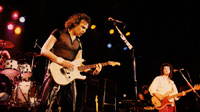 "Following the American release of the Hughes/Thrall album, the band spent October thru to December doing live concerts in America, usually as supporting act - to Santana at the Convention Centre Arena on Oct 28, University of Texas Oct 30, Hollywood Pavillion Dec 17, Orange Pavillion San Bernadino Dec 18 etc. (Live shows were largely built around the Hughes Thrall album, with an encore of 'Highway Star'.)
They also made a promotional visit to Japan in between gigs, fitting in several dozen radio stations for interviews. On such interviews they sounded in good spirits, and the stories of a bust up in most of the UK papers came as something of a surprise. As yet there has been no official word on this.
They were due to make a second album in February 1983 (they recorded or wrote enough for a double in the first place), and follow this with dates in Japan and Australia in April / May. A British visit was being arranged for late summer. I've had no word on the tour, so it does look as if something may have gone wrong."

Glenn Hughes interview, Kerrang magazine, Feb 1985
"One of the great mysteries - even tragedies - of the rock world has been the strange inactivity of Glenn Hughes since the Deep Purple bubble finally burst back in stack-heeled '76. Cruelly robbed of (surely) one of the finest voices in the business - not to mention a great bassist and songwriter -we've been teased with many a rumour during Glenn's absence; he was supposed to be in the original G-Force with Gary Moore and Mark Nauseef; he was going to get a band together with Ray Gomez and Narada Michael Walden . . . but nothing - apart from the immaculate 'Play Me Out' solo album in '77 and the odd session - emerged on vinyl.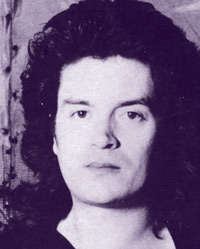 Nothing, that was, until he sprang up fresh-faced 'n' fighting with Pat Thrall in '82 delivering the quite superb 'Hughes/Thrall' album. It seemed as if Glenn was back, so, natch, the ol' ticker stalled when reports filtered through from LA that the pair had thrown synchronised wobblers and called it a day. "We freaked out," Glenn told me when I finally snared him in Hollywood in February '84. "The people around Pat and myself swept us into an incredibly
over-confident state and everybody thought the album would be such a big hit that nobody even considered putting the maximum effort into promoting it. When the album bombed, we freaked out."
Glenn and Pat split to pursue solo projects (Glenn even being asked by his record company, Boulevard, to do a Thomas Dolby-type album!) and generally take it easy, before deciding to get back together. "We just let time heal the wounds," Glenn explained, "and we were so determined to give it another go."
The launching pad for Hughes/Thrall part II was, surprisingly enough, 'Ghostbusters'. The two had been asked to write some songs for the film and took the opportunity to apply themselves to something not directly related to the Hughes/Thrall band in order to get some momentum going. It worked, and although the material was turned down at the last minute in favour of Ray Parker's more 'poppy' offer, Glenn and Pat threw themselves into each other's musical arms with relish, writing and rehearsing some incredibly strong material which would form the basis of their long-awaited vinyl return. With a new, more efficient management secured and all sorts of tour proposals being considered (even a spot on 1984's Donington bill looked likely) it seemed, once again, as if Glenn's sparkling talent would be unleashed.
Sadly, it proved too good to be true. When Glenn and I met at London's Chocolate Factory studios in April '84, where he was working on the soundtrack to a film called 'Phenomena', the Hughes/Thrall engine was ticking over nicely and a second album was well on the way. But then, just before Christmas, when Glenn returned to London to record two more tracks for Phenomena', it had fallen apart again.
"The spark was gone and the flame was out," Glenn sighed. "That creative gel which we had when we did the first album just wasn't there and so it was mutually decided that maybe we should go our own ways. It's not something that's easy to explain, because we're both emotional players and we can't just roll up our sleeves and get stuck in if the feeling isn't right. We had some great material and we shared a desire to get out there and play to people again, but somehow it just wasn't working out."

The Hughes/Thrall out-take Still the Night faced a small queue of artists wishing to re-record it. First there was Tom Galley's Phenomena project, much to the chagrin of Gary Moore, who had been keen to have a go himself. The song was recorded again for John Norum's Face the Truth album in 1992. Both versions featured Glenn on vocals. The original Hughes Thrall version was later added to the 2007 reissue of their eponymous album.
Althouigh their music did not make it onto the Ghostbusters soundtrack, the two provided vocals for 'City of Crime' on Dan Aykroyd's 1987 movie Dragnet. Thrall also took part in the recording of Glenn's abortive Warner Brothers solo album.1990, and performed showcase gigs with Glenn at NAMM 1989 and 1990. Two songs from the abandoned 1984 Hughes Thrall II album were re-recorded for Glenn's 1994 solo album 'From Now On'. Thrall did not take part in the sessions but did play on most of the 1995 Feel album.
Sporadic stories of work on Hughes Thrall II continued to surface throughout the years. Glenn finally put the project to rest in 2009:
"I am finally putting the Hughes / Thrall 2 album behind me...it was 10 years ago that we started this production. It was never completed...I want the legacy of the only album we made, to live on...my own productions are done on a time scale that are pre-planned on a schedule that works for me, as I grow as an artist. Usually the writing, pre-production, recording, mixing and mastering, takes no longer than 6 months. Pat wanted to produce H/T 2 alone...10 years to finish an album?

Let's please put this behind us as we move forward with our lives...

The best is yet to come. Love, Faith and Soul...
GLENN"



Hughes Thrall discography
Hughes Thrall - album
• HUGHES THRALL
USA : Boulevard ARZ 38116 : 1982
Front cream w. six painted masks. Colour photo of Hughes & Thrall on back, w. text etc. Lyrics on record bag. Three drummers on LP, Teamied up again in 1984 to start a second LP, splitting when Glenn discussed reforming Trapeze w. Mel Galley. LP left unreleased, though a couple of the compositions ended up on the Phenomena project.

1: I Got Your Number /The Look In Your Eye/ Beg, Borrow Or Steal / Where Did The Time / Go To Muscle And Blood,
2: Hold Out Your Life / Who Will You Run To / Coast To Coast / First Step Of Love.

UK : Epic ETC 25052 : Jan 7 1983
Delayed in the hopes of some live gigs to promote it, but import sales forced release, Coast To Coast first recorded by Trapeze
on You Are The Music.

Hughes Thrall - singles
• THE LOOK IN YOUR EYE / Muscle & Blood
EPIC EPC 2795 : SPAIN : 1982. Art sleeve , photo from back of LP.
• THE LOOK IN YOUR EYE / I Got Your Number
WEA P1731 : JAPAN : 1982. Art sleeve as album front.
• BEG BORROW OR STEAL imono) / / Beg Borrow Or Steal (stereo)
Boulevard 254 03355 : USA : 1982 7" plain sleeve promo
• BEG BORROW OR STEAL / Who Will You Run To
Boulevard 254 03355 : USA : 1982 7" regular release no sleeve
• I GOT YOUR NUMBER /Look In Your Eye / Beg Borrow Or Steal (mono) / (stereo) Boulevard : USA : 1982 (AS) I 1
12" promo with same tracks on both sides in a title sleeve

Hughes Thrall - CD issue
• HUGHES THRALL
USA : Epic / Boulevard ZK 38116 : 1992
Same tracks as vinyl edition

Available to buy from the DPAS online store

Hughes Thrall - CD reissue
• HUGHES THRALL
UK : Rock Candy : February 2007
I Got Your Number /The Look In Your Eye/ Beg, Borrow Or Steal / Where Did The Time / Go To Muscle And Blood / Hold Out Your Life / Who Will You Run To / Coast To Coast / First Step Of Love.
Bonus tracks: Still The Night / Love Don't Come Easy.


Dragnet - single
• CITY OF CRIME / City Of Crime
UK : MCA 53086 : 1987
Glenn Hughes and Pat Thrall do vocals on this single, from the soundtrack to the movie Dragnet. The B-side is the same track minus lead vocal. Also issued in USA w. 12" promo.

Dragnet - album
• DRAGNET soundtrack
UK : MCA 6210 : 1987
Hughes and Thrall only appear on the track 'City Of Crime'
features

© 2010 DPAS/Darker Than Blue. Not to be replicated, reproduced, stored and/or distributed in any way without prior written permission