Considerimg that Eddie Hardin had a hand in writing The Butterfly Ball, it's easy to approach the 1991 Wind In The Willows live show as being merely a belated sequel. However, the concept actually predates the 'Ball' by quite a few years.
Eddie had been kicking it around since 1967, and even recorded demos in the early 70s (the one surviving example, featuring Ian Paice, is on the Purple Records CD of the studio album). The album only began to take shape after 1979, with Eddie calling in friends such as John Entwhistle and Steve Hackett to help out. It was eventually released in 1985 (Eddie prefers the term 'escaped') to no great effect. When given the chance to perform it live for German TV in June 1991 he took the opportunity with both hands. Many guests from the album, plus the likes of Jon Lord, Don Airey and Graham Bonnet were assembled, and although 'arrangements and rehearsals were a nightmare', the result was a stunningly good show which has proved ideally suited to the DVD medium.
The packaging is minimal, which doesn't augur well, and neither do the ropey 1991 TV titles, but matters improve when the concert kicks in, with crystal clear picture and sound quality. The band contains no less than three keyboard players; Jon Lord on the Hammond, Don Airey on synths and Eddie Hardin on piano. There are two drummers; Pete York looks extremely relaxed as per normal, while Zak Starkey looks and plays like he really means it.
The opening Main Theme is a dramatic instrumental elevated by the huge, warm embrace of the sound, with Ian Gillan Band veteran Ray Fenwick's needle sharp guitar work soaring above it all. Seated amongst a shrubbery that would even satisfy The Knights who say 'Ni', Jon Lord also emerges with a gorgeous organ solo. A bit low in the mix, but still one of many enjoyable moments.
Throughout the show Jon's presence is largely confined to adding an atmospheric layer of Hammond to the music, though he does get to stretch his fingers occasionaly for some excellent solos. Beside him, Don Airey provides the dominant sound on stage, with some great synth work. In the instrumental Fairgound Fantasy, both take turns working rock, classical and carnival music into a piece that rolls along like the mid section of 'Space Truckin' (also bearing a resemblance to ELP's take on 'America' ). I only wish that last year's UK Purple tour had let them loose on something like this.
Echoes of The Butterfly Ball can't help but be mentioned (and I'm trying not to, honest), with between song narration provided by comedian Tony Barton as Toad, sat to the left of the stage. It falls a bit flat, unsurpisingly. (The dvd makers have thankfully placed these interludes at the end of each track, meaning that you can hit the forward button to go straight to the next song!)
Both live shows had one man to thank for really jollying up proceedings: Tony Ashton. Once he arrives on stage, with cigarette, beer, and maniacal grin, every facet of Wind In The Willows suddenly meshes together into great entertainment. His song, the punchy The Wild Wood, brings out a classic Ashton performance, even including a lurch over to Eddie's grand piano for some splendid jazzy ivory tinkling. At this point I'm suddenly aware that we're only one Paice away from PAL.
Another reunion of sorts is having Graham Bonnet and Don Airey present. I've always loved 79-80 era Rainbow, and it's great to see them together again. Bonnet features heavily in the show, giving it everything and trying to inject fun into the proceedings at every opportunity. His first appearance is on Good Morning To You, alongside the great Maggie Bell, both letting rip over a typically atmospheric backing. The Badger is a another great performance, with Jon Lord also getting to shine.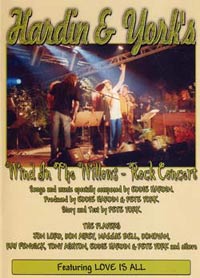 For me the music dips on some of the slower tracks. Joe Fagin (remember the theme music from Auf Wiedersehen Pet?) and Val McKenna (who has sung on sessions for the likes of Genesis and Phil Manzanera) do their level best on I've Forgotten How To Smile, but it soon sounds uncomfortably middle of the road. The mid section sags for me, with the story muscling in a bit too much for my liking and the music entering AOR power ballad and music hall territory. That said, it's still all good fun...
We're back on the rack for Can Dreams Come True, a really strong song, characteristically belted out by Graham Bonnet. What with him turning up the decibels a bit too much for the chorus, and Don Airey's strident backing, it's almost Donnington 1980 all over again! Piper At The Gates Of Dawn is the rockiest track, with Bonnet in his element and Fenwick weighing in with more great guitar work.
Wayfarers All features all of the 'cast' delivering a finale that's both catchy and irritating. (Damn, it's in my head again..) After that the DVD tails off... we get the main theme Reprise, accompanied by views of a forest (so no Denny Laine as promised on the cover), and 'Love Is All' (with Bonnet taking lead) over the original cartoon promo.
So, I would recommend this dvd to anyone with affection for any of the artists involved, they all perform extremely well (with the possible exception of Donovan!). The songs are quality though sometimes missing the intangible spark to make them special, but with the superb arrangements and the enthusiasm of the musicains everything sounds great and I was very happily swept along by the whole show. It certainly makes for a very satisfying, and entertaining 75 minutes of music.
Review: David Browne