Well, it took a long time, but finally we have an authentic Whitesnake concert on DVD. Having attended what was a good show back in 2004 I was hugely interested in the end result. The fact that so many cameras were involved alongside heavyweight director Hamish Hamilton was a surprise. Is the Whitesnake name/brand big enough to support this approach? So, with trepidation I sat down, turned on the surround sound and pressed play….

First things first, it looks and sounds great. The cameras swoop and fly around the band and audience and the grainy black and white footage is intercut well with the pin sharp colour shots to produce a totally cinematic experience. It's non-stop as well, producing a 90 minute concert show that passes very quickly indeed. The sound mix is excellent. Everything is spot on and it's nice to hear Timothy Drury contribute fully to the soundscape (you often can't hear him live). As DVD concert shows go this is beyond criticism, perhaps one of the best shows available. So, the performance of the band...
Well, this version of Whitesnake is definitely the bastard son of 1987. They may play older material but these guys aren't blues based players and that's a fact. They are, however very fine purveyors of dynamic hard rock. If you want shredding then look no further that this bunch. This is Whitesnake with an edge, whether you like it or not is a matter of taste. For my money it's OK in short bursts but ultimately it leaves me wanting more, a bit like a big Mac. Not quite the gourmet meal and I think this is illustrated on some of the soloing during classic songs like Fool and Don't Break My Heart Again. The bass work of Mendoza sounds great but he can be quite off putting as a performer, although along with Coverdale he seems to be having most fun. Tommy Aldridge is…the same now as he's always been. A truly big hitter suited to some tracks more than others, he sounds great on Burn but distinctly unsubtle on Ain't No Love.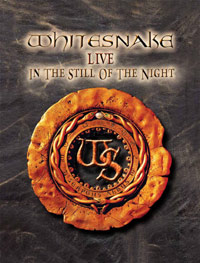 So, what of David Coverdale himself? Well, much has been made of DC's voice (or lack of) since about 1990. Does anyone remember Donnington '90? It wasn't good, I was there and I heard the broadcast later. In many ways it was the end of an era, and I thought, at the time, the end of Coverdale as a performer. But then we got the wonderful Coverdale-Page album, a rather poor Greatest Hits tour, the so-so Restless Heart and accompanying live shows and latterly the wonderful Into The Light. Coverdale confuses me. He can still sound great but there are times when you think 'why'? Confusingly, again, he sounds mostly great on this DVD. He's still not the singer he was back in 1980 but he is substantially better than the man who told Donnington to say "F**k Off" to the BBC in 1990. He takes a while to warm up but by the time we get to Judgement Day he's the man once again. I can't think of another performer who compares. Also staggering is his totally commitment to the whole show… compare this performance to say, Ian Gillan on one of the recent Purple releases and David Coverdale romps home by a mile (I'm a fan of both, so this is not slagging off time for either singer)...
So, 1987 style Whitesnake playing old Purple, classic Whitesnake and post 1987 'Snake, filmed and directed by the most talented man on the live concert circuit. The end result is fun, great to watch and listen to and a lesson to most other bands on how to do it (perform live and release a DVD that is). The only sensible thing left is for David Coverdale to phone up his old bands mates, do a one-off reunion of classic Whitesnake at the Odeon, film and release it and everyone will be happy. It could happen!
review: Mark Smith
Me and Lord Coverdale of Redcar go back a long way, with my first Snake live encounter waaaaay back in the day. Ok, it was the '"Ready An' Willing" tour, which dates me rather badly, but does give me the benefit of having travelled the road with him through the good, bad and indifferent incarnations of the 'Snake.
To be fair, he has usually had a nose for talented musicians to take up stage space with him, with only the horrors of the Warren De Martini live shows keeping me awake at night, screaming (and not in a good way). However, when I first saw the current version of Whitesnake back on the indoor Monster of Rock trek, they were pretty poor. Which is why it took a huge will of effort (and an unblemished record of tour attendance) to get me back for the 2004 tour. And I was delighted to see that some road work had actually turned them into a rather good band. Something reflected on this, generally, excellent release.
And for the most part the band treat the music kindly, straight from opening number "Burn", which comes complete with a crack at "Stormbringer" for good measure. After a Purple opener, it's down to 'Snake business with Bad Boys (which still sucks) / Love Ain't No Stranger / Ready An' Willing / Is This Love / Give Me All Your Love and Judgement Day taking us to the toilet break when Doug Aldrich and Reb Beach do their whammy bar thang.
For those of you who understand the technical gubbins, this was shot in 1080/24PsF High Definition with no less than 13 cameras, mixing black/white and colour pictures, shot in high definition with four different audio soundtracks - stereo, 5.1 SRS Circle Surround, 5.1 Multi-channel, and 5.1 DTS. Very sensibly they decided to record this at the Hammersmith Odeon (stuff that Apollo nonsense, it will always be the Hammy O to me), and they manage to pull off the trick of making you feel like you're there. something that would have been lost in the tin sheds that pass for concert venues these days.
Dear David hams it up like only he can, and although his voice has suffered over the years, he's professional enough to realise this and use the range he has. This was a treat from begining to end and as a first venture into the world of DVD, this is a winner and puts most major label efforts to shame. The only downer is the lack of extras with just a dull behind the scenes 'documentary' and some photos. If you do the sensible thing and buy the 'limited' edition you'll also get a ten track CD with Burn / Give Me All Your Love / Is This Love / Love Ain't No Stranger / Judgement Day / Ain't No Love In The Heart Of The City / Fool For Your Lovin' / Here I Go Again / Take Me With You and Still Of The Night for your bucks.
review: Stuart A Hamilton