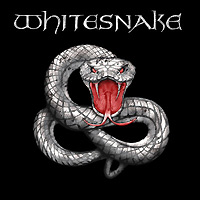 EMI are issuing a Whitesnake box set covering The Sunburst Years 1978-1982 in November 2011. It includes every album, but without the bonus tracks on the reissues of the last few years. Extras which may be of more interest are a DVD with promos and BBC TV clips, and a 90 page booklet.
CD One: "Trouble" (1978) '/ CD Two: "Live At Hammersmith" (1978) / CD Three: "Lovehunter" (1979) / CD Four: "Ready An' Willing" (1980) / CD Five: "Live…In The Heart Of The City" (1980) / CD Six: "Come An' Get It" (1981) / CD Seven: "Saints & Sinners" (1982) / CD Eight: "Live At Reading Rock '79" (1979) / CD Nine: "Live At Reading Rock '80" (1980)
DVD: Promo Videos 1978-1982, TV Performances, Extra Feature: Official Bootleg : Live at the Capital Centre, Washington, USA 1980 / Snakebite EP (1978) 33rpm seven inch white vinyl
Available to pre-order at DTB Online store.
Disc One: TROUBLE (1978)
1. Take Me With You (2011 – Remaster)
2. Love To Keep You Warm (2011 – Remaster)
3. Lie Down (A Modern Love Song) (2011 – Remaster)
4. Day Tripper (2011 – Remaster)
5. Nighthawk (Vampire Blues) (2011 – Remaster)
6. The Time Is Right For Love (2011 – Remaster)
7. Trouble (2011 – Remaster)
8. Belgian Tom's Hat Trick (2011 – Remaster)
9. Free Flight (2011 – Remaster)
10. Don't Mess With Me (2011 – Remaster)

Disc Two: LIVE AT HAMMERSMITH (1978)
1. Come On (Live) (2011 – Remaster)
2. Might Just Take Your Life (Live) (2011 – Remaster)
3. Lie Down (Live) (2011 – Remaster)
4. Ain't No Love In The Heart Of The City (Live) (2011 – Remaster)
5. Trouble (Live) (2011 – Remaster)
6. Mistreated (Live) (2011 – Remaster)
Disc Three: LOVEHUNTER (1979)
1. Long Way From Home (2011 – Remaster)
2. Walking In The Shadow Of The Blues (2011 – Remaster)
3. Help Me Thro' The Day (2011 – Remaster)
4. Medicine Man (2011 – Remaster)
5. You 'n' Me (2011 – Remaster)
6. Mean Business (2011 – Remaster)
7. Love Hunter (2011 – Remaster)
8. Outlaw (2011 – Remaster)
9. Rock 'n' Roll Women (2011 – Remaster)
10. We Wish You Well (2011 – Remaster)
Disc Four: READY AN'WILLING (1980)
1. Fool For Your Loving (1980 Recording) (2011 – Remaster)
2. Sweet Talker (2011 – Remaster)
3. Ready An' Willing (2011 – Remaster)
4. Carry Your Load (2011 – Remaster)
5. Blindman (2011 – Remaster)
6. Ain't Gonna Cry No More (2011 – Remaster)
7. Love Man (2011 – Remaster)
8. Black And Blue (2011 – Remaster)
9. She's A Woman (2011 – Remaster)
Disc Five: LIVE…. IN THE HEART OF THE CITY (1980)
1. Come On (Live) (2011 – Remaster)
2. Sweet Talker (Live) (2011 – Remaster)
3. Walking In The Shadow Of The Blues (Live) (2011 – Remaster)
4. Love Hunter (Live) (2011 – Remaster)
5. Ain't No Love In The Heart Of The City (2011 – Remaster)
6. Fool For Your Loving (Live) (2011 – Remaster)
7. Ain't Gonna Cry No More (Live) (2011 – Remaster)
8. Ready An' Willing (Live) (2011 – Remaster)
9. Take Me With You (Live) (2011 – Remaster)
Disc Six: COME AN' GET IT (1981)
1. Come An' Get It (2011 – Remaster)
2. Hot Stuff (2011 – Remaster)
3. Don't Break My Heart Again (2011 – Remaster)
4. Lonely Days Lonely Nights (2011 – Remaster)
5. Wine, Women An' Song (2011 – Remaster)
6. Child Of Babylon (2011 – Remaster)
7. Would I Lie To You (2011 – Remaster)
8. Girl (2011 – Remaster)
9. Hit An' Run (2011 – Remaster)
10. Till The Day I Die (2011 – Remaster)
Disc Seven: SAINTS & SINNERS (1982)
1. Young Blood (2011 – Remaster)
2. Rough An' Ready (2011 – Remaster)
3. Bloody Luxury (2011 – Remaster)
4. Victim Of Love (2011 – Remaster)
5. Crying In The Rain (2011 – Remaster)
6. Here I Go Again (2011 – Remaster)
7. Love An' Affection (2011 – Remaster)
8. Rock An' Roll Angels (2011 – Remaster)
9. Dancing Girls (2011 – Remaster)
10. Saints An' Sinners (2011 – Remaster)
Disc Eight: LIVE AT READING ROCK '79 (1979)
1. Walking In The Shadow Of The Blues (BBC In Concert Live At Reading Festival, 26 August 1979)
2. Ain't No Love In The Heart Of The City (BBC In Concert Live At Reading Festival, 26 August 1979)
3. Steal Away (BBC In Concert Live At Reading Festival, 26 August 1979)
4. Belgium Tom's Hat Trick (BBC In Concert Live At Reading Festival, 26 August 1979)
5. Mistreated/Soldier Of Fortune (BBC In Concert Live At Reading Festival, 26 August 1979)
6. Love Hunter (BBC In Concert Live At Reading Festival, 26 August 1979)
7. Breakdown (BBC In Concert Live At Reading Festival, 26 August 1979)
Disc Nine: LIVE AT READING ROCK '80 (1980)
1. Sweet Talker (BBC In Concert Live At Reading Festival, 24 August 1980)
2. Walking In The Shadow Of The Blues (BBC In Concert Live At Reading Festival, 24 August 1980)
3. Ain't Gonna Cry No More (BBC In Concert Live At Reading Festival, 24 August 1980)
4. Love Hunter (BBC In Concert Live At Reading Festival, 24 August 1980)
5. Mistreated/Soldier Of Fortune (BBC In Concert Live At Reading Festival, 24 August 1980)
6. Ain't No Love In The Heart Of The City (BBC In Concert Live At Reading Festival, 24 August 1980)
7. Fool For Your Loving (BBC In Concert Live At Reading Festival, 24 August 1980)
DVD
1. Come On (2011 – Remaster)
2. Ain't No Love In The Heart Of The City (2011 – Remaster)
3. Bloody Mary (2011 – Remaster)
4. Steal Away (2011 – Remaster)
5. Day Tripper (2011 – Remaster)
6. Long Way From Home (2011 – Remaster)
7. Fool For Your Loving (2011 – Remaster)
8. Don't Break My Heart Again (2011 – Remaster)
9. Would I Lie To You (2011 – Remaster)
10. Here I Go Again (2011 – Remaster)
11. Lie Down (A Modern Love Song) (Old Grey Whistle Test 1978)
12. Trouble (Old Grey Whistle Test 1978)
13. Bloody Mary (Top Of The Pops 1978)
14. Here I Go Again (Top Of The Pops 1982)
15. Come On (Live at Capital Centre, Washington 1980) (2011 – Remaster)
16. Sweet Talker (Live at Capital Centre, Washington 1980) (2011 – Remaster)
17. Walking In The Shadow Of The Blues (Live at Capital Centre, Washington 1980) (2011 – Remaster)
18. Ain't Gonna Cry No More (Live at Capital Centre, Washington 1980) (2011 – Remaster)
19. Love Hunter (Live at Capital Centre, Washington 1980) (2011 – Remaster)
20. Belgian Tom's Hat Trick (Live at Capital Centre, Washington 1980) (2011 – Remaster)
21. Ain't No Love In The Heart Of The City (Live at Capital Centre, Washington 1980) (2011 – Remaster)
22. Fool For Your Loving (Live at Capital Centre, Washington 1980) (2011 – Remaster)
SNAKEBITE EP (1978) 33rpm 7″ White Vinyl
Side 1
1. loody Mary (2011 – Remaster)
2. Steal Away (2011 – Remaster)
Side 2
1. Ain't No Love In The Heart Of The City (2011 – Remaster)
2. Come On (2011 – Remaster)

90 page book.

All CD's in mini LP style sleeves..

Whitesnake "The Sunburst Years 1978-1982" can be ordered rom the dpas online store