Whitesnake
Send your reviews, pics and memorabilia to the dpas mailbox!
(Can you please use both upper and lower case text in your reviews, and include your full name. Thanks!)
June 2nd 2011

Megasport Arena. Moscow, Russia
These pictures were taken at the Megasport Arena, Moscow, Russia on June 2nd, 2011

The show, reports photographer Andrew Voronin, was "amazing".
June 10th 2011

'Sweden Rock Festival' , Sölvesborg, Norje Havsbad

Thought You might like to know that at Whitesnake's show at Sweden Rock Festival on Friday 10the June, Coverdale was joined by two old friends on stage. Bernie Marsden AND Adrian Vandenberg.

The Whitesnake set opened up with the regular band, playing quite a bit of new material from the latest Forevermore album. After an unnecessarily long half hour solo spot for both guitarists - Aldrich and Beach - and a drum solo from Brian Tichy, Coverdale returned and introduced the first special guest of the evening; Bernie Marsden.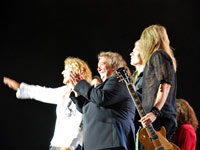 Then they went into "Ain't No Love in the Heart of the City", followed by "Fool for Your Loving". Bernie looked a little out of place compared to the other rock lions, with his stocky frame and suit, but he seemed happy and played well. The next surprise came when DC introduced another former member of the band, Adrian Vandenberg. Now with four guitarists on stage the band tore into "Here I Go Again", a number that David pointed out, was written by him and Bernie, but which they had never played live on stage before. This was the first. A mighty version of "Still of the Night" closed proceedings and there were hugs and handshakes all around. A Kodak moment if ever there was one.

review and photo: Jesper Almén

June 14th 2011

O2 Academy, Glasgow, Scotland

new, 21 June 2011

"Brilliant support slot from the superb The Union. They played a selection of tracks from their debut album, with Step Up to The Plate just edging out Saviour for track of the night. Only complaint was that they only played for 30 minutes. Once Whitesnake hit the stage it became obvious that Mr. Coverdale had lost none of his stage presence, but his voice had lost some of its range and power.

It did seem to improve as the night progressed, although he was aided by a band who had obviously been chosen at least partly for their vocal prowess. The gig seemed to be building to a sweat soaked climax, until the inevitable and interminable solos derailed the show, boring the pants off all and sundry. The night was saved by a terrific finale, with the crowd responding to some old classics, and acoustic reworkings of some newer tracks. In fact, the tracks from the brilliant new album came over really well live.

All in all a really good night, which did bring back some memories of the fabulous tours of the late 70s and early 80s, although Coverdale's patter was more Sid James than Rock God, with the tired sexual innuendo a bit embarrassing for a man of his considerable years."

review: M. Grossi, Wellbank

"At a packed O2 Academy I witnessed what will probably be my last Whitesnake show. Realy strange set list, 30 minute guitar and drum solos and even stranger vocal sound from Mr Coverdale. I feel Coverdale should call it quits while he still has his reputation because if he does any more shows like this one, it will go quicker than the punters leaving the venue."
review: John Hogg

June 16th 2011

Wolverhampton Civic Hall, England

Wolverhampton 1978 was the place where it all started for me with Whitesnake and after last night I fear it may well end. Club Lafayette 1978 presented to the world a man and band with a hunger and passion that infected everyone who were blessed to witness these early shows. Then contrast between last night and those heady days in 78 could not be so contrasting.

Sure Mr Coverdale still has that presence on stage that only a handful truly possess and he commands the stage like the true professional he has always been but this could still not paper over the cracks. Without wishing to state the obvious his vocal range is not what it was 30 years ago and at times it was a little awkward to watch.

The set list is a little baffling and disorganised with it losing the momentum that they had whipped up by the most brain numbing, 30 minute solo spot that I can ever remember – we know the technical abilities of Mr Aldridge & co but the guitar duels are now becoming tiresome and as for the drum solo!!

On the positives Forevermore was stunning and I have fond memories of the time around the release of Fool For Your Loving so this always gets my vote – unfortunately another personal favourite "Aint No Love" has turned into an also ran with these latter day versions no where near the intensity and feel of the Marsden / Moody days.

All in all a frustrating night where the flashes of brilliance were few and far between."
June 20th 2011

Hammersmith Apollo, London

new, 21 June 2011

"Well Coverdale and Co were back at the Hammy Odeon (spiritual home as David called it last night). The usual set was played plus an acapella version of Soldier of Fortune to finish off. Haven't seen Whitesnake for a few years and Coverdale's voice has certainly reduced in range, shame about having to scream the songs out, take it down a bit David and your voice was not too bad at all.

The only downside was the over the top guitar duelling and drum solo, but I guess David can't do it for nearly two hours. Highlights of the evening were Forevermore and Bernie Marsden making an appearance for Fool For Your Loving and Still of the Night. Looked like Bernie had a ball! All in all I left smiling Mr Covernote still has it.

"The reviewer for the Wolverhampton gig points out Mr Coverdale's vocal range isn't what it was 30 years ago. Well, it's still pretty impressive and he joked to the female fans "I'm gonna need some help on this one or I'll be crushing my nuts!" In fact he just charmed the crowd generally. The guitar battle and stick juggling drum solo were unashamedly cliched but very skilled! It was a very enjoyable night."
September 10th 2011

Arena Ahembi, São Paulo, Brazil

new
" A great show. DC isn't what he was, but still exudes so much energy and charisma. Long live David Coverdale !!!!!!"

Set List : Best Years / Give Me All Your Love / Love Ain't No Stranger / Is This Love / Steal Your Heart Away / Forevermore ( The Deeper the Love – acapella) / Guitar Duet ~ Love Will Set You Free / Drum Solo ~ Here I Go Again / Still Of The Night / Soldier Of Fortune (only voice) / Burn~Strombringer.