Firstly, may I state that I am an obsessive Ritchie Blackmore follower, and have been for over 33 years, appreciating all...yes all his music and personality traits. That said I felt compelled to comment on the recent CD offering. Whilst I considered the recent "Classic Rock " report to be very harsh, I do concur that Ritchie is perhaps at a crossroads in his chosen musical direction and journey.
In my humble opinion - Village Lanterne is well packaged and produced.
THE TRACKS: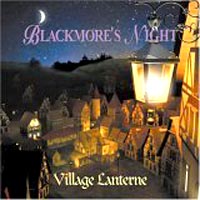 • 25 YEARS : Great start, moody / atmospheric with hurdy gurdy et al. Impressive vocals and feel. To me, one of the better tracks and harps back to Blackmores Night's inception and vision.
• VILLAGE LANTERNE : Has snatches of "The Shadows" ( the band ) and a Christmassy feel. Enjoyable, but whilst wanting to be a classic,never quite gets there.
• I GUESS IT DOESN'T MATTER ANY MORE : Reminds me of a seventies "Detective TV theme ". Average rocky track.
• THE MESSENGER : Nice acoustic instrumental, but has nothing to make it really stand out. Ritchie plays well, but it lacks something special, which he usually provides.
• WORLD OF STONE : Impressive interpretation of the German traditional tune "All Voll " and covered by De Geyers. To me, this music plays to Blackmore's Night's strengths of delivery in Renaissance / Medieval composition.
• FAERIE QUEEN - FAIRIE DANCE : Good, but a rehash of " Catherine Howard's Fate " and similar.
,• UKRAINE JIG : is again impressive, but lacks spontanaity.
• ST.THERESA : Back to "rock mode" and a great Ritchie solo to boot. Blackmore's Night covered this early in their career in a manner more similar to the Joan Osborne original, which is stronger.
• VILLAGE DANCE : Again a "nice" standard Ritchie instrumental.
• MOND TANZ / CHILD IN TIME : De- Tudorised 'Mond Tanz' which proves less effective, yet superb excerpts from Child in Time embellished impressively by "The Sisters of the Moon ". Works well live also.
• STREETS OF LONDON : Super tribute to original, but I question its inclusion here.
• JUST CALL MY NAME / I'LL BE THERE : Eurovision Abba-Rock.... To me this detracts from Blackmores Night's past and makes me wonder about its future.
• OLDE MILL INN : Oh dear.......... " Down at the Old Bull and Bush " type music hall sing-a-longs comes to mind.
• WINDMILLS : Haunting, and memorable, but follows the path of recent similar tracks ( Where do we go to from here ...I think ).
• STREET OF DREAMS : Excellent version of a treasured RAINBOW song. Last 30 seconds frustratingly outline Ritchie at his best.
SUMMARY :
Overall a hotch-potch of an album, with numerous highs and lows. I am confused by the direction the music is taking here. A distinct move away from Blackmores Night's previous Medieval / Renaissance feel to embrace a more Middle of the Road / European taste. I consider Blackmore's Night now to be at a crossroads, confirmed by the recent UK performances. Originality and passion seems to be lacking of late. I just hope I'm terribly wrong or misguided. I have no wish to upset any fans (nor the band) with my review, as I have, and always will be a Ritchie obsessive. I merely feel the latest developments don't reach the incredible heights of the past.
review: Peter O'Connor

I live in a small German town that runs a medieval fest every year. So I am familiar with some of the tunes that Ritchie has borrowed from. There is nothing wrong with putting them into a pop context, but as far as I am concerned the production lacks feeling, authenticity and balls.
It is certainly true that he took an adventurous road in the first place, but the whole project now seems pretty commercial, and it does not touch me at all. The only magic that is left for me is the one that still forces me to go and buy every damn thing that has the name Blackmore printed on it, hoping for that one great solo that makes it worthwhile.
regards, Thomas Max