DPAS LIVE REVIEWS

Deep Purple - Ardwick Apollo, Manchester,
14th February 2002


A little scrappier than the (superlative-busting) recent shows initially, it really took until Up The Wall for things to start cooking, the band hammering away and finally beginning to relax. It was very cold in the venue, as a "musician" myself, cold extremities make for painful playing and maybe this had some bearing on the odd fluff here and there (Rog a tone out in Fools for 8 bars, Big Ian coming in at the wrong point in Lazy, much to the annoyance of Jon who was soloing at the time, and Steve dropping quite a few bum notes early on).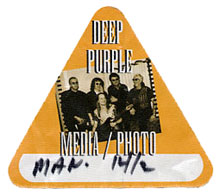 It's rare for Steve to have an off night, but he just didn't seem too sharp at the start, though during Blind Man both he and Jon turned in some mesmerising work which basically underpinned the set, coupled up with Perfect Strangers and then with Smoke... the usual powerhouse, things really began to cook.
Speed King saw Gillan "surfing" on a trolley across the stage with Wipeout as accompaniment and, before you know it, they've gone (briefly!) before they return for a rousing Hush and Highway Star. Earlier highlights included the again devastating Child In Time and Mary Long. Possibly the best crowd of the tour so far, raucous and positive, singing along and fully aware of what / where the band are now with lots of encouragement for Steve in particular and with huge amounts of positive recognition for The Aviator, Ted The Mechanic, Well Dressed Guitar and Up The Wall.
A great show, spoilt only by having to dash off back to work as some tosser had thrown half a paving stone through the window, setting off the alarm - I've relented and am off to Birmingham (and seeing about tix for Liverpool tonight too). I just can't help myself..
review: Martin Ashberry
A full house at Manchester gave the band a tremendous welcome. Even though a seated venue, everyone in the stalls stood up throughout. It was obvious from the first song, Woman from Tokyo, that Ian Gillan is not a well man. He is obviously suffering a heavy cold or cough. However he performed magnificently under the circumstances. On a couple of occasions he missed his lines because he was coughing something up! (mmm...nice...), I do think the band as a whole were a little tired and although they played excellently there was a lack of energy about them (yes I know they are getting on). Steve Morse is the catalyst for the band and once again he gave an exemplorary performance. My personal favourites are Ted The Mechanic and Fools. Both very punchy and loud. Although on the set list for encore, Black Night was omitted.
SET LIST
Woman From Tokyo - Mary Long -
Ted The Mechanic - Lazy -
Child in Time - No One Came -
The Aviator - Well-Dressed Guitar -
Up The Wall - Fools -
Perfect Strangers - When A Blind Man Cries -
*Smoke On The Water - Speed King
- Hush - Highway Star
*Pre-Smoke was shorter than usual, including:
Mississippi Queen,
All Day And All Of The Night,
Stairway To Heaven and Oh Well.
NY
We were lucky enough to get after show passes but only Steve Morse showed up. Very pleasant guy. From what we could gather there is a bug going round the band and both Roger and Jon were complaining of feeling unwell after the show, so you can't blame them for wanting to go straight to the hotel. Its just a bit of a pisser, first time I get backstage they dont show up. Oh well!
review: Andy Parr
It weren't bad, Morse didn't grate on me as much as he usually does.
review: M.Galway
It was one of those gigs, good parking, short queue, only to find we're on the front row right in front of Steve Morse, can it get any better??? Well yes. We saw most of the support act, The Planets. If you are reading this review and are going to a later show then check them out. They are BRILLIANT. Their album Classical Graffiti is out on Feb 18th. They play a fusion of rock and classical music which works great, although I accept they wont be everyone's cup of tea.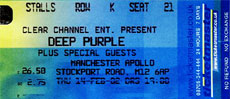 Purple came on at just after 8.30pm. This is the greatest Deep Purple show I have ever seen. The sound was superb, the atmosphere was immense and because of the Apollo layout (no orchestra pit) it was very intimate. The new song Up the Wall was excellent, very funky, dare I say, with some great "hooks" from Steve. The highlight of the show for me was Child In Time. When Jon played the intro I actually cried. Say no more. His performance tonight was of a man a third his age and he seemed a lot more upfront soundwise than in recent tours, but I cant help feeling he won't tour for much longer. I hope I'm wrong. As for Roger, well he doesn't change, apart from getting better and better. I have to finish by saying that, as a life long Ritchie Blackmore fan, he couldn't possibly have ever been part of the Deep Purple I saw tonight. Steve has taken the band to heights that Ritchie could never do. I respect Ritchie for what he has done but in my opinion Steve Morse (and Mk7) IS Deep Purple.
I must apologise to the guy next to me who told me he nearly got one of Steve's plectrums, when I managed to catch 3. Sorry!
review: Ian Dunbar, ticket scan: Nigel Young (click on it to view larger)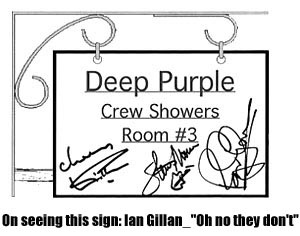 Highpoints : they've got security on the carparking area after twenty five years of people leaving cars not knowing if they'll be there when they get back! Purple venture into the North West and the atmosphere gets heavier (which Ann enjoys - but then this isher home turf!). The crowds here are always just that bit more aggressive and as up for it as ever. Band ten minutes late on stage (as we were late arriving this was great for us) and the cold must've been getting to them as Morse had a sleeved shirt on over his t-shirt. There were a number of fluffed notes and riffs during the first couple of numbers too as they struggled to warm-up, but as the show progressed they wrestled things into shape. Jon Lord seems to have shalken off the worst of his flu and really steamed into this one. His solos in Blind Man and Speed King were breathtaking. Overall it was a heavier set, and built in both power and volume (the sound wasn't brilliant in the hall) towards the end. Exhausting. Best moment was Gillan disovering a board on castors, and making to skateboard across the stage on it. Worried looks from the crew made him think twice, so he sledged across the stage on it lying down - mercifully managing to stop before heading off the stage!
Lowpoints : Ian Gillan seems to have got the flu off Jon now, he croaked a hello to Ann as he made his way to the minibus after the show (but he still managed to sign a load of autographs for people - nice to see those small children clutching Tokyo 75 specials for signing by Paicey!). And the less we say about the hired Rover the better; or bringing my crook lock along but forgetting the keys, or watching the AA man wrestle to remove it as the minutes ticked down to the show, OR the dreaded flash in my rear mirror as I pushed it a bit to try and make the gig on time! It'll be our most expensive gig of the tour at this rate. Chiz.
review: Simon Robinson