DPAS LIVE REVIEWS
Deep Purple -
Hammersmith Apollo, 22nd February 2002
Exhilarating !!! A powerful and dynamic set full of strong, emotional highs by a band in complete harmony with themselves and their audience. Purple delivered a wonderful performance at Hammersmith.., especially considering the health problems Ian is clearly enduring....the professionalism of the band can only be applauded.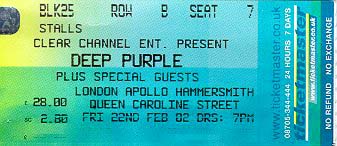 Having seen the Nottingham show two weeks previously, anticipation was already running high, yet the feeling I had pre-gig was that this may even eclipse that show... perhaps it was the venue, ( a sort of homecoming !!) or the anticipation of the crowd, which was certainly more intense than the aforementioned show. There was a great reception for them as they stormed in to Woman from Tokyo, though it was instantly clear that Ian was struggling a little with the vocal, yet to his great credit he improved as the performance gained momentum. By the time Ted The Mechanic and Mary Long had come and gone, Ian seemed a lot better, and fears of him struggling throughout were allayed.
The band were in fine form,...Jon`s playing in the middle section of Woman From Tokyo was breathtakingly beautiful, and it was clear from the outset that the band were working extremely hard to put on a good performance. An extended Black Night, with wonderful soloing from Steve and Jon earned a rapturous standing ovation and from that moment on I felt the whole crowd were helping to drive the band on to even greater heights.
Set-wise the show followed previous gigs. Steve once again included snippets of rock classics pre Smoke On The Water, though when the Smoke riff did eventually arrive he missed the first chord! A long buildup to Speed King included solos from both Roger and little Ian. In fact Ian`s solo, culminating in the one-handed, speed of light sequence, received one of the loudest rounds of applause of the night. There was great interplay between Steve and Jon midsection and a rousing vocal from Ian, seeing the main-set to a close......and to wonderful, warm applause the band returned to perform a brilliantly energetic Hush, followed by Highway Star. After the show the crowd were in raptures, more so than I've ever seen at previous Purple gigs (and there've been quite a few!).
Highlights ...there were many.... the way Ian Gillan lead the line despite his cold can only be admired, he is without doubt the greatest rock front-man, (get well soon Ian !!!)...Jon Lord`s brilliant extended soloing, Ian Paice`s drum solo, and the strobe sequence at the climax of No One Came are just a few.
review: Neil Jones, ticket scan: Matthew Kean
I was one of the lucky 3,500 DP fans to witness the band's performance at the Hammersmith Apollo on Friday, February 23rd. I say lucky, as I've just seen that the second London concert has been cancelled.
The band positively exploded onto the stage with Woman from Tokyo. I expected to see those same 3,500 up on their feet, hands in the air, but no... Maybe it was the fact that Gillan sounded like he'd been gargling with Domestos. It was very clear that the poor guy had been hit by some kind of bug, he sounded like no Gillan I'd ever heard. A poor start to the show. He kept letting his pals take up the music while none too nonchalantly wandering off stage for a swig of something. Despite that, he soon warmed up and boys started beating the hell out of the music. It was magic. Gillan's voice meandered in between sounding like Satchmo the morning after the night before, to moments of magic when his old self shone through.
They played a few newer tracks, but it was the old faves that got the real applause. I was really disappointed with the audience. Despite the fact that most of them were under 30's, we all sat on our fat ones and let the boys do all the work - what a shame. Don't Brits rock any more?? I think the biggest disappointment was that the audience also hugged their seats for Smoke on the Water - sacrilege!!! What happened to the screaming? What a tame bunch... OK enough of the sad audience - they did actually get up at the end and brought the boys back for an encore, so they redeemed themselves to some degree.
Star of the match was Steve Morse. He was TOTALLY EFFING BRILLIANT!! The boy (OK, he's older than me, and I'm 44!!) was a magician. His medley of rock hits was inspired. Joint second, Jon Lord and Ian Paice - two of the finest musicians in the business today, Paice's solo was inspirational. Next, Roger Glover. Now I don't know if it's just me, but I feel the bass player is always in the shadow of the lead guitar. Despite this, when Rog did get his own solo he sounded great. Give the man more limelight!
I'm not going to put Gillan down as the disappointment of the night, because he was clearly unwell. I think the crowd felt his pain. Even with this handicap he somehow shone through with patches of inspired singing. This must have taken immense courage, and I for one would like to thank him for being a true rock hero. I had a brilliant evening, despite the drawbacks. I don't know how long the band can continue, but I hope it's for many years to come. Who says rocking has a time limit? Deep Purple - the greatest band in the world, still!
review: Nigel Kersh
Being in front row smack in front of Steve Morse's back line meant that we heard 85% guitar and little else (not complaining, made for an interesting perspective!) and vocals were thus barely audible anyway. My guess would be that due to Ian's illness he was kept down in the mix, and my position merely exaggerated this. However, we could SEE his pain even when we couldn't hear it!
The show was filmed - I would like to think it will see the light of day, but it's probably not one that the commercial powers would want available to all and sundry. I'd disagree, in my book four and three quarters functioning Purps beat any other band hands down, and the overall performance WAS powerful. The band (Ian Gillan especially) let NO-ONE down at Hammersmith - despite some negative comments I've seen on the boards. Under difficult circumstances it was a mammoth effort, memories of which will be treasured and go down with rest of the "were you there when..........." Purple lore.
review: Ian Nichols
Woman From Tokyo kicked off proceedings, and it was clear that Ian was still suffering with flu, but what a great effort to carry on and provide a show! The only critique about it was the actual vocal mix from the board, which was diabolical.
Gripes apart, the musicianship was top notch, with Jon and Steve's guitar and Hammond interplay causing many a wide smile around the place. The newer numbers, Up The Wall and Well Dressed Guitar provoked a lot of applause and appreciation. Even in the pub afterwards, a non fan who had gone with his other half said, "that instrumental thingy was the best piece of music I've ever heard!!"
To finish, please don't anyone knock the band for cancelling as I feel they have tried their hardest under the circumstances, and I for one fully appreciate it. WELL DONE!
review: Craig Storey
The concert was filmed, though with Gillan struggling from the off, I've no idea whether anything will emerge. Cameras on each side of the stage, and one at the back of the crowd on the mixing desk, plus a fixed camcorder looking at Paice from the side. Presumably with the filming set up, they felt they had to give it a go, but perhaps now time to look at trying again come April or whenever.
From the first lines of Woman From Tokyo it looked bad. On the whole Ian was ok on the more driven bits of vocal, but on things like quiet refrains he was cracked and coughing. This went on all through, to the extent of missing lines in Lazy due to coughing too much. Why, knowing this, they didn't rehearse Wring That Neck or something else that could have given Gillan a few minutes break I don't know. When Ian Anderson suffered longer term vocal problems, Jethro Tull dropped an instrumental in every 4 or 5 tunes for that very reason. Well Dressed Guitar could have been pushed out to 10 minutes I'm sure, and would have sounded better for it, since the version presented here cuts off just as it gets going. (No chance of A200, I'm sure - shame..)
Inevitably the vocals had an effect on everyone, and cast a cloud over the show, which otherwise was a good performance. The crowd were up for it from the off, giving a lot of support. Set list was as Brighton, with a few differences in order, and without Blind Man came in at a fraction under two hours. Black Night was restored, and featured a lovely long opening with a bit of noodling à la Lucille from In Concert. I still feel the song itself is a bit overexposed at present though. Fools was probably the standout, despite a double vocal problem, which seemed to be a lack of monitor as well as a cold. Up The Wall came over better on second listening, though the words were virtually unintelligible. A bit like the Abandon material perhaps, it needs time to get over, rather than the instant reaction that Purpendicular gave. Perfect Strangers also gave a moving moment, but why are Jon's solos so short this time around? Tonight of all nights, we could have done with a ten minute meander around the keys...
I didn't catch many of the tunes in the Smoke On The Water lead in, only Here Comes The Sun, Purple Haze, and Stairway To Heaven out of about eight. It was a rough version of the song, but I enjoyed it as it reminded me of the original Foxbat mix, which had a glorious "on the edge" feel, as to whether they would actually make it to the end. The current line up are much more in control of course, but the song does benefit from a bit of abuse now and then!
The encores seemed a bit formulaic, Steve cut down his sonic intro to Highway Star (shame), though I could still listen to the song all night. Perhaps they wanted to plough through and fix up IG with his hot toddy. Performance wise, Paice was a star, with a good solo; Lord seemed a bit low key at times, though still lively, while Steve's enthusiasm shone through. The bass was well mixed, and being about 10 feet away from Roger allowed plenty of study of his technique. And thanks for the plectrum!
review: Matthew Kean