DEEP PURPLE UK TOUR 2002 PRESS
Scotland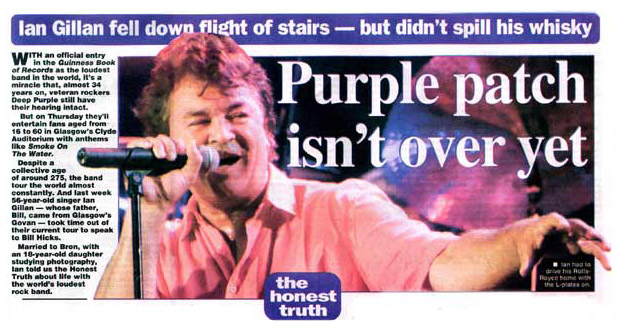 Scotland's famous 'Sunday Post' newspaper featured an interview with Ian Gillan on the weekend before Deep Purple's show in Glasgow (which was probably cancelled even as it was going to press!) It revealed a few interesting answers which are worth repeating, and the explanation for the headline above!
"I was about to go on stage in Amsterdam and discovered a backstage bar. I was downing a huge scotch and coke when someone told me the band were already on stage. Before I knew it he'd pushed me out of a door - but it was at the top of a flight of stairs leading to the stage.
The hall was normally used for opera and the singers would make a grand entrance down the stairs. I fell down every one and ended up on my back as the first chords of Speed King boomed out. But I hadn't spilled a drop of my whisky."
Thanks to Marion Taylor