DPAS LIVE REVIEWS

Deep Purple - The Brighton Centre, 19th Feb.2002
The band really delivered. The sound was clear and punchy, Gillan was the most energetic person in the building, his voice is on the mend, and the others played very well and looked in good shape. It certainly wasn't their fault at all that the crowd remained seated and comatose for so long.
Support act The Planets were weird....unusual but listenable. Like an extended classical Corrs, dear knows which audience they're aimed at. The one tonight greeted them warmly enough mind you.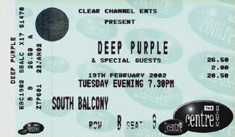 It is worth mentioning that the layout of the venue killed any atmosphere stone dead, and Deep Purple really had to pull out all the stops to create any. At their 1996 Brighton Centre show, the downstairs area was perhaps two thirds full, but it was all standing, and the atmosphere was warm and intimate. For the 2002 show, the downstairs area sold out some weeks ago.... the reason it turned out, was that it was all seated, oddly arranged into four compact blocks with acres of space in between. (Waterloo reinactment societies would have approved) At most 60% of the floor space was used, including a pointlessly huge gap from the front row to the stage. As a result, everyone remained seated until Speed King entered the home straight. Everyone that is except the ridiculous streams of people getting up, leaving, coming back, leaving again etc., which reached a distracting peak during Fools. For a time it felt more like a weak bladder convention rather than a rock show. And just after the band had rolled out Black Night (plus increased volume), seemingly to try and generate more life off-stage. They even added a short improvised intro to disguise what they were about to break in to.
The band themselves all played well. Big Ian bounced around stage, but has not yet entirely shaken off his cold. Still, even Lazarus would have been proud of a recovery like that. His voice held out during the rockier numbers (the between song talking seemed to cause him more difficulty!), though Child In Time was still left out.
SET LIST
Woman From Tokyo -
Ted The Mechanic - Mary Long - Lazy -
No One Came - The Aviator -
Well-Dressed Guitar -
Up The Wall - Black Night - Fools -
Perfect Strangers - When a Blind Man Cries -
*Smoke On The Water - Speed King
Hush - Highway Star
* the extended Pre-Smoke included:
Peter Gunn, Layla, Here Comes The Sun,
Back In Black, Stairway To Heaven, Tush,
Sweet Home Alabama, and
House Of The Rising Sun.
It was clear why during When A Blind Man Cries, where he sounded very husky (which ironically sounded great!), and was at times coughing off-mike from the effort of it all. Of the others, Roger looked fighting fit, and Jon played a blinder as did Steve. My star of the night was Ian Paice, I've never enjoyed one of his drum solos more...what about that one handed drum roll! The man is the greatest.
By encore time the crowd were finally letting go, and the compressed block of Hush and Highway Star just couldn't go on long enough. At last the place erupted. I can't imagine that they'll have to wait that long in Glasgow or Newcastle!
Highpoints: The band enjoying themselves, probably happy to be feeling better! Smoke On The Water and the drum solo. The new arrangement of The Aviator, which showed the creative strength in the band which I'd love to hear on a new studio album (Gillan mentioned a new studio album being made sometime .... perhaps...).
Lowpoints: The hordes wandering in and out throughout the show, or sitting chatting like they're down the pub. Especially the berk directly in front of me (when he wasn't off going walkabout) who just tried to catch peoples' eyes hoping to talk all night, and who only came to life during the Stairway To Heaven riff, after putting his feet up and trying several times to rest his head on my knees during Blind Man. Git.
review: David Browne.
click the ticket to view a larger version
I was very apprehensive about this, as it was only the second gig after the NEC was postponed (although a mate had been to Bournemouth the night before and praised the show). The Planets put in a good performance and I have to say that they seemed to compliment DP, it's not often that I actually watch a support act.
Purple hit the stage at 8.40pm with Woman From Tokyo and despite clearly still suffering God was giving it everything. The set list was pretty much the same as previously chronicled, Child In Time was dropped obviously and Black Night was drafted in. Big Ian was clearly irritated by an inebriate who shouted out for Child In Time early doors, Ian answering with a plea "Someone throw him a fish " Fools was particularly good as was the new track Up The Wall.
Despite what has previously been said about The Aviator I thought it was a worthy inclusion. All of the band seemed to play their socks off apart from God who wasn't wearing any ! I've never seen them laugh and joke as much on stage before and clearly they had a lot of fun. An electrifying Highway Star closed the set at 10.40pm and I'm sure most of the crowd went home happy.
review: Geoff Quade
The constant stream of people moving about appears to be something that happens at all gigs, even bloody Opera!. Having bought my ticket just one hour beforehand I was pleasantly surprised that the Brighton Centre is not quite a Birmingham NEC, and that my view was brilliant. What a huge crowd Purple can still gather, even on such a large tour with so many venues!
At Manchester I was right at the front and here I was right at the back. I can confirm first of all that Deep Purple are a fantastic group, when taken from the front or the back. The audience around me were "drawn in" by the superb playing of the band and were really up for a good time, just as much as the first few rows at Manchester, which says a lot about how the band are projecting themselves..
Ok, so Ian Gillan could barely talk due to his cold. But he never whinged about this once and saved himself for Blind Man and other vocal highlights when needed. The guy to my left had not seen any of the band since the Whitesnake days in 1980. He was hoping for a David Coverdale guest appearance (I told him it was somewhat unlikely!) At the end of the gig he told me that he was completely amazed at Purple. For starters he expected just the main floor of the venue to be sold, but moreover the musicianship and "good time" feeling of the band bowled him over. I hope all Purple fans out there realize that this era will probably be looked on in future years as a golden one. Enjoy whilst you can! Don't miss it!
review: John Blackburn