"Don't be fooled by the goth metal album cover. Album number three from the Joe Lynn Turner fronted project, is another full on AOR release. It may be five years since his last solo album, but this is the third Sunstorm album since 2006, and continues the good work of the earlier albums.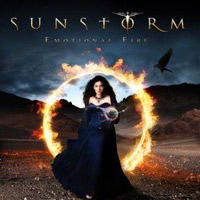 Unlike the earlier albums which were collections of songs that Joe Lynn Turner had in his archives combined with some tracks brought to him but Frontiers, this record sees him dipping into his back catalogue of sessions working as a backing vocalist, along with songs that Frontiers thought would work on the Sunstorm project. So you're getting the JLT version of songs like 'Gina' from Michael Bolton's "The Hunger", as well as the title track ('Emotional Fire') and 'You Wouldn't Know Love' from Cher's "Heart of Stone" release. The eight new songs come from the established pool of writers at Frontiers, and are generally of a high standard.

It's more akin to Turner's early solo work than his Rainbow / Deep Purple / HTP years, and as such will please folks who've been waiting for a new "Rescue You", with 'Never Give Up' and 'Follow Your Heart' getting top marks. The band do a professional job of recreating the eighties, and with Joe Lynn Turner in excellent voice for a sexagenarian, there is a lot to enjoy here. A couple of the songs in the second half of the album fall short, and I certainly won't be rushing to play 'Emily' ever again, but they're rare misfires.

Some may not enjoy the retro feel, but for those of us who were teenage rock fans in the eighties, getting all excited by "Straight Between the Eyes" and "Bent Out Of Shape", it's a real treat ."
review: Stuart A Hamilton ( www.getreadytorockradio.com)


See also our Joe Lynn Turner family tree
Sunstorm • Emotional Fire can be ordered from the DPAS Darker Than Blue online store.